A small land-locked country, tucked between China and India, Bhutan is predominantly a Buddhist nation. Shrouded in mystery and magic, where a traditional Buddhist culture carefully embraces global developments, Bhutan has many other things worth knowing. Let's have some interesting facts about this last Great Himalayan Kingdom: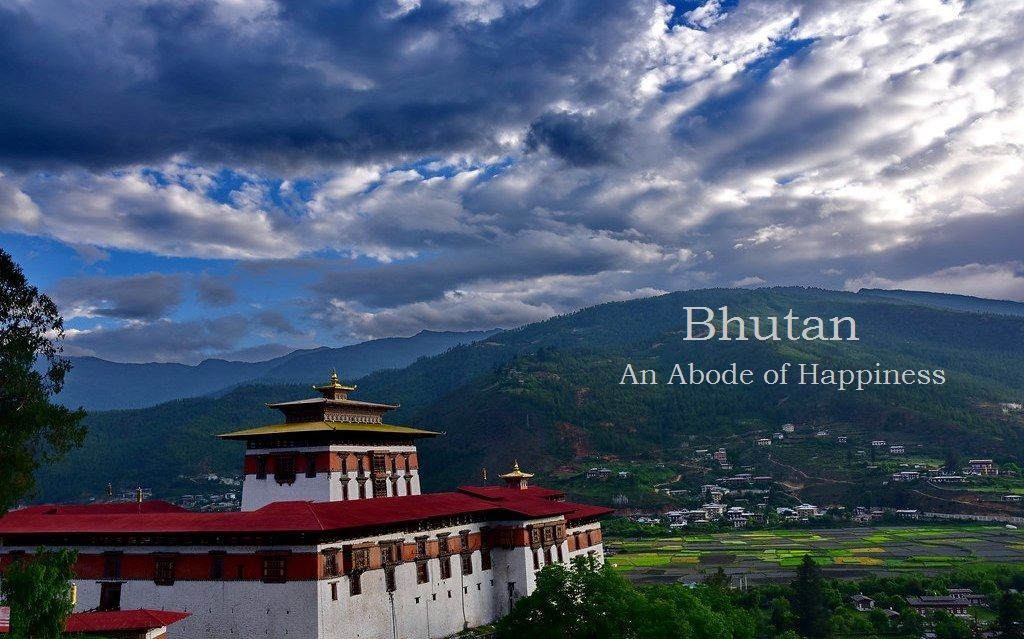 Image: Flickr
1. End of Tibet!
Well! The name Bhutan is derived from a Sanskrit word "Bhota-anta," which connotes "End of Tibet."
Source: Wikipedia 
2. A Landlocked Country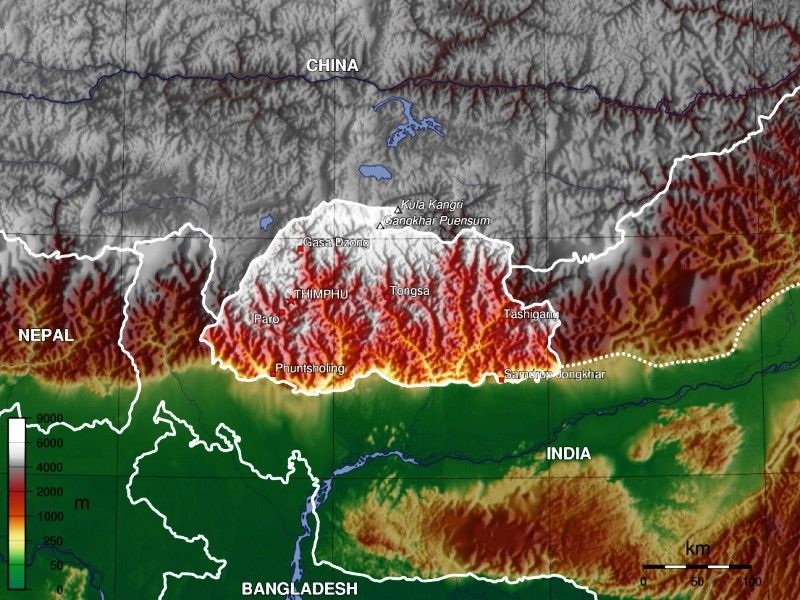 Tucked between India and China, Bhutan is one of the 43 landlocked countries in the world.
Source: worldwildlife.org, Image: Wikimedia
3. Never Colonized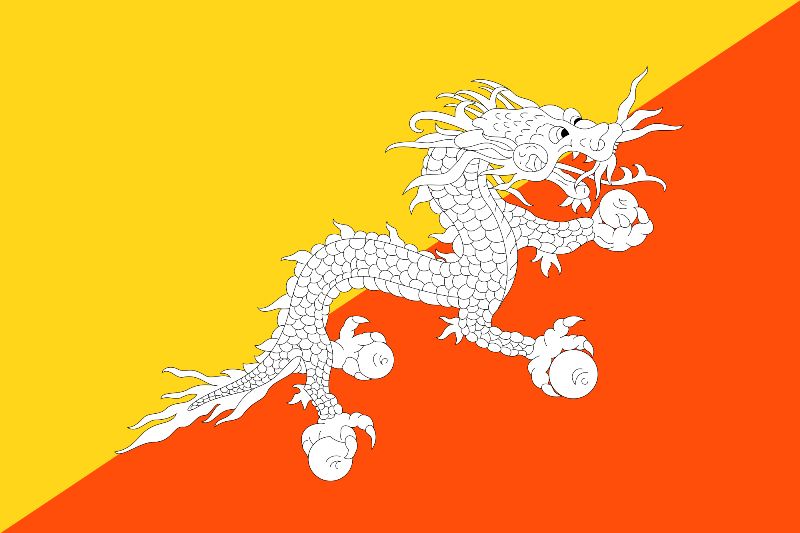 Bhutan has endured its independence for centuries and it has never been colonized in its history, but its forces were defeated by the Britishers in North Bengal, and Bhutan was forced to sign a treaty, which gave Britain control of its foreign relations. India inherited that power when Bhutan became independent in 1947.
Source: The Telegraph, Image: Wikimedia
4. The Founder of The Bhutanese State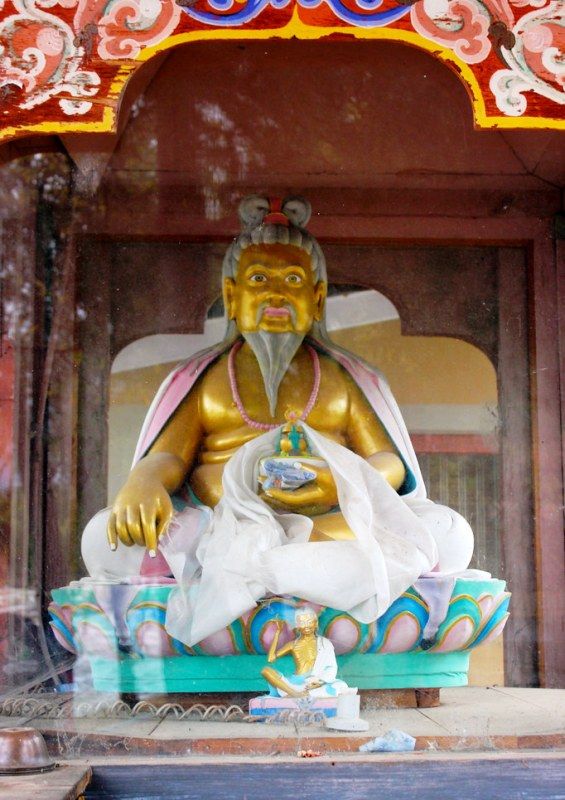 Zhabdrung Rinpoche is considered the founder of the Bhutanese state. His passing day is celebrated as a Bhutanese national holiday.
Source: kingdomofbhutan.com, Image: Flickr
5. The First Mention of Bhutan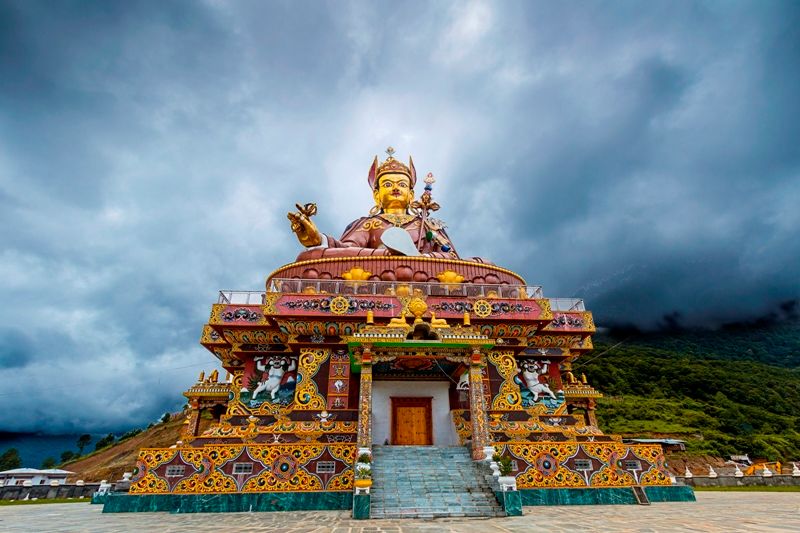 The first written mention of Bhutan was the passage of the Buddhist saint Padmasambhava in the 8th century. However, not much information is available about Bhutan's early history; as most of the records were destroyed through a fire in 1827.
Source: Democratization from above: The case of Bhutan by Dr. Klaus Hofmann, Image: Wikimedia
6. The Rise of a Modern Monarch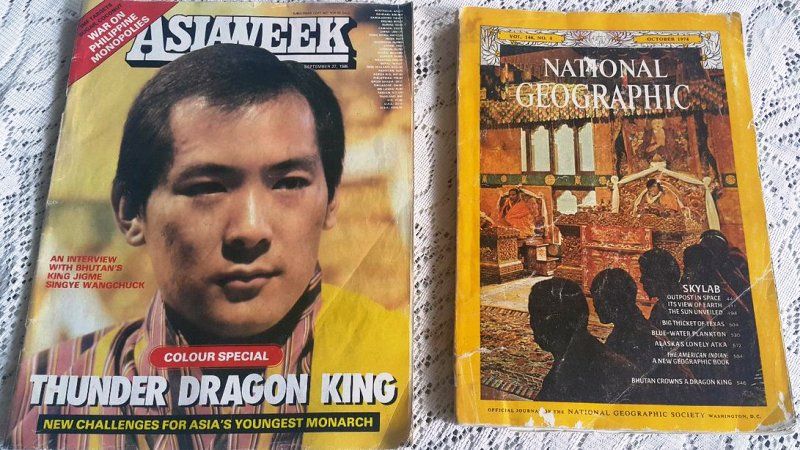 King Jigme Dorji Wangchuck established a 130-member National Assembly in 1953. He went on to set up a Royal Advisory Council in 1965, and he formed a cabinet in 1968. After his demise, in July 1972, Jigme Singye Wangchuck ascended to the throne at the age of 16 after the death of his father. Jigme Singye Wangchuck went on to establish Bhutan a modern nation.
Source: Democratization from above: The case of Bhutan by Dr. Klaus Hofmann, Image: Twitter
7. The "Bhutanization" Crisis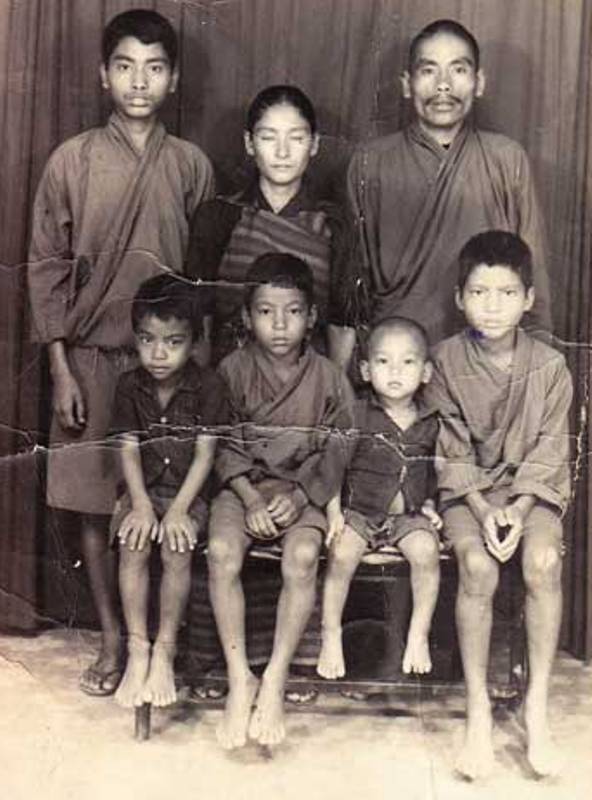 In 1988, the Bhutanese authorities began to carry out a census in southern Bhutan to
determine citizenship; citing concerns about the possibility of a rapidly increasing illegal immigrant population. to integrate ethnic Nepalis more fully into Bhutanese society, as a result, a series of demonstrations, unprecedented in the country's history, took place; as
thousands of ethnic Nepalis protested about the census and the Government's so-called
'Bhutanization' policies. This crisis caused tensions between Bhutan and Nepal.
Source: refworld.org, Image: himalayajournal.org
8. Monarchy to Democracy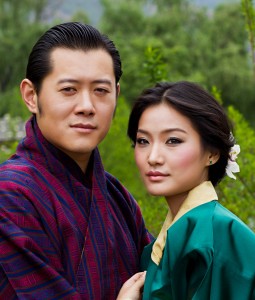 Jigme Singye Wangchuck implemented various political measures to bring Bhutan into the democratic regime. He changed the political system of Bhutan from an absolute monarchy to a constitutional monarchy. Bhutan witnessed the first national parliamentary elections in December 2007 and March 2008 under the new King Jigme Khesar Namgyel Wangchuck.
source: Democratization from above: The case of Bhutan by Dr. Klaus Hofmann, Image: Flickr
9. A Simple Administrative Set-Up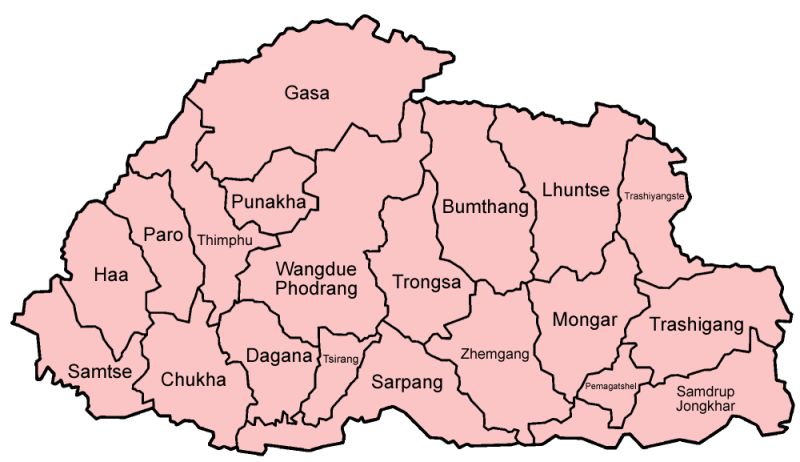 Bhutan is divided into four Dzongdey (administrative zones). Each Dzongdey is further divided into Dzongkhag (districts). There are 20 Dzongkhags (districts) in Bhutan. Large Dzongkhags are further divided into sub-districts known as Dungkhag. At the basic level, groups of villages form a constituency called Gewog and are administered by a Gup, who is elected by the people.
Source: Democratization from above: The case of Bhutan by Dr. Klaus Hofmann, Image: Wikimedia
10. One of the Last Countries to Introduce Television
In 199, when Bhutan introduced television to its people, it became one of the last countries in the world to do so. Prior to 1999, there was a complete ban on television and the internet in Bhutan.
Source: worldwildlife.org, Image: By Dorji Wangchuk
11. Kill This Bird And Get Life Imprisonment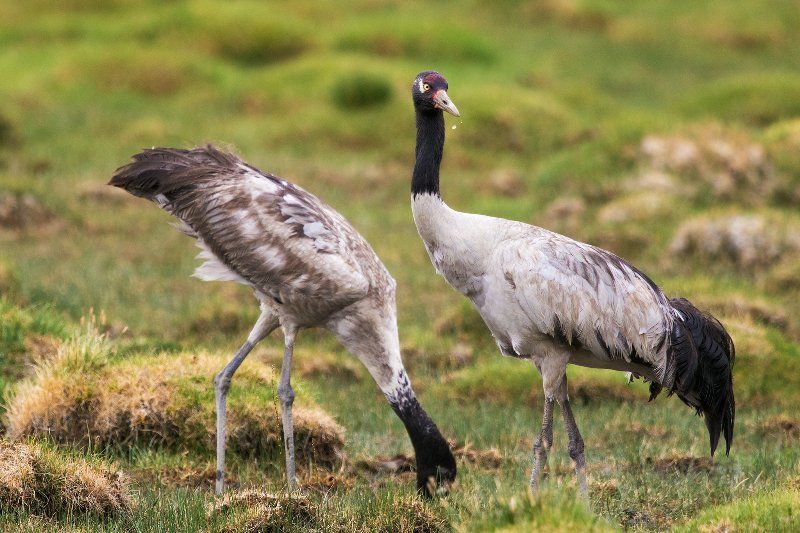 The endangered and majestic bird, the Black-Necked Crane, is an inseparable part of the daily lives of the Bhutanese people. They also celebrate the annual Black-Necked Crane festival at the courtyard of Gangtey Goenpa in Phobjikha valley to rejoice and celebrate the arrival of this endangered and majestic bird. Anyone found guilty of killing this sacred bird could be sentenced to life in prison.
Source: worldwildlife.org, Image: Wikimedia
12. No Food Please!
In Bhutanese manners, you should refuse food whenever it's offered to you. The tradition is to say the words "Meshu Meshu" and cover your mouth with your hands. You can give in, though, after two or three offers.
Source: worldwildlife.org
13. No Smoking Please!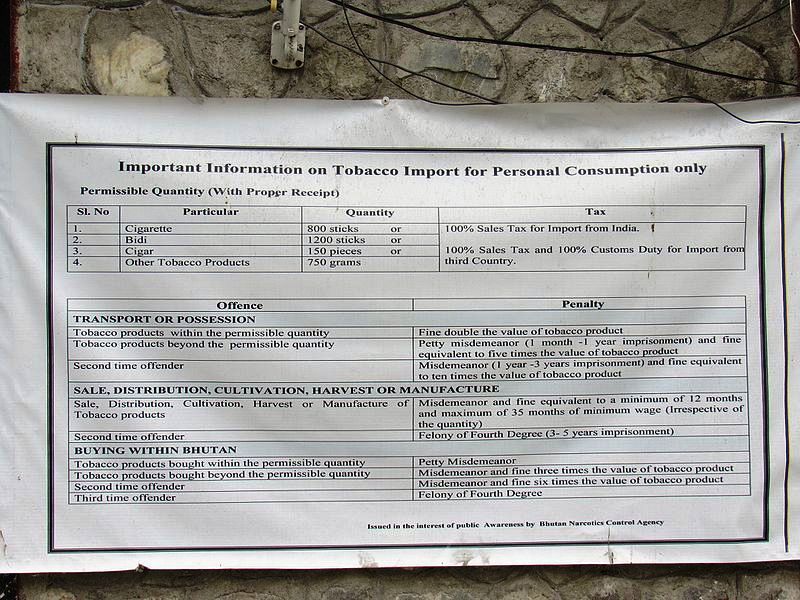 Bhutan is considered the world's most advanced tobacco control nation. It has the world's strictest anti-tobacco laws. Bhutan is also the only country in the world that completely bans the sale and production of tobacco and tobacco products. Under the law, any individual found selling tobacco can face imprisonment for a period of three to five years.
Source: aljazeera.com, Image: Wikimedia
14. No Traffic Lights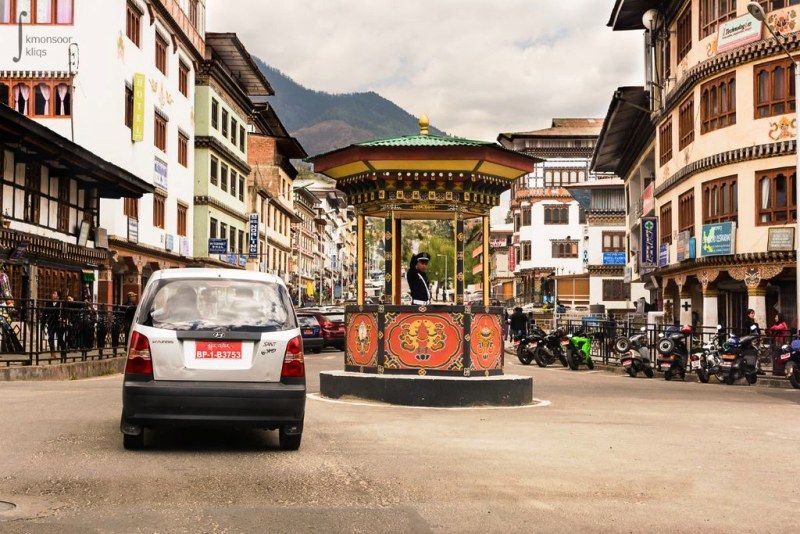 Bhutan is perhaps the world's only country where there are no traffic signals. Thimphu was home to Bhutan's sole traffic light- for just 24 hours. It was quickly removed to be replaced by a traffic policeman.
Source: bbc.com, Image: Flickr
15. A Young Country
One-third of Bhutan's population is under the age of 14; its median age is 22.3 years.
Source: worldwildlife.org, Image: Wikimedia
16. An Isolated Country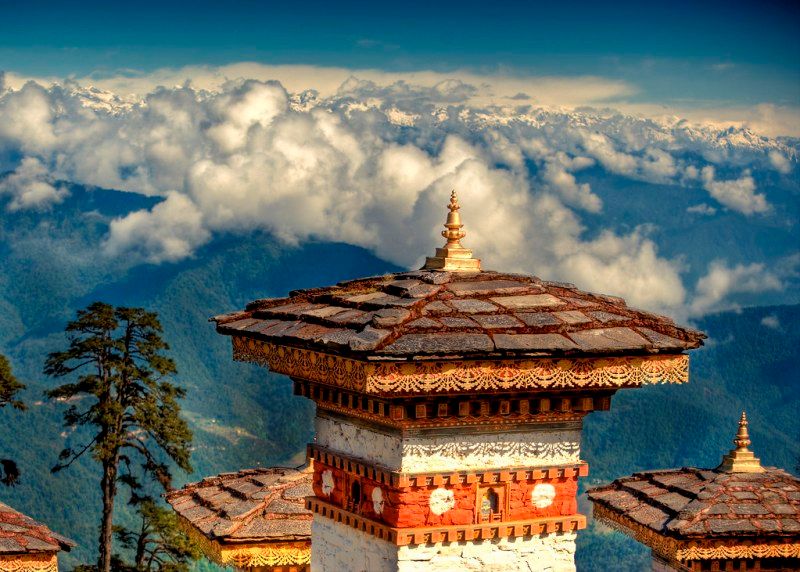 Though in recent times, Bhutan has started to mingle in the mainstream world, earlier, it had kept itself cut off from the world for centuries to protect its culture. Interestingly, it was not until the 1970s that the first foreign tourists were allowed in. The country still remains relatively untouched by mass tourism.
Source: bbc.com, Image: Flickr
17. A Saviour of Environment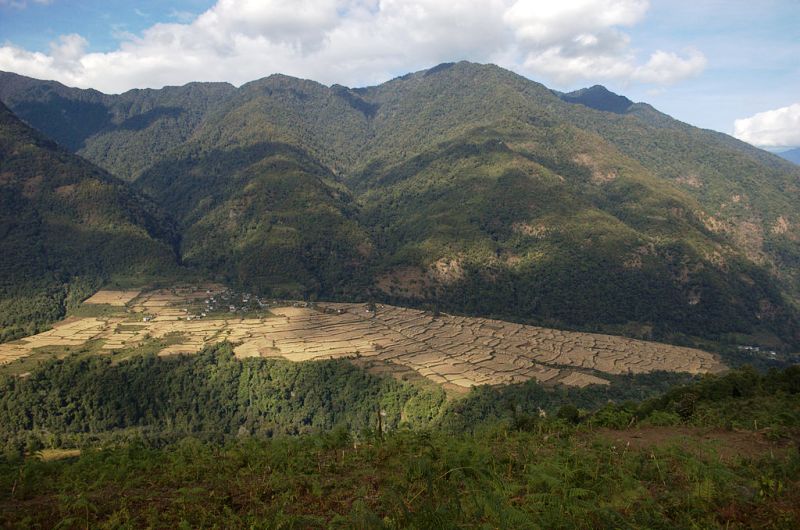 Bhutan is one of the frontrunner countries to implement environment-friendly norms. Plastic bags have been banned since 1999 in Bhutan. Moreover, by law, 60% of the country must always be forested. Tree planting is popular in the country, and in 2015, Bhutan set a Guinness World Record by planting almost 50,000 trees in just one hour.
Source: bbc.com, Image: Wikimedia
18. The Spicy National Dish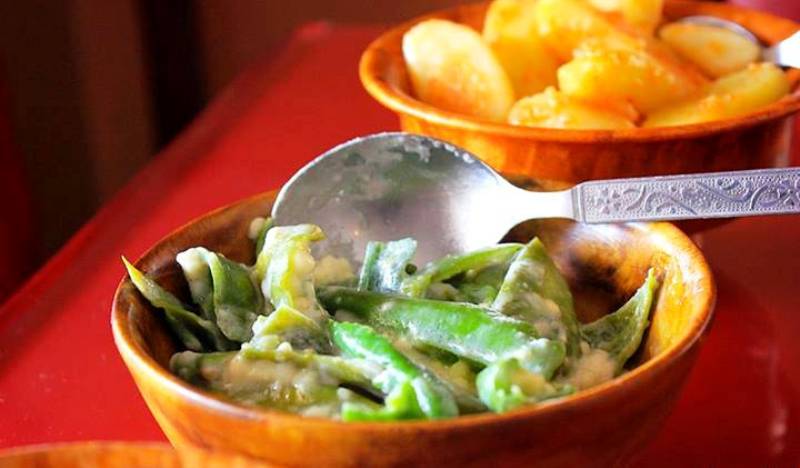 Ema Datshi, the national dish of Bhutan, is a spicy dish made with large, green chili peppers in a cheesy sauce. It seems that Ema Datshi is eaten as is, straight off the plate.
Source: diningforwomen.org, Image: Wikimedia
19. An Expensive Destination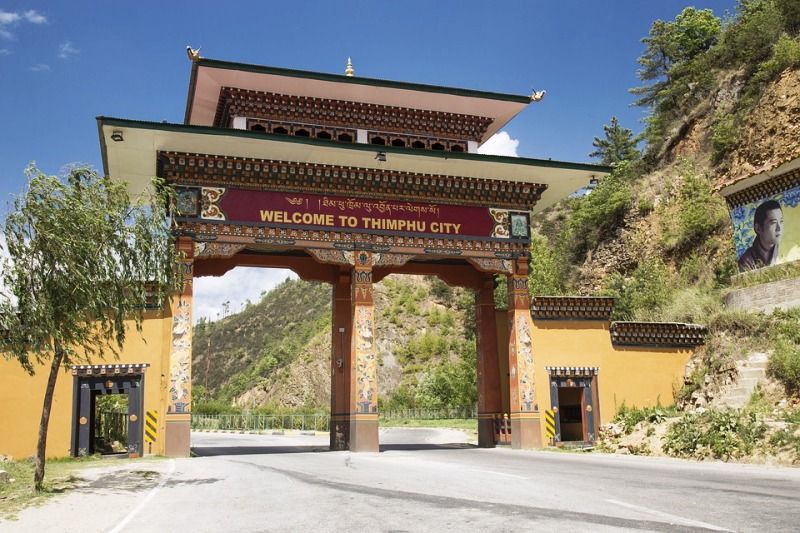 Foreign tourists are supposed to pay a minimum tariff of US$250 per day, making Bhutan one of the world's more expensive destinations.
Source: bbc.com, Image: Max Pixel
20. The National Dress Code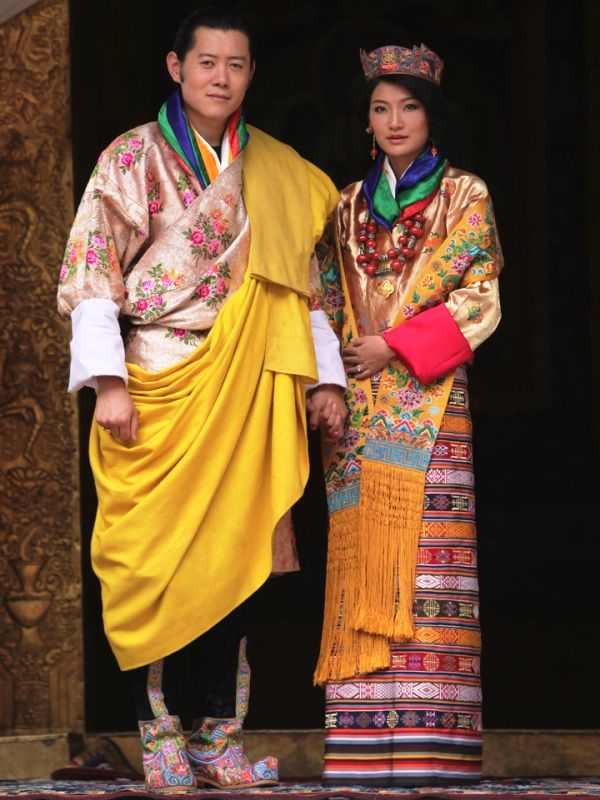 All employees in Bhutan must wear traditional clothing- a Gho Robe for men and Kira dress for women- during work hours.
Source: forbes.com, Image: bhutan-photos.com
21. Bhutan: Happiness is a Place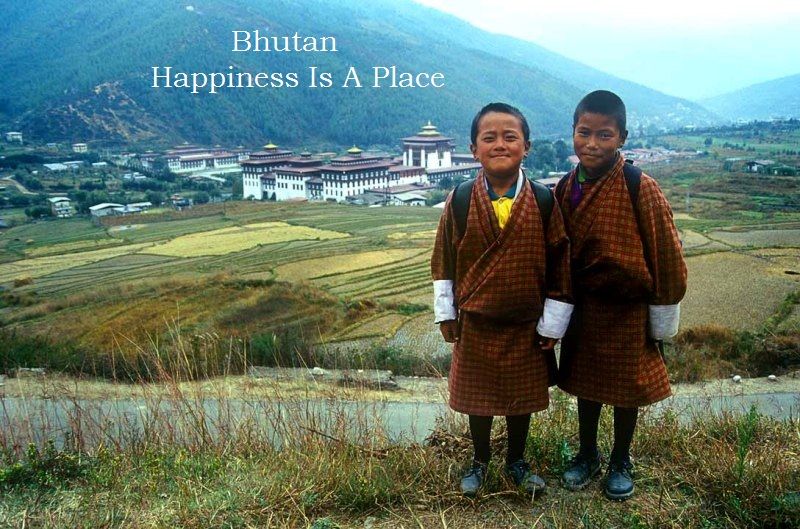 The phrase 'Gross National Happiness' was first coined by the 4th King of Bhutan, King Jigme Singye Wangchuck, in 1972 when he declared, "Gross National Happiness is more important than Gross Domestic Product."
Source: ophi.org.uk, Image: Wikimedia
22. The Iconic Red Rice
The Bhutanese Red Rice is world-famous. Irrigated by glacial waters of the Himalayas, it has a low Glycaemic Index, enriched with essential minerals and dietary fiber. The flavonoid that gives the Bhutanese Red Rice a distinct red hue is called anthocyanin. It acts as a powerful antioxidant; possibly help reduce the spread of cancer cells and even inhibit the formation of tumors. The Bhutanese Red Rice is the most widely known agricultural export of Bhutan.
Source: bhutannatural.com, Image: Wikimedia
23. The Energy Surplus Country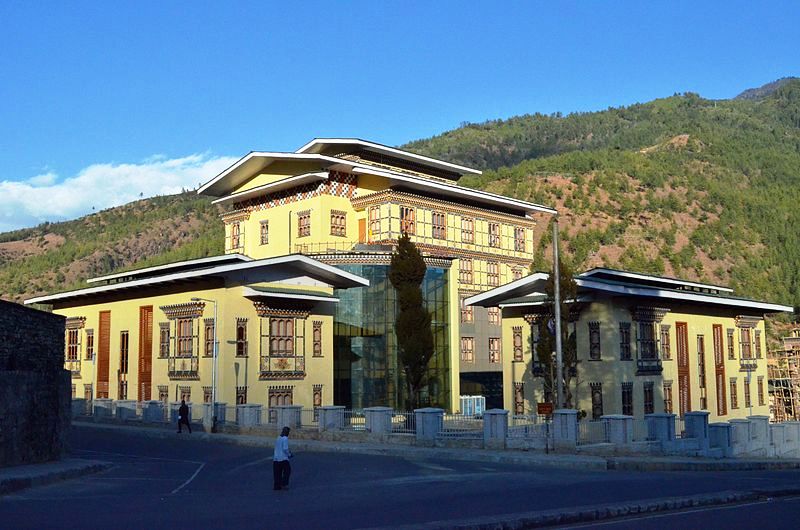 With the potential to generate 30,000 MW of hydropower, Bhutan's largest export is hydroelectricity. It supplies power to various states in India and Bangladesh.
Source: Wikipedia, Image: Wikimedia
24. The Last Shangri La?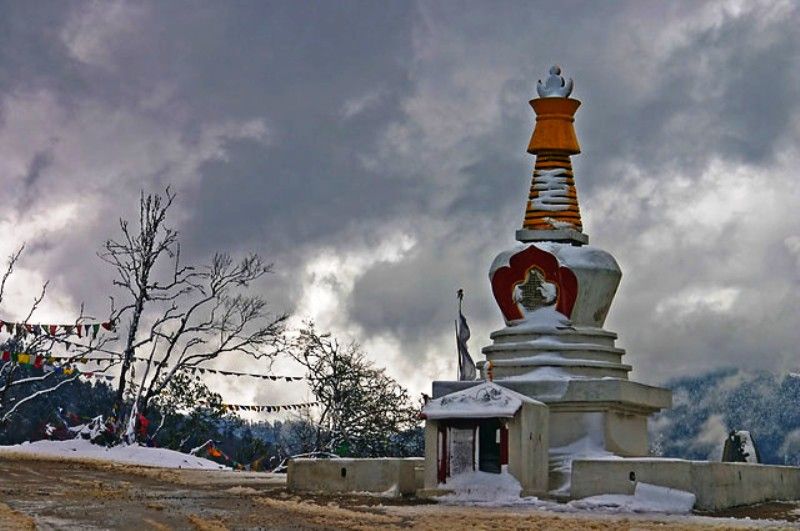 With majestic fortress-like dzongs and monasteries, Bhutan is also referred to as the Last Shangri La.
Source: pbs.org, Image: Flickr
25. Watch This Dance And Purify Your Soul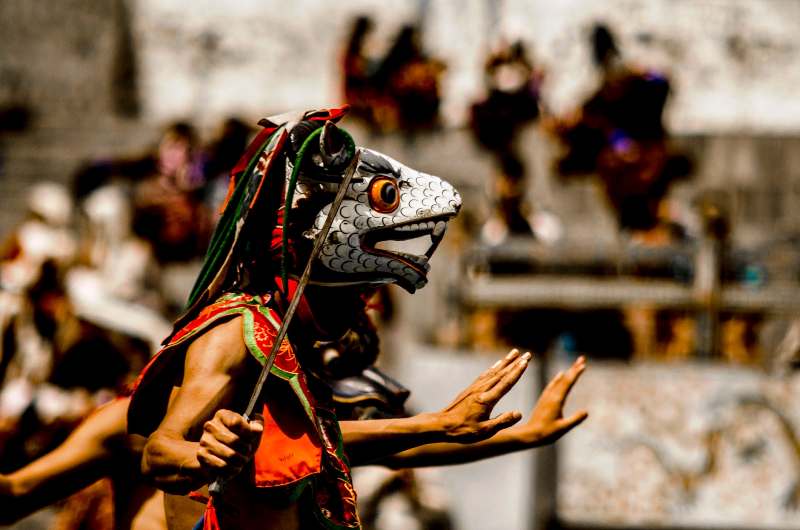 Bhutan has known the world over for its sacred mask dances. Performed by Buddhist monks and laymen, the dancers wear colorful wooden or papier-mache masks. People believe that by watching these dances they can purify their souls and bring themselves good luck.
Source: bbc.com, Image: Pexels
26. Get Married and Move to Your Wife's House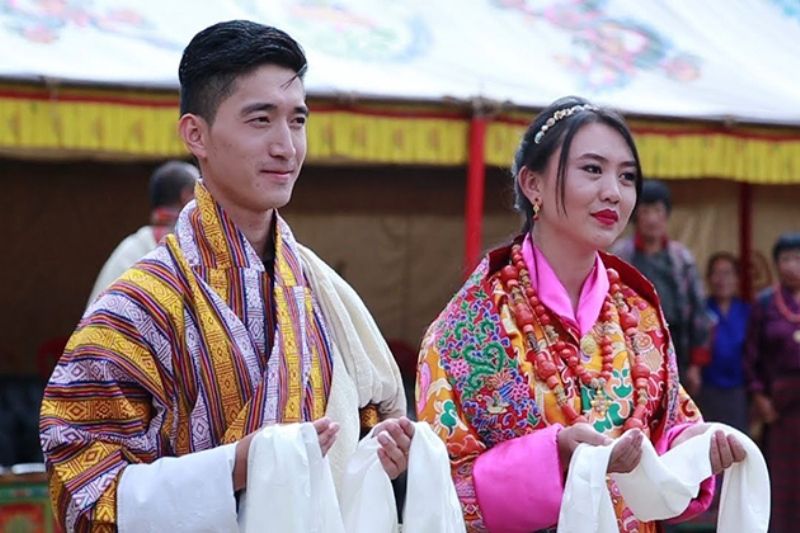 The Bhutanese families have the matrilineal inheritance where daughters inherit their parents' house. After the marriage, a man is expected to move to his wife's home.
Source: Sikkim and Bhutan by V. H. Coelho, Image: gobhutantours.com
27. Sports Loving Country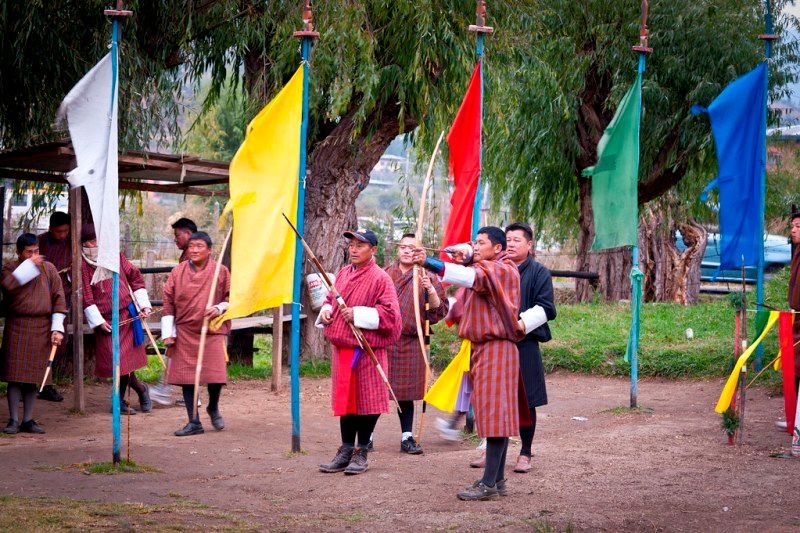 The Bhutanese are a sport-loving people who have developed an interest in sports like Archery, Degor, Basketball, Football, and Khuru. Archery, being the national sport of Bhutan, is the most popular sport in the country.
Source: impressbhutan.com, Image: Flickr
28. World's Highest Unclimbed Mountain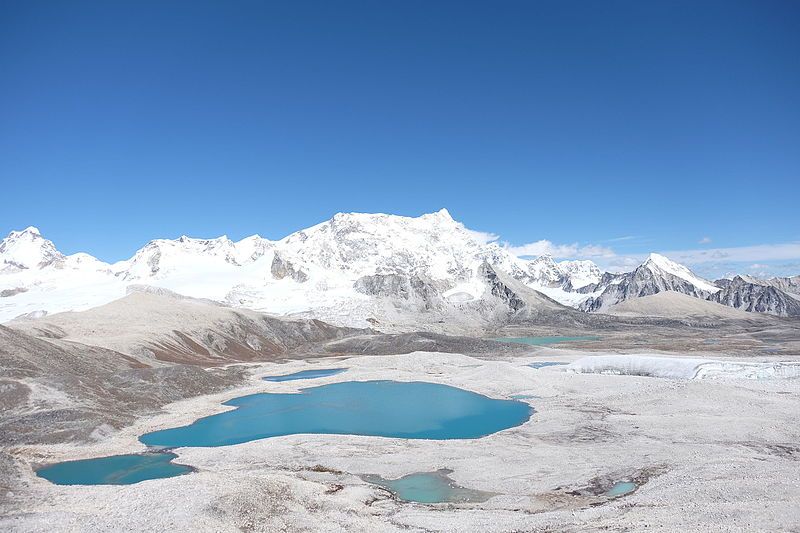 Gangkhar Puensum is the highest mountain in Bhutan, which has an elevation of 7570 meters (24,840 ft). It's considered the world's highest unclimbed mountain. In 1994, the unconquered Ganghkar Puensum was closed to climbers, along with all other peaks in Bhutan higher than 6,000m (19,800ft)- reportedly out of respect for local spiritual beliefs.
Source: bbc.com, Image: Wikimedia
29. A Goat or a Cow?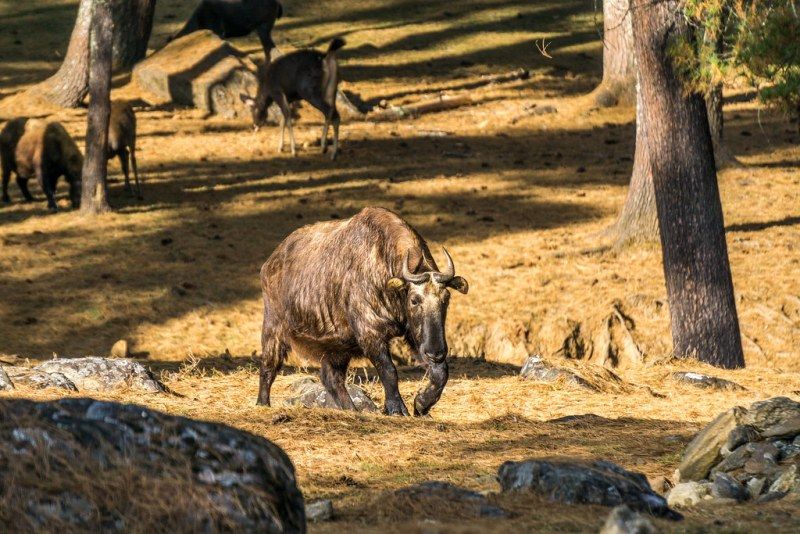 The Takin (Burdorcas Taxicolor) is an extremely rare mammal. It's also the national animal of Bhutan. Its features resemble a quaint blend between a cow and a goat.
Source: littlebhutan.com, Image: Flickr
30. A Haven to Booze Lovers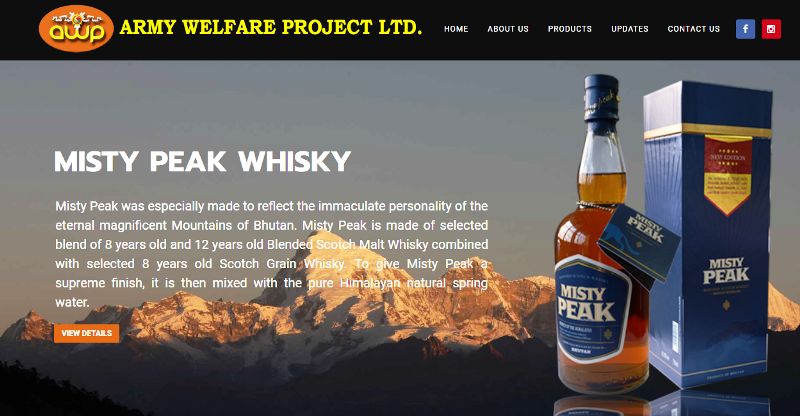 The Land of the Thunder Dragon is known for its quality whiskey world over. Produced mainly by the Army Welfare Projects (AWP) as a way to fund projects for the welfare of the armed force, the Bhutanese whiskeys assure you the finest tastes, and that too in a budget price.
Source: drukasia.com, Image: awpbhutan.com
31. People's Cryptocurrency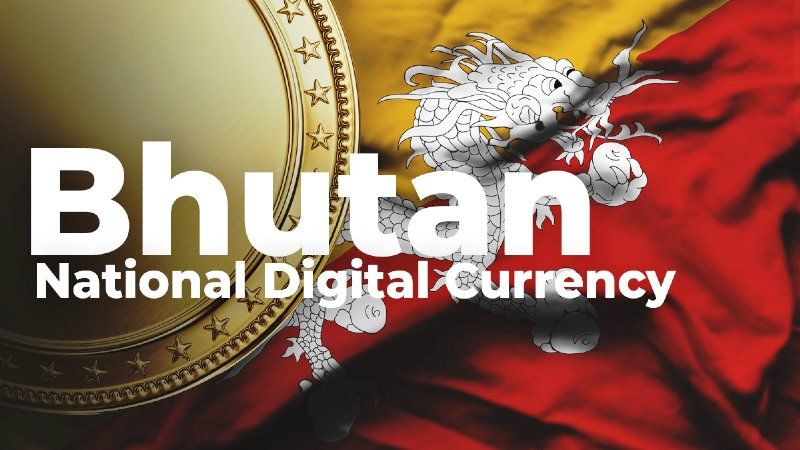 In October 2019, the Kingdom of Bhutan introduced Prizm national cryptocurrency. This currency will be used on equal terms with the main fiat currency of Bhutan- Ngultrum. This cryptocurrency is different from other cryptocurrencies in the way that its mining is carried out by the poorest users of the system. The Bhutanese Government has also planned to issue a Prizm e-wallet to every resident of Bhutan. All cash registers and stores in the Kingdom will be equipped with Prizm cryptocurrency devices. It's truly a people's cryptocurrency.
Source: newconomy.media, Image: news.u.today
32. The Iconic Tiger's Nest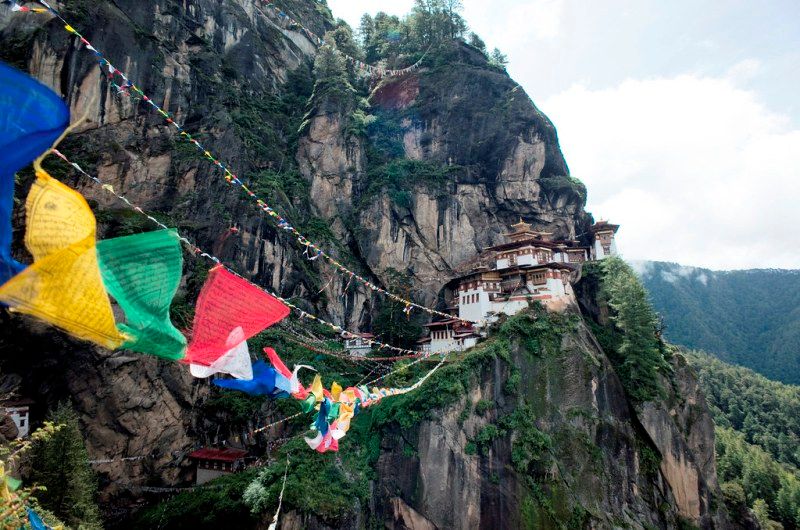 One of the Himalaya's most incredible sites, the 'Tiger's Nest Monastery' in Bhutan is miraculously perched on the side of a sheer cliff 900m above the floor of Paro valley. Built-in 1692 by Gyalse Tenzin Rabgye, the structure has become the cultural icon of Bhutan.
Source: drukasia.com, Image: Flickr