The biggest pop sensation and heartthrob of the aughts(the ten year period from 2000 through 2009); King of Latin Pop, who brought the largest quakes in the music industry ever since his debut. We're talking about the man whose voice carries 'Rythm Devine' straight to our hearts. Yes! It is Enrique Iglesias, the singer, songwriter actor and record producer. Are you ready to explore the world of Enrique? Let's go:
Source: Wikimedia
1. Born In The City Of Bear and the Strawberry Tree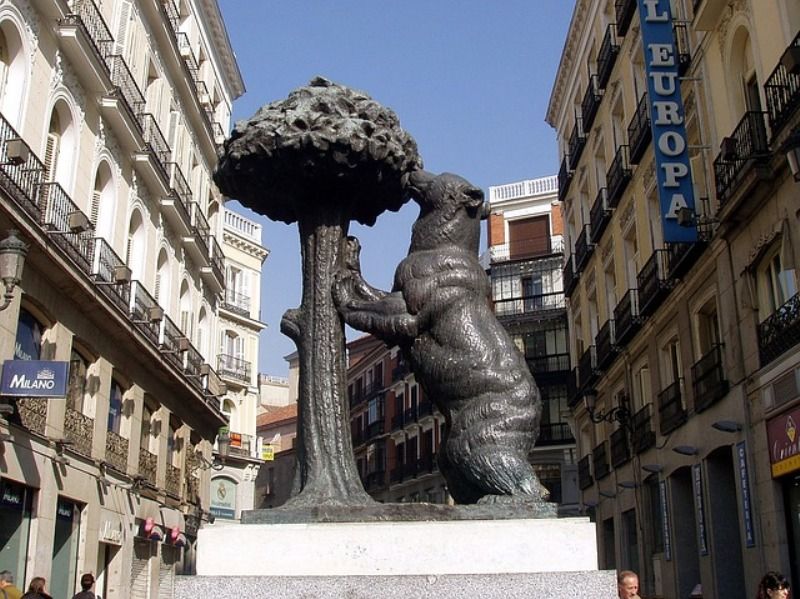 Enrique Miguel Iglesias Preysler was born in Madrid, Spain on 8 May 1975.
Source: biography.com, Image: Pixabay
2. Innate Of Luminaries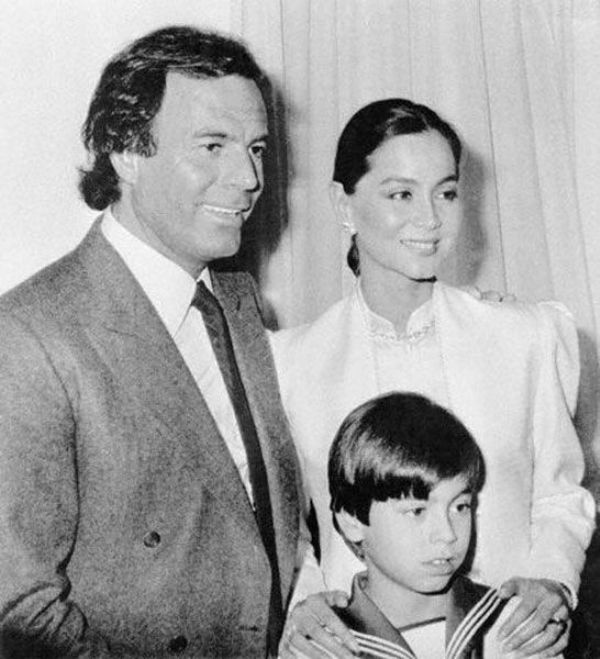 Enrique was the youngest of the three children of Spanish singer Julio Iglesias and Filipina socialite and magazine journalist Isabel Preysler.
Source: Wikipedia, Image: pinimg.com
3. Totally A Nanny's Boy
Enrique has been raised in his nanny's 'Elvira Olivares' home since a young age after his parents divorced. With help from Olivares, he made his first demo cassette consisting of a Spanish Song and 2 English Songs. Even his first album was dedicated to his nanny.
Source: Billboard
4. The First Step That Took Him High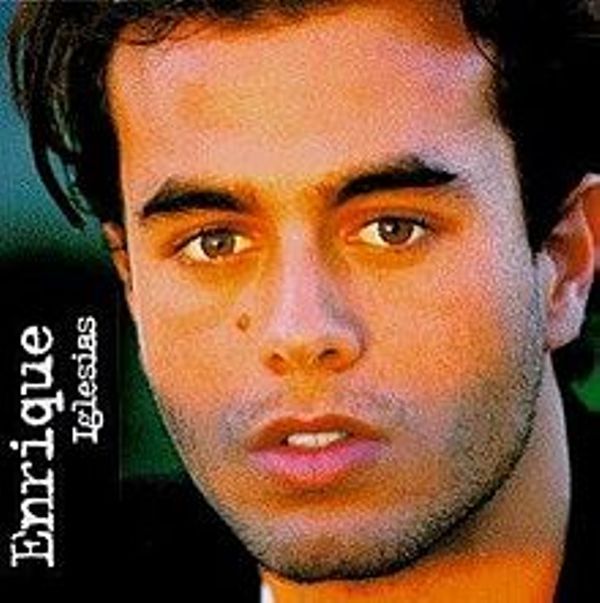 Enrique's first album was self-titled album named 'Enrique Iglesias' released in 1995. The record sold half a million copies in a week, going gold over Portugal in the first week, and sold over a million copies in 3 months despite being Non- English album.
Source: Wikipedia, Image: Wikimedia
5. Strained Relationship Of Iglesias
Enrique was the son of the famous Spanish Singer Julio Iglesias; it was apparent to have differences. He spent his childhood living in his nanny's house, both of them had limited time to spend. When he first released his demo cassette, he was opposed by Julio ending in a fight. However, he shows deep love and respect for his father. Differences are there in every family.
Source: dailymail.co.uk
6. Achievements In His Name
Up until now, he has won 23 Billboards Music Awards, 36 Billboards Latin Music Awards, 1 Grammy, 5 Latin Grammy, and many more.
Source: Wikipedia, GIF: pinimg.com
7. Rejected Because Of His Name  
At the beginning of his career, he used his real name but was rejected by the record companies. So he started experimenting his name.
Source: dailymail.co.uk
8. Married Or Not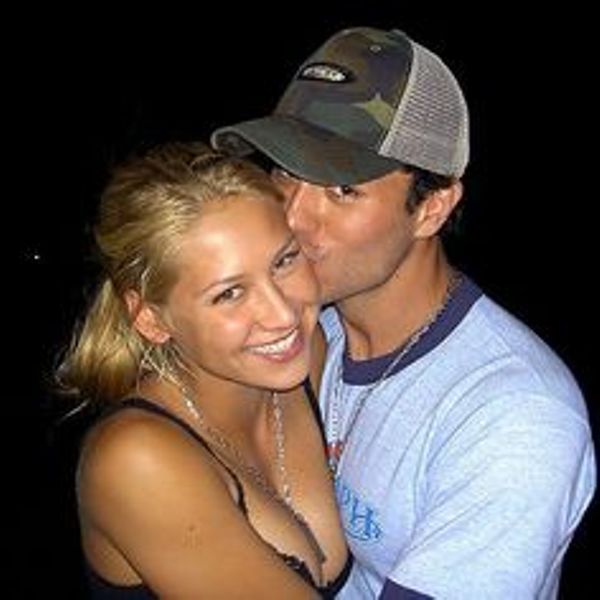 Anna Kournikova Russian former professional Tennis Player and the love of Enrique Iglesias have been together since their meeting in the sets of Enrique's music video for the song 'Escape.' Though they have twins named Nicolas and Lucy, it's still a mystery whether they are married or not.
source: indianexpress.com, Image: pinimg.com
9. Memories That Stayed Afresh
The Memories of Enrique that he still remembers to the date is going to Disney land when he was very young, being in the hospital bed when he was burned in the bathtub when there were boilers. He still has got those scars in his thighs.
Source: theguardian.com
10.  The Most Treasured Possession
The most treasured possession of Enrique is his dogs. He even once quoted that the best moments he had was with his dogs.
Source: theguardian.com
11. Once Alleged As Fraud
It was in the year 2000 when Howard Stern in his show, played a videotape showing Enrique to be singing off-beat to his song 'Rythm Devine.' Stern and his team wondered whether he was a fraudster when he appeared on 'The Howard Stern Show' proving himself worthed of the crown he holds.
Source: MTV
12. Did You Say Fart?
Enrique Iglesias once told that the most embarrassing moment in his life was farting in a movie theatre when he was on his first date.
Source: pressparty.com
13. Naughtiness Is The Taste Of Childhood
When Enrique was young, he had a hairy dog. To scare him, he through sparkler at him that caught his hair and dog was on fire. Half the dog was burned, and he got grounded for three months.
Source: express.co.uk
14. Enrique And His Secret
Enrique Iglesias who have to in front of the camera for the whole day doesn't like the photoshoots.
Source: theguardian.com
15. In The Book Of Guinness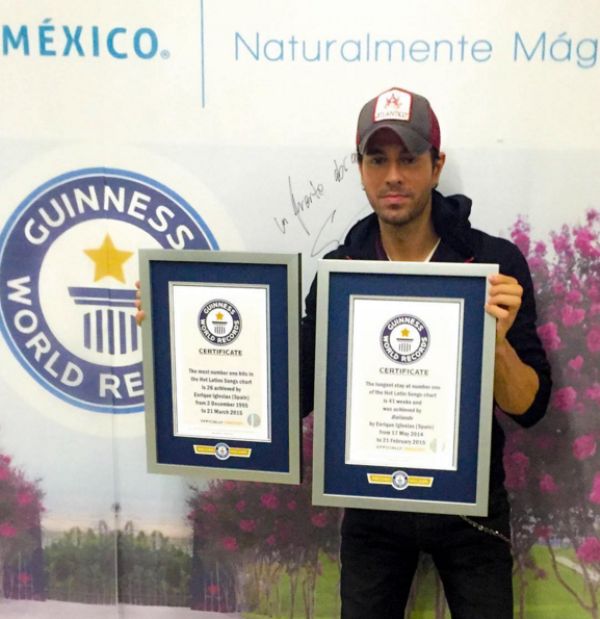 Enrique holds the world record for the 'Longest stay at No.1 of the Hot Latin Songs chart,' and for the 'Most, No.1 hits in the Hot Latin Songs chart.'
Source: guinnessworldrecords.com, Image: nbcnews.com
16. Not Just An Artist But A Good Human
Enrique is also known for his humanitarian works. He has supported the City of Hope, Habitat For Humanity, Help for Heroes, Live Earth, Muscular Dystrophy Association, Music for Relief, Special Olympics, The Salvation Army, and charitable causes like Alex's Lemonade Stand Foundation and hunger relief. He even produced 'Download to Donate for Haiti', a charity album for the 2010 Haiti earthquake.
Source: looktothestars.org
17. The Trademark That Vanished
Enrique had an iconic mole on his right cheek. After the doctor told him that his mole could become cancerous, he had to remove it.
Source: MTV