If there is one day you should join, this is the day."
The above statement has been made by the teenager climate sensation- Greta Thunberg. In person, she is tiny, but her action to save the environment is colossal. After being "an invisible girl" for most of her 16 years, now, she is arguably the most visible climate activist in the world. From demonstrating as a lone activist outside the Swedish Parliament to address the assembled world leaders at the 2019 UN Climate Action Summit held in New York City, Greta Thunberg has become the icon of climate activism. Let's delve into detail about Greta Thunberg's life and her climate activism:

Image: Pixabay
1. An Ancestral Connection to Climate Science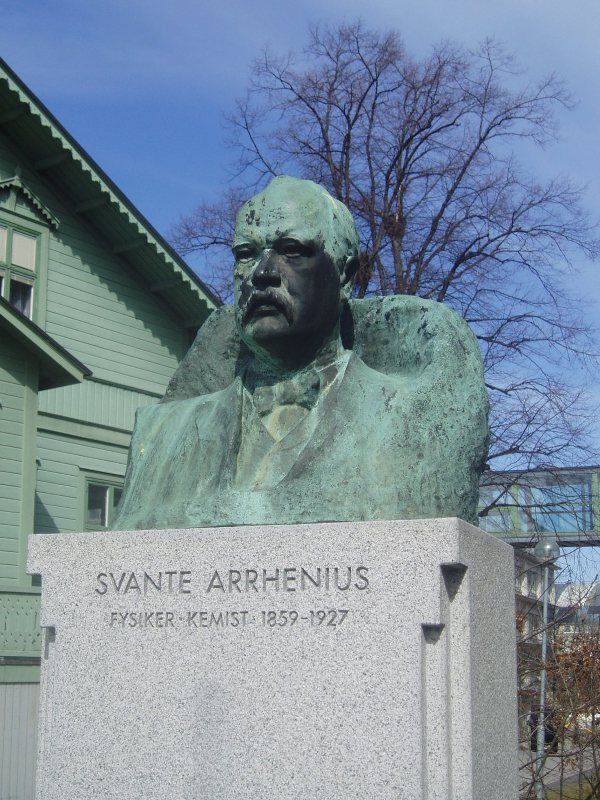 Although neither of her parents has a background in environmentalism, her father is a distant relative of scientist Svante Arrhenius, the Nobel Prize-winning scientist, who first calculated the greenhouse effect caused by carbon dioxide emissions in 1896.
Source: starsinformer.com, Image: Wikimedia
2. A Small Swedish Family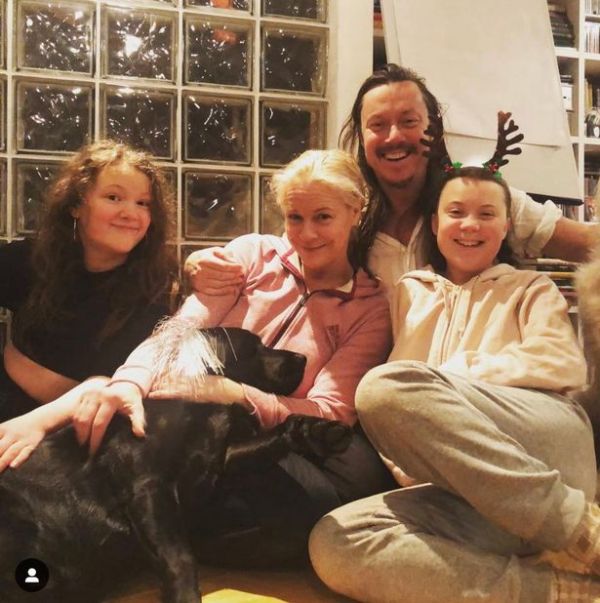 On January 3, 2003, Greta was born to her mother, Malena Ernman, a popular opera singer in Sweden; and her father, Svante Thunberg, a Swedish actor. She lives in Stockholm, Sweden along with her parents and her sister, Beata Thunberg.
Source: Biographied.com, Image: mirror.co.uk
3. First Encounter With Climate Change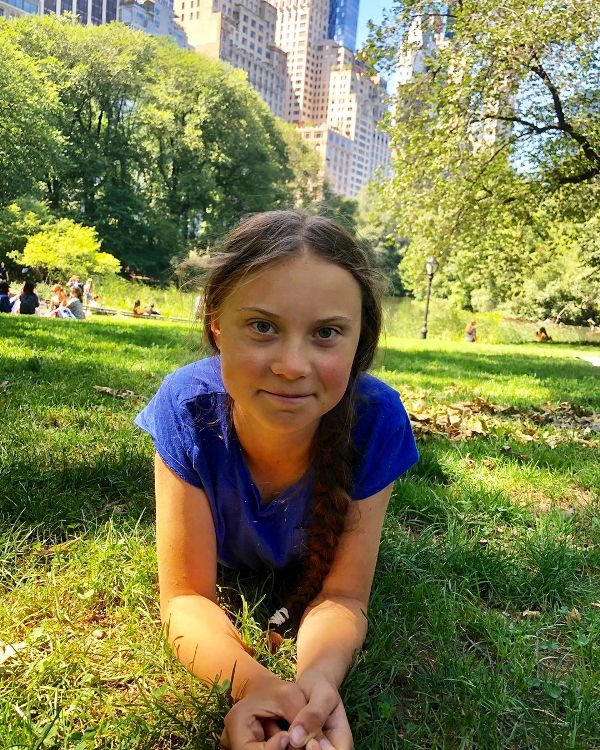 Greta first heard about something called "Climate Change" and "Global Warming," when she was about 8 years old and in the third grade. While talking about her first encounter with the terms "Climate Change" and "Global Warming," which were explained by her school teachers, she says-
They were always talking about how we should turn off lights, save water, not throw out food."
Source: starsinformer.com, Image: Greta Thunberg's Instagram Account
4. And She Lost Her Sleep
When the little Greta got familiar with things like "climate change" and "global warming," she started feeling strange that even after knowing the catastrophic consequences of global warming and climate change, why humans hadn't taken any substantial steps regarding that. She says-
I thought this was very strange. If humans could really change the climate, everyone would be talking about it and people wouldn't be talking about anything else. But this wasn't happening."
Source: The Guardian
5. Climate Change Concern Made Her ill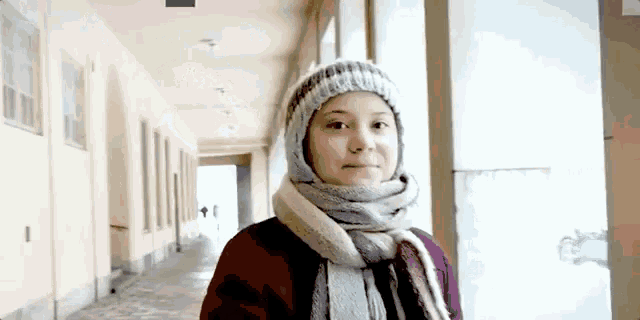 By the age of 11, Greta had become so much concerned about the climate change that she fell ill. She even stopped talking and eating, due to which, she lost about 10 kg of weight within two months.
Source: The Guardian, GIF: tenor.com
6. Thanks to Asperger's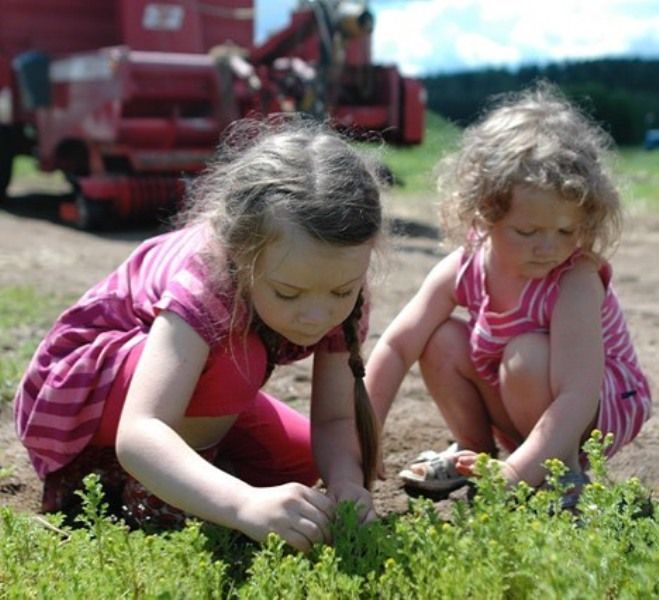 Well! It's very rare to see people giving thanks to their disease, but Greta gives thanks to her illness. Greta and her younger sister, Beata, were diagnosed with autism, A.D.H.D. (attention deficit hyperactivity disorder), i.e., Asperger's and other conditions. While talking about her diagnosis, she says-
My diagnosis has definitely helped me keep this focus. It makes me work a bit different. I think differently."
Source: CNN, Image: Malena Ernman's Instagram Account
7. The Little Greta's Sacrifices
After studying climate change in detail, Greta decided to bring changes first in her own lifestyle, including giving up eating meat, turning into a vegan, and giving up flying in any human-made machine. Although these may appear as sacrifices to the general public, for Greta, it's her duty. She says-
For me none of this is sacrifice, I don't need those things," she said. "I understand that some people see it as sacrifice. People don't want to stop flying but it's just something we have to do. There's no other option."
Source: The Guardian
8. Next Step Was to Convince Her Family
Before starting her campaign in public, Greta had convinced her family members to make changes in their lifestyle. She insisted them turn vegan and give up flying. Her mother, Malena Ernman, gave up her international career because of the climate effects of aviation. Greta's father, Svante, says-
Greta forced us to change our lives. I didn't have a clue about the climate. We started looking into it, reading all the books – she has read them too."
Source: starsinformer.com
9. Grows Her Own Vegetables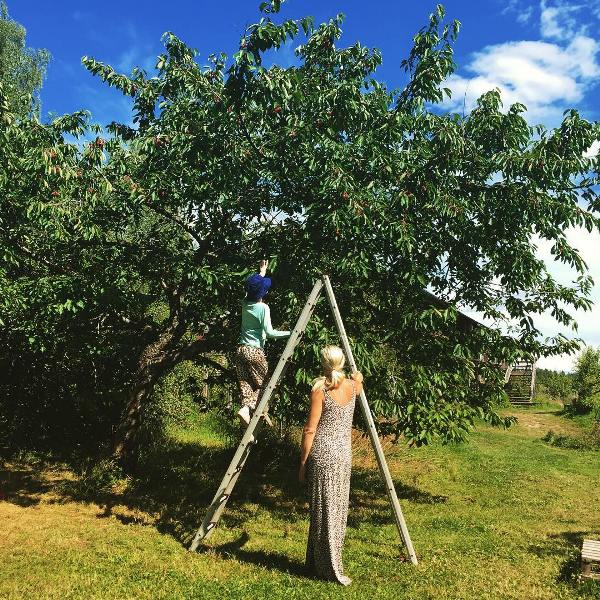 Moving a step ahead, Greta even grows her own vegetables on an allotment outside the Stockholm City in Sweden.
Source: The New Yorker, Image: Malena Ernman's Instagram Account
10. Goodbye to School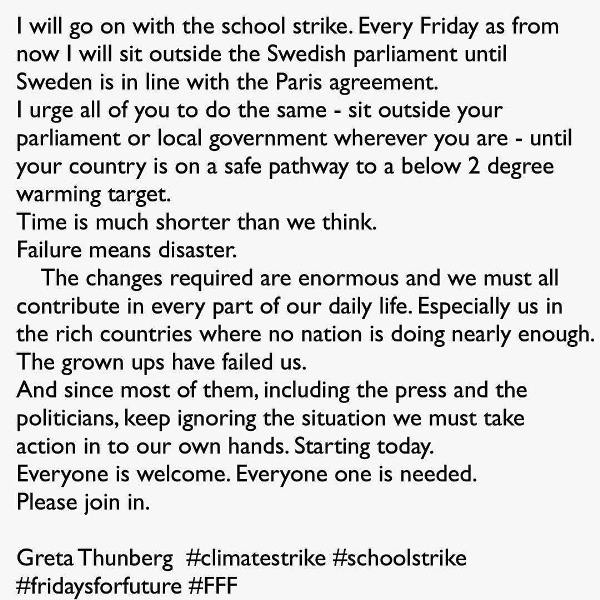 It was on August 20, 2018, when she had just started ninth grade, she decided not to attend school and went on a school strike. She also shared a post about the strike on her Instagram account.
Source: starsinformer.com, Image: Greta Thunberg's Instagram Account
11. You Adults are Shitting on My Future!
Thunberg started her climate protest by sitting outside the Riksdag, the Swedish Parliament, every day during school hours with the sign "Skolstrejk för klimatet" (school strike for the climate) and to every passerby, she would hand over a leaflet that declared:
I am doing this because you adults are shitting on my future."
Source: CNN, Video: YouTube Channel The Local
12. A Lone Striker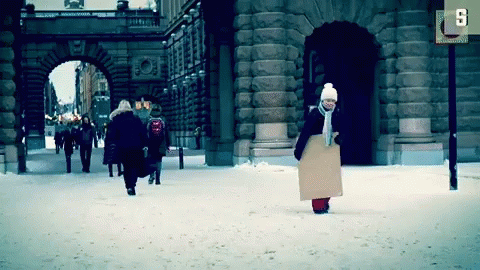 After the 2018 Swedish General Elections, she restricted her protest to only on Fridays instead of every day; outside the Swedish Parliament. Initially, she had to sit alone outside the Parliament, Later, many students from different schools started joining her, and it went on to become a phenomenon across the globe.
Source: Teen Vogue, GIF: tenor.com
13. Greta! Go Back to School
Well! Initially, her protest wasn't taken seriously by her family and teachers, and they asked her to give up her protest and go back to school.
Source: The Guardian
14. The Inspiration Behind Her School Strike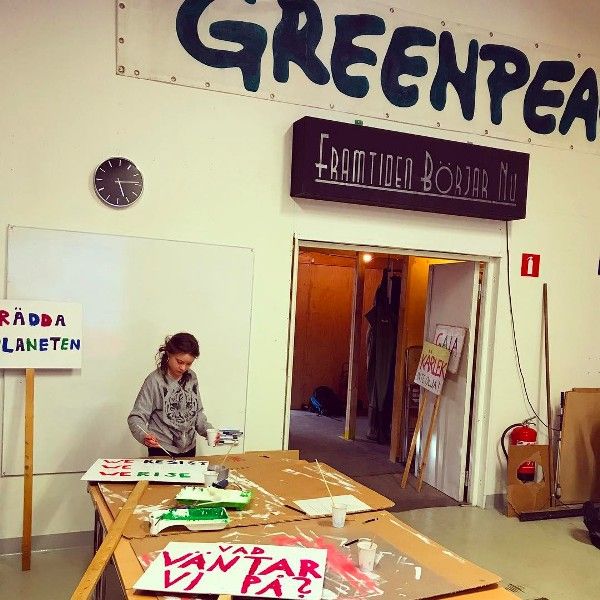 Thunberg's school strike was inspired by the protests staged by the American high-school students in response to the Parkland shooting in 2018.
Source: The New Yorker, Image: Malena Ernman's Instagram Account
15. Behind Every Success, There is a Mother
Well! It may not sound a standard quote, but in the case of Greta, it's true; as it was her mother who shared her story on her personal social media, where she had several thousand followers as a famous opera singer. From then onwards, Greta's story has been picked up by various news outlets and is being shared widely on social media.
Source: New York Post, Image: Malena Ernman's Instagram Account
16. First International Address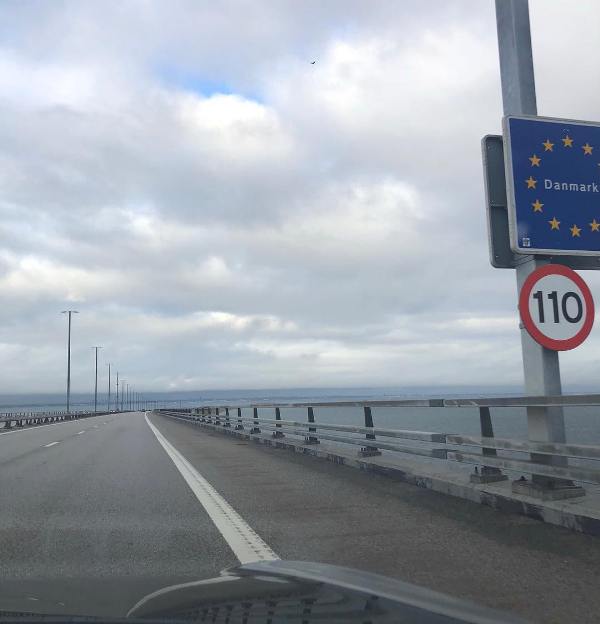 Greta's first address from an international event was in October 2018 when she drove to London in an electric car and addressed the 'Declaration of Rebellion' organized by Extinction Rebellion opposite the Houses of Parliament.
Source: BBC, Image: Greta Thunberg's Instagram Account
17. A Global Sensation Tackling a Global Threat
The little Greta has become a global sensation tackling a global threat. So far, she has attended numerous events on climate change across the globe.
Source: Teen Vogue, GIF: francescariz.com
18. The Youngest to Speak at the United Nations Event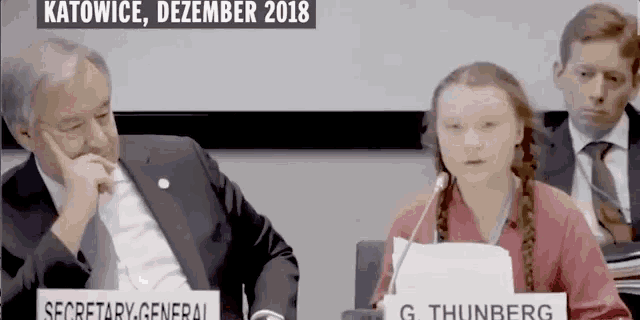 On December 4, 2018, at the age of 15, Greta became one of the youngest persons to speak at an event organized by the United Nations, when she addressed the COP24 United Nations climate change summit.
Source: Wikipedia, GIF: tenor.com
19. The Train Journey Witnessed by the World
On January 23, 2019, when she arrived in Davos after a 32-hour train journey to address at the World Economic Forum; where many delegates had arrived by up to 1500 individual private jet flights, it was witnessed by the whole world; terming it a strong message to those hypocrites who have failed to address the consequences of climate change and global warming.
Source: BBC, Image: Greta Thunberg's Instagram Account
20. Meet Greta Thunberg's Hero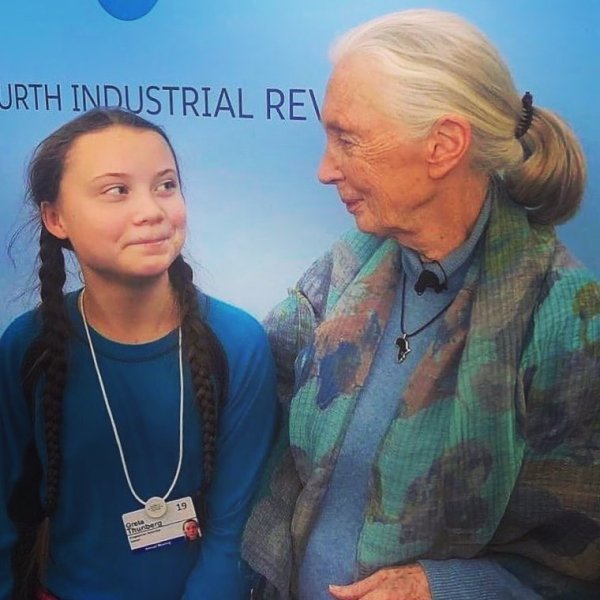 Although Greta is seen as an inspiration to many, when it comes to her own inspiration, it's the famous primatologist, Jane Goodall, who Greta considers her hero.
Source: cnbc.com, Image: Greta Thunberg's Instagram Account
21. Greta, the Animal Lover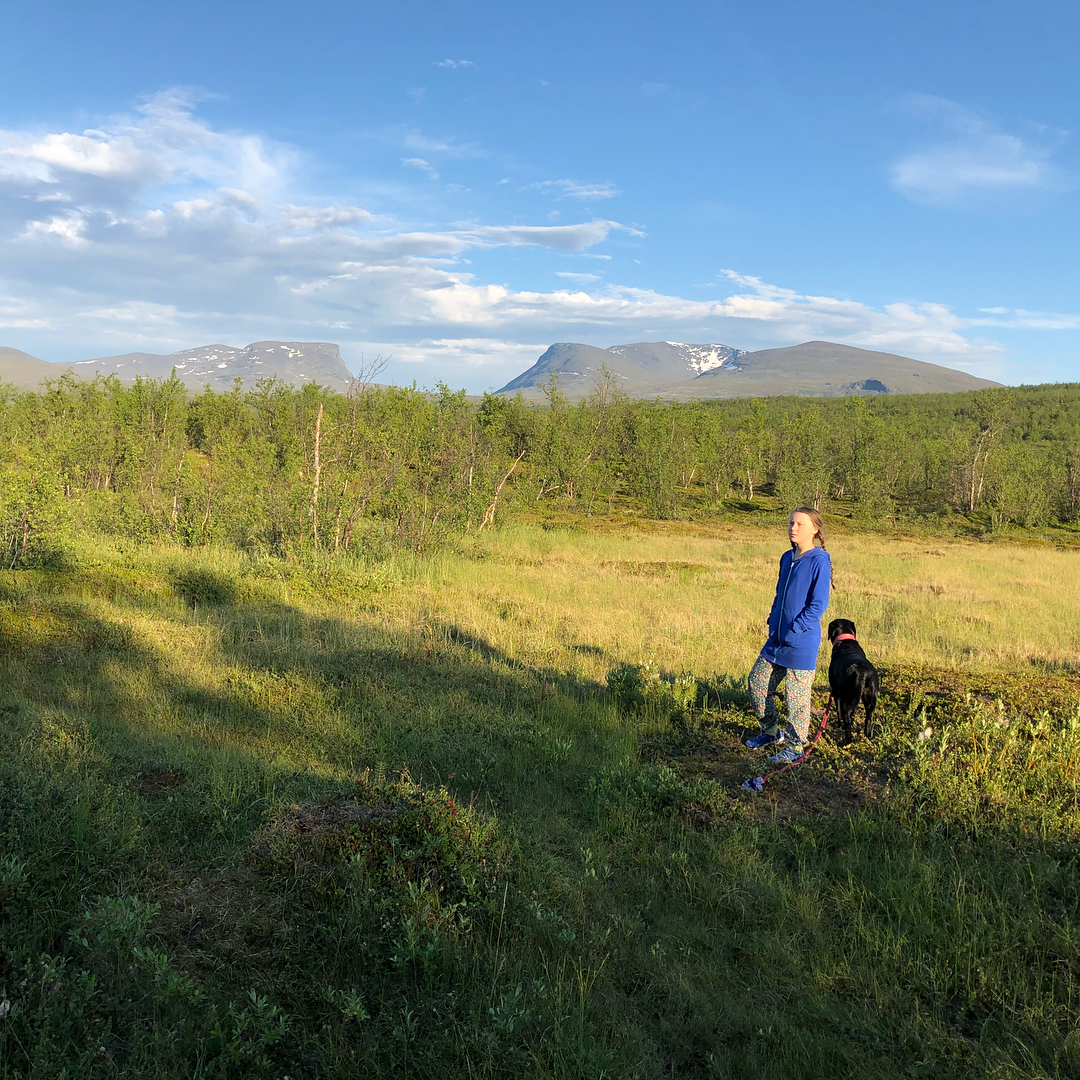 Greta loves to play along with her pet dogs in her hometown. She has two pet dogs at her home in Sweden.
Source: Financial Times, Image: Greta Thunberg's Instagram Account
22. It's TIME for Greta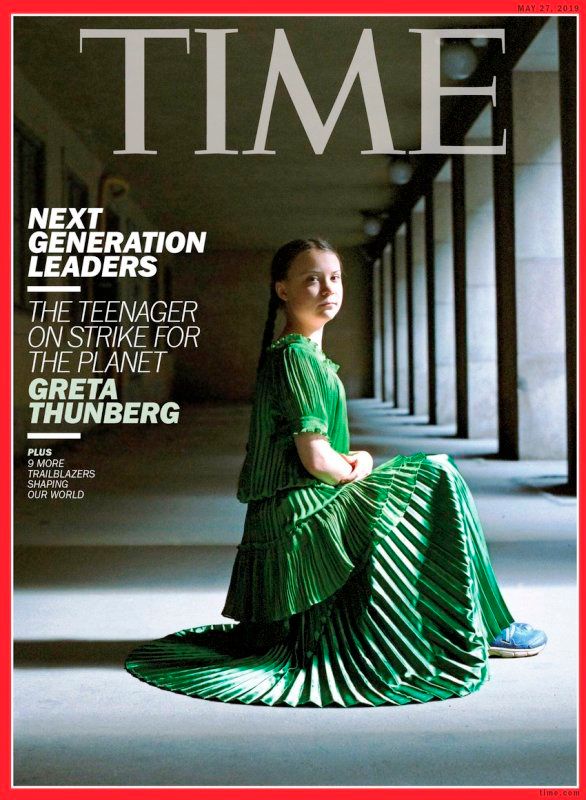 In May 2019, she was featured on the cover of the prestigious Time Magazine.
Source: time.com, Image: Greta Thunberg's Twitter Account
23. Greta Thunberg: An Inspiration to Artists
Inspired by Greta's climate protests, the famous artist, Jody Thomas, honored her with a stunning street art mural, which he created on the side of the 15-meter-high Tobacco Factory building in Bristol, southwest England.
Source: BBC, Video: YouTube Channel Le Huffington Post
24. Greta Thunberg: The Voice-over Artist
In July 2019, Greta gave a long voice-over to a new track of the popular English band "The 1975."
Source: BBC, Video: YouTube Channel The 1975
25. She is Ruthlessly Frank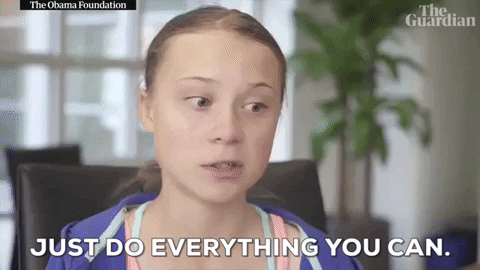 When it comes to discussing climate change with Greta Thunberg, she prefers action over the discussion. In fact, she is famous for being ruthlessly frank with the global elite.
Source: Teen Vogue, GIF: giphy.com
26. A Voyage to Remember
On August 28, 2019, she arrived in New York; after a 15-day long voyage. She sailed across the Atlantic in a high-speed yacht to attend the UN Climate Action Summit in New York. The yacht is claimed to have zero-emission.
Source: The New York Times, Video: YouTube Channel The Telegraph
27. She is the Greatest Threat to…
In July 2019, Mohammed Barkindo, the Secretary-General of the Organization of the Petroleum Exporting Countries (OPEC), termed Greta Thunberg as the "greatest threat" to the fossil fuel industry. This is, perhaps, the biggest compliment that she has received for her climate activism, so far.
Source: The Guardian
28. When Obama Joined Greta's Team
On September 16, 2019, after meeting Greta Thunberg on her visit to Washington DC, former US President Barack Obama said to her-
You and me, we're a team."
Source: CNN, GIF: metro.co.uk
29. How Dare You!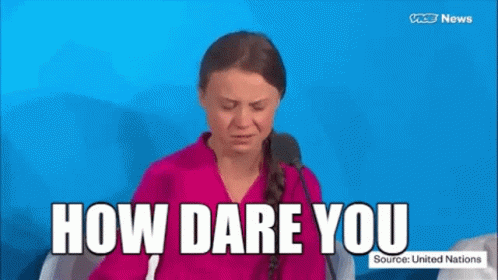 On September 23, 2019, she opened the United Nations Climate Action Summit in the United Nations (UN) headquarter. Her speech at the summit condemned the world leaders for failing to take strong measures to combat climate change, she said-
For more than 30 years, the science has been crystal clear. How dare you continue to look away?"
Source: CNN, GIF: tenor.com
30. The Greta Thunberg Effect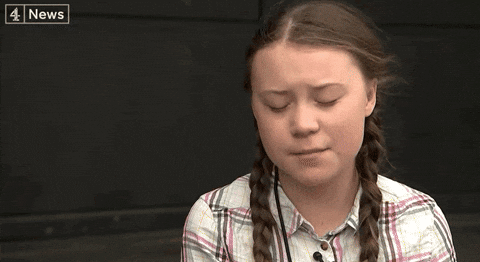 In popular media, Greta Thunberg's climate activism is often termed as the "Greta Thunberg Effect."
Source: Wikipedia, GIF: giphy.com
31. I'm The Proud Insect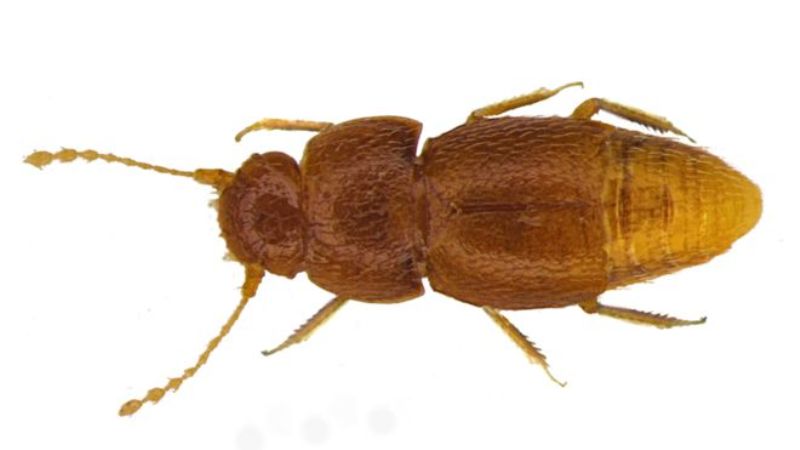 In a rare feat, Great Thunberg has been named after a newly discovered species of beetle. Scientist Dr. Michael Darby, who discovered the species, said he chose the name because he was "immensely impressed" by the Swedish teenager's environmental campaigning. The insect is less than 1mm long and has no wings or eyes.
Source & Image: BBC