The American rock band Aerosmith is one of the most popular band and it has earned the nickname "the bad boys from Boston" and "America's greatest Rock and Roll band". Formed in 1970 in Boston, Massachusetts originally contained Joe Perry (guitarist), Tom Hamilton (bassist), Steven Tyler (vocalist/ pianist/ harmonicist), Joey Kramer (drummer) and Ray Tabano (guitarist). Here is a list of some of the most interesting facts about Aerosmith.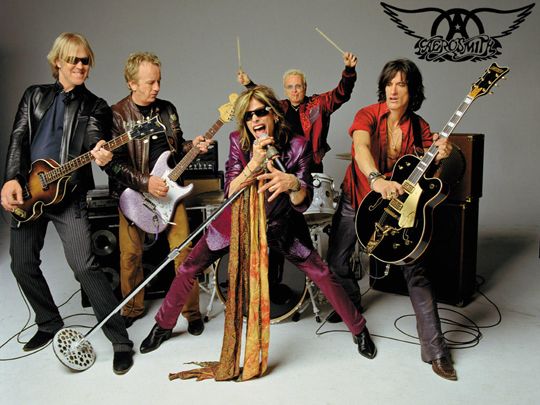 Image: flickr
1. Earlier names of Aerosmith
Before using the name Aerosmith, the band wanted to name themselves Jack Daniels or Spike Jones.
Source: musicmirror.de
2. Aerosmith's fan base has its own name
The fan base of Aerosmith band is called 'The Blue Army'. The band had itself coined this name for their fans. Here 'Blue' represents the colour of denim jeans and denim jackets (blue) which most of the fans wore. The term 'Army' was coined due to the fan's loyalty, tough demeanor and youthfulness.
Source: wikipedia.org
3. What a coincidence!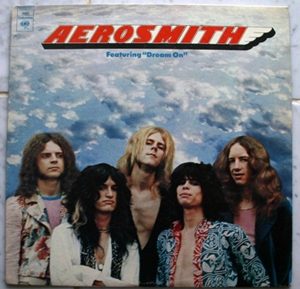 Aerosmith's first album "Aerosmith" and Bruce Springsteen's first album "Greetings from Ashbury Park, New Jersey" both were released on the same day i.e. 5 January, 1973.
Source: uproxx.com, image: aerokay.deviantart.com
4. Tyler's several names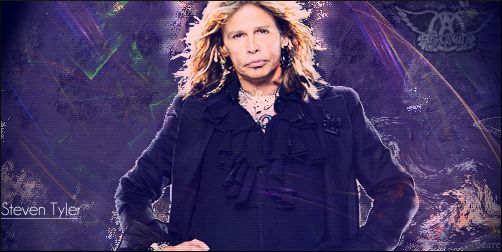 The real name of Steven Tyler is Steven Tallarico. When he was in the band Chain Reaction, he became Steven Tally. Then he formed Aerosmith and wanted to change his name to Tyler Britt. But his manager convinced him to change it and become Steven Tyler.
Source: songfacts.com, image: flickr
5. Steven Tyler had first met Joe Perry over French Fries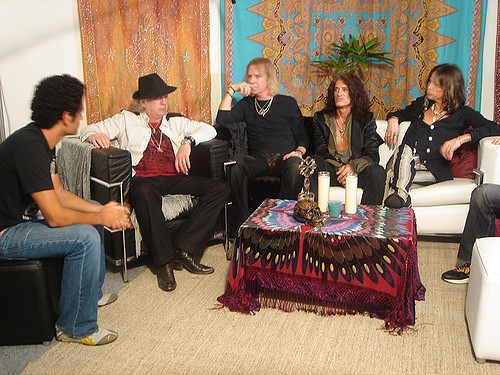 At a restaurant called Anchorage, Steven was having his meal. There he wanted to meet the chef to congratulate him as it was the best French fries he had ever eaten. Coincidentally, the chef turned out to be Perry who was not happy to meet him as Steven always made a mess of his meal which Joe had to clean later.
Source: cbslocal.com, image: flickr
6. Steven's stolen bass
After being thrown out of High school, Steven Tyler stole the school band's bass and he still had got the bass with him! He had used the same bass at the end of the song "Livin' On the Edge".
Source: musicmirror.de
7. Renaming the 'Pump'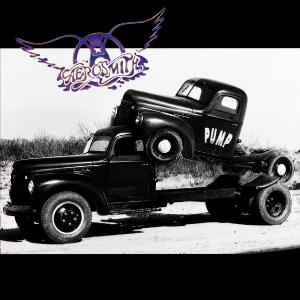 One of the most famous album of Aerosmith is "Pump". But the band members were not happy with this name at that time. They wanted to rename it as "Bobbing For Piranhas". Thankfully, they didn't.
Source: shirthunt.com, image: wikipedia.org
8. The song 'Sweet Emotion' is all about Steve's emotions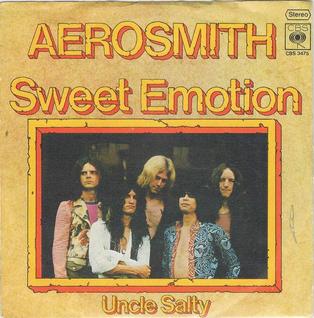 Each line of song "Sweet Emotion" actually represents the emotion Steve was feeling at that time. One of the most highlighted emotion in the song is the deep anger at Joe's ex-wife Elyssa Jerret.
Source: aerosmith-music.com, image: wikipedia.org
9. Why Perry quit the band?
Before their performance in Cleveland, guitarist Joe Perry's wife, Elyssa Jerret threw milk on bassist Tom Hamilton's wife, Terry Hamilton. This led to Joe Perry quitting the band in 1979.
Source: buzzfeed.com
10. When Jennifer Aniston said Tyler is hot!
When Jennifer Aniston was married to Brad Pitt, she once said that Tyler was the only guy for whom she would leave Brad Pitt.
Source: songfacts.com
11. Mysterious carrots
In the year 1978, Aerosmith ordered a ton of carrots and took it with them. The weird part is that no one (except the band members) know why the band took so much carrots and for what they had used these carrots.
Source: shirthunt.com
12. Members of Aerosmith gave up drug in the 80s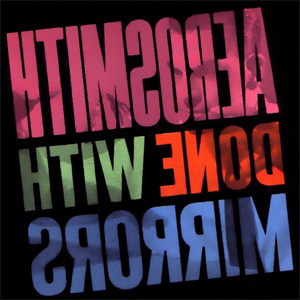 In the 80s Joe Perry and Brad Whitford gave up drugs. So, when they recorded the album "Done with Mirrors" in 1985, they cleverly choose the title "Done with Mirrors" which contains double meaning. One meaning was how the album was recorded and the other meaning was that they have now abstained for the heavy use of cocaine.
Source: uproxx.com, image: wikipedia.org
13. When a fan threw cherry bomb!
In the year 1977 Aerosmith were touring for their album "Draw The Line". But while performing in Philadelphia a fan threw cherry bomb on the stage. Due to this both Perry and Tyler were injured.
Source: gibson.com
14. When Steven Tyler blew off songwriting!
In the year 2009, Steven Tyler blew off one week of songwriting with Joe Perry. The reason was that he secretly flew off to England for an audition in Led Zeppelin.
Source: buzzfeed.com
15. The flop album
Realizing how famous Aerosmith is it's hard to believe that there could ever be a flop in their career. Actually they do have a flop. In 1985, came out their album "Done with Mirrors" which was a major flop. But thankfully they had a major comeback with "Permanent Vacation".
Source: factfile.org