Ashton Kutcher is an American model-turned-actor, producer, and investor. He's known for his first acting gig, playing Kelso on That '70s Show, which earned him roles in films like Guess Who, A Lot Like Love, The Guardian, No Strings Attached, and Jobs. Here are some interesting facts about Ashton Kutcher that may surprise you:

Image: photobucket.com

1. Ashton's Twin
Kutcher has a fraternal twin brother, Michael, who was born with a septal heart defect and has cerebral palsy. He is so close to his brother that as a child, he even considered committing suicide to give his brother a vital heart transplant.
Source: WiImageia, Image: showbizgeek.com
2. Shame! Shame! Ashton!
Ashton was arrested for breaking into his school; trying to steal money and was charged with third-degree burglary during his senior year.
Source: Wikipedia
3. From Rags To Riches
Kutcher was once so poor that he donated his blood for money; while attending the University of Iowa. He even used to sweep floors at the General Mills plant. In 1997, he won the "Fresh Faces of Iowa" modeling contest in 1997, which completely changed his life.
Source: biography.com
4. The Big Break
In 1998, he got a role on the popular retro sitcom 'That '70s Show' and won over fans with his broad humor and good looks.
Source: biography.com, Image: eonline.com
5. When He Challenged The CNN
In 2009, Ashton challenged the news giant CNN in a race to get Twitter followers. He became the first Twitter user to get 1,000,000 followers, beating CNN in the Million Followers Contest, and now, has over 14 million followers.
Source: news.moviefone.com
6. Eat And Get Richer
He loves Italian Pizzas and has invested in an Italian restaurant, Dolce and a Japanese-themed restaurant, Geisha House.
Source: healthyceleb.com
7. A Tech Investor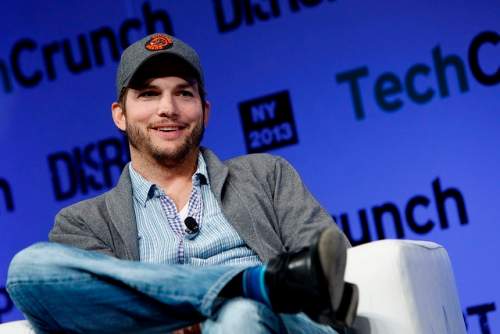 In 2007, he became the creative director of the tech start-up Ooma. Thereafter, he invested in Spotify, Foursquare, Uber, Airbnb, and Path, and also created his Twitter app called A.plus.
Source: news.moviefone.com, Image: Flickr
8. When The Entertainer Gets Entertained
His favorite movies are- Forrest Gump, The Shawshank Redemption, Scary Movie, Gladiator. He loves listening to The Fine Machine, Dave Matthews Band, Hole, and his favorite song is " Young Blood" by The Naked And Famous.
Source: healthyceleb.com
9. Money, Money, Money!

Kutcher has a net worth of around $140 million and is among the highest paid actors on television with $750 thousand per episode. And who can forget his business ventures?
Source: therichest.com
10. A Huge Fan Of Chicago Bears
Ashton is a big fan of a football team, Chicago Bears and is often seen supporting them by wearing various items of Bears clothing in his films.
Source: national.suntimes.com
11. His Crush!!
His favorite movie stars are- Maureen McCormick, Marilyn Monroe, Jennifer Aniston and Tom Cruise. He once confessed to having a huge crush on Jennifer Aniston.
Source: boomsbeat.com
12. Flight To Space
He is among the few lucky people to ride Virgin Galactic Spaceship-Two. Others to accompany him include celebrities such as Justin Bieber, Stephen Hawking, Tom Hanks, Katy Perry, Brad Pitt, and Angelina Jolie.
Source: hollycelebrity.com, Image: i.space.com

13. When He Turned Into A Producer
He produced the MTV show Punk'd with his friend Jason Goldberg in 2003
Source: Wikipedia, Image: amazon.com

14. Worst Actor!
Though Ashton is a pretty good actor, he was nominated for "Worst Actor of 2004" because of his roles in the movies Cheaper by the Dozen, Just Married, and My Boss's Daughter in 2003.
Source: boomsbeat.com
15. Glamorous Relationships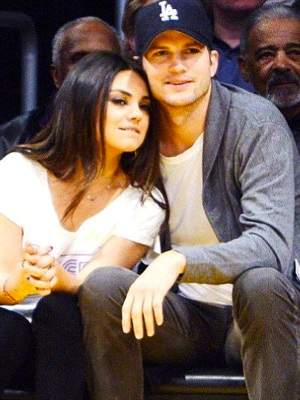 In 2005, he married Demi Moore in a small ceremony at their Beverly Hills home but got divorced in 2013. In 2015, he married Mila Kunis and has a daughter Wyatt Isabelle Kutcher.
Source: Wikipedia, Image: okmagazine.com

16. An Advocate Of Child Welfare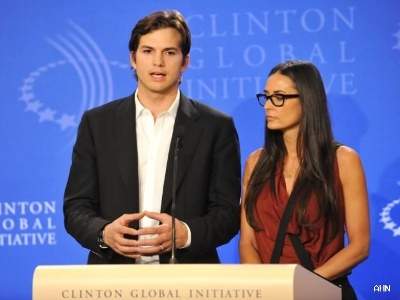 In 2010, Kutcher and his ex-wife, Demi Moore, started "The Demi and Ashton Foundation" (DNA) to eliminate child sex slavery worldwide. In 2012 the two renamed the foundation THORN: Digital Defenders of Children, which also uses technology to help prevent child sex trafficking.
Source: Wikipedia, Image: momentscount.com

17. Good Work Is Always Paid
He has won various awards, such as the Hollywood Film Award, People's Choice Awards, Teen Choice Award, etc.
Source: Wikipedia