Eco-friendly Denmark hails visitors with everything from a sophistication, food-loving city in Copenhagen to Renaissance castles, wind-swept offshore islands and tiny fishing villages. This tiny country is filled with magnificent fountains and statues that bear witness to a remarkable past; regal rooms in majestic castles; centuries-old houses lining tranquil canals; a park that is the stuff of fairy tales, with twinkling lights and exotic buildings; and everywhere, people on bicycles, at sidewalk cafes, and in sailboats. Let us know some intriguing facts about this gorgeous land of Danes, Denmark. 
image: il9.picdn.net
1. Oldest Continuing Monarchy in Europe: Danish Monarchy
Danish follows the constitutional monarchy. Danish Monarchy is oldest surviving monarchy in Europe and fourth oldest in the World. The Kingdom of Denmark was already consolidated in the late 8th century. It is serving till date making it longest serving monarchy in Europe. The Danish Monarchy is constitutional and as such, the role of the monarch is defined and limited by the Constitution of Denmark. Current Monarch of Denmark is Margrethe II.
source: www.factretriever.com
2. Bicycle Loving Country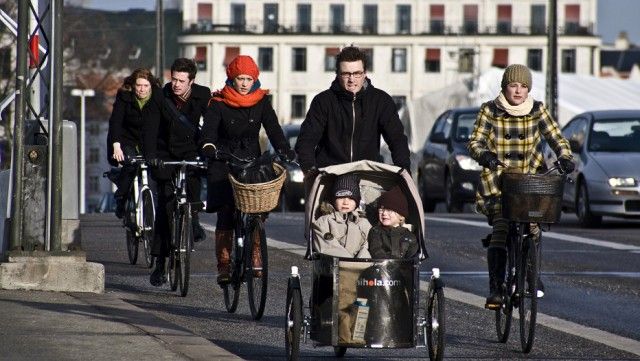 Denmark is Cycle Loving country. It ranks second with most cycle per capita after Netherlands in the world. In Denmark 18% of all trips are made by bike. The average distance cycled per person is 1.6 km. Cycling is generally perceived as a healthier, cheaper, environmentally friendlier and often even quicker way to travel around towns than car or public transport and it is therefore municipal policy for the number of commuters by bike to go up to 40% by 2012 and 50% by 2015.
source: top10hell.com, image: www.wired.com
3. Least Corrupt Country
Denmark is the least corrupt country in the world. In Corruption Perceptions Index, Denmark ranked first out of 178 countries with score 91 in 2015.
source: wikipedia
4. Country of Precipitation
Average every second day in Denmark is rainy. Denmark has an average of 179 days per year with precipitation, on average receiving a total of 765 millimetres (30 in) per year; autumn is the wettest season and spring the driest. The position between a continent and an ocean means that weather often changes.
source: www.factretriever.com
5. World's Happiest Country
Denmark is the World's happiest country as per World's happiness report 2016. Denmark has good GDP per capita, healthy life expectancy, people are very generous and people in Denmark get more freedom to make life choices.
source: wikipedia
6. Danish are good Swimmers
Every Danish knows how to swim. Danish love swimming. swimming lessons are part of the compulsory curriculum in all state schools.
source: www.factretriever.com
7. One of the Most Coffee Consuming Countries
Denmark is one of the most coffee consuming countries in the world. 5.3 kg coffee is consumed per capita each year. It makes Denmark one of the most coffee consuming Nations.
source: www.caffeineinformer.com
8. Country of High Divorce Rate
Danish are relaxed when it comes to issues such as marriage. The country's divorce rate is one of the highest in Europe, and nearly 20% of Danish couples cohabit without ever getting married in what are called "paperless marriages".
source: www.factretriever.com
9. Oldest Operating Amusement Park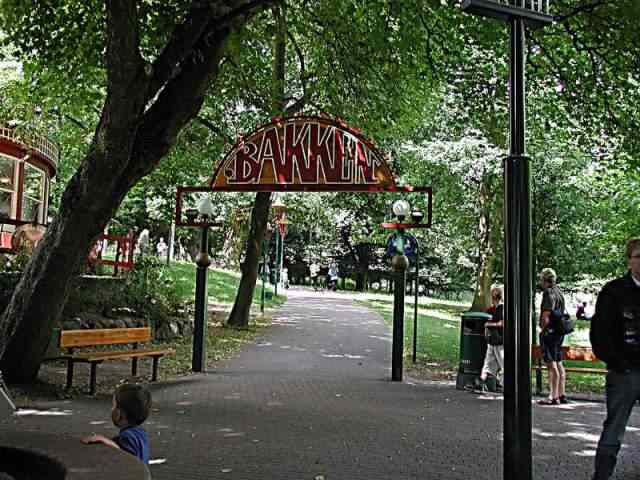 Denmark is home to World's Oldest Amusement Parks; Dyrehavsbakken and Tivoli Gardens. Former is the oldest and latter is second oldest operating amusement park in the World. Walt Disney visited Tivoli Gardens in Copenhagen once and was so inspired that he decided to create something similar in America: Disneyland.
source: www.factretriever.com, image: www.danskefilm.dk, image:www.beautifulglobal.com
10. Oldest Surviving Musical Instruments: Danish Lur Horns
                                                                                    A Lur is a long natural blowing horn. Lurs can be straight or curved in various shapes. Bronze age lurs have been found in Scandinavia. They are the world's oldest surviving musical instrument.
source: wikipedia, image: s-media-cache-ak0.pinimg.com
11. Oldest State Flag: Dannebrog
Dannebrog is the Danish state flag. It is the oldest state flag in the world still in use by an independent nation. It was adopted in 1219.
source: www.eupedia.com, image: m9.i.pbase.com
12. Club Loving Country
Danish people love clubs. There are over 80,000 clubs, associations and hobby societies in the country and more than 90% of Danes are members of at least one of them.
source: www.eupedia.com
13. First Country to Recognize Same-Sex Unions
Same-sex sexual activity was legitimated in 1933, and since 1977, the age of consent is 15, regardless of sexual orientation. Denmark was the first country in the world to grant legal recognition to same-sex unions, in the form of "registered partnerships", in 1989. However the Same-Sex marriage law came into effect on 15 June 2012.
source: wikipedia
14. Did Danish Rule England Ever?
In the 9th and 10th centuries, Danish Vikings invaded and settled in parts of Western Europe as far as North Africa. They founded the Danelaw in Northern England, and were granted to Duchy of Normandy (named after the Norse men) by the King of France. Scandinavian and Danish Vikings ruled over England for short time period in 11 century.
source: www.eupedia.com
15. Country of Hans Christian Andersen
Hans Christian Andersen was the prominent writer of fairy tales, plays, travelogues, novels, and poems of 19th century. Andersen is best remembered for his fairy tales. Andersen's fairy tales, which have been translated into more than 125 languages. Some of his most famous fairy tales include "The Emperor's New Clothes", "The Little Mermaid", "The Nightingale", "The Snow Queen" etc.
source: wikipedia, image: assets8.classicfm.com
16. Danish adore hygge!
Danish have a special word for that cosy feeling of togetherness which gets them through the winter – hygge. It means coming together to enjoy good times in great company and often involves an enormous amount of candles!.
source: www.eurovision.tv
17. Country of Renaissance Castle
Rosenborg Castle is a renaissance castle located in Copenhagen, Denmark. Most Famous Scandinavian King Christian IV got it built in 1606. You can experience the king's private writing cabinet, his bathroom, and see wax figures of former royal inhabitants. Rosenborg also houses an best collection of Flora Danica and one of the world's finest Venetian glass collections, both set in tower chambers.
source: www.visitcopenhagen.com, image: where2go.dk