A Blend of modern and old, cosmopolitan and bold, Hamburg offers more than just maritime heritage. A magnificent waterfront with a bustling port, sound of gulls, and smell of fresh fish permeating the air, it's impossible not to latch onto the maritime spirit. At night, get captivated by the breathtaking views of the city with its dazzling, brilliant-yellow harbor lights, while during daytime, get around its shiny modern buildings and you may also find plenty of gems along its narrow cobblestone streets. With such diversity in its architecture and culture, this beautiful metropolis is bound to take your breath away. Let us know some interesting facts about this German city, Hamburg.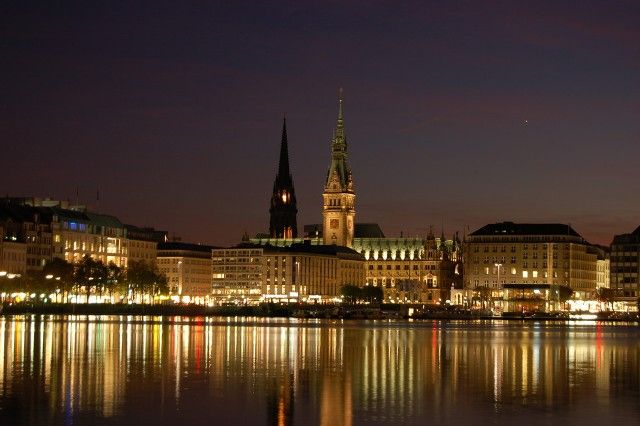 image: unterkunft-reise.com
1. City of Most Bridges in the World
Hamburg has more bridges than Venice, London and Amsterdam combined. The total number of bridges in the city is a slight more than 2,300. A world record by the way.
source: www.lexiophiles.com
2. Gateway to the World!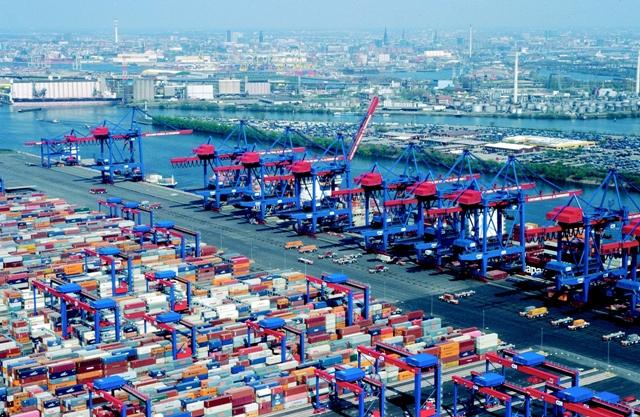 Port of Hamburg is a Germany's sea port. Port of Hamburg is Germany's largest, Second busiest and largest port in Europe after the port of Rotterdam and 15th largest worldwide.
source: wikipedia, image: www.maritimejournal.com
3. Northern Germany's Centre for Shopping and Culture
Approximately 4 million people inhabit in Hamburg's Metropolitan Area. Whole population of Northern Germany rush to Hamburg for trade and shopping.
source: www.globalblue.com
4. One of the Greenest Cities in Europe
Hamburg is one of the greenest cities in Europe. About 14% area of the city is covered with gardens and parks.
source: www.lexiophiles.com
5. Elegant Hamburg Rathaus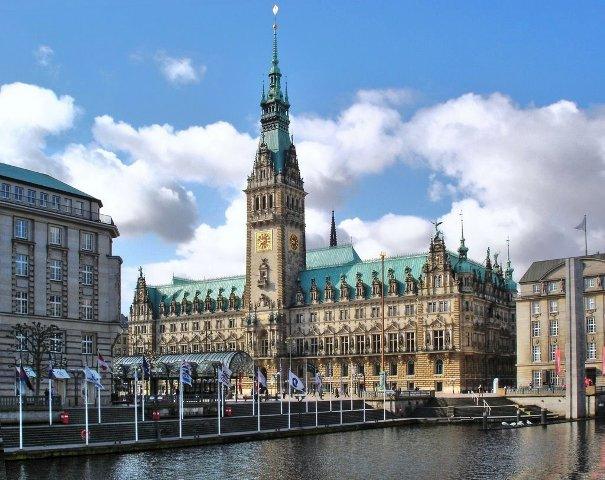 Hamburg Rathaus is the one of the largest town hall in Germany. It is the seat of the  government of Hamburg and as such, the seat of one of Germany's 16 state parliaments. It  has 647 rooms. It is hailed as the most beautiful government building in Germany.
source: www.globalblue.com, image: static.panoramio.com
6. World Class Shopping Centre: Jungfernstieg
  The Jungfernstieg is an urban promenade in Hamburg, Germany. It is the city's foremost boulevard. It is one of the most impressive shopping centers in the world with flagship stores from Apple, department store Alsterhaus and luxury Jewellers Chopard and Bucherer.
source: www.globalblue.com, image: www.hamburg.com
7. Famous Water-Light Concert: Plantum un Blomen
Planten un Blomen is an urban park with a size of 47 hectares in the inner-city of Hamburg, Germany. The park is prominent for its water-light concerts, public theater and music performances. In addition to the gardens, there is a large playground in the southern area of the park. This makes the park a popular place in the city. Planten un Blomen contains biggest Japanese garden in Europe.
source: wikipedia, image: img.fotocommunity.com
8. Tierpark Hagenbeck: First Zoo with no Cages
  The Tierpark Hagenbeck is a zoo in Stellingen, a quarter in Hamburg, Germany. This Zoo has open enclosures surrounded by moats rather than cages. So, visitors can see animals in the more natural environment.
source: www.globalblue.com, image: www.hvj.de
9. Hamburger Dom
  The Hamburger Dom is a large fair held at Heiligengeistfeld fair ground in central Hamburg. With three fairs (spring, summer and winter) per year it is the biggest and the longest fair in whole Germany and pulls approximately ten million visitors per year. It is also referred to as a Volksfest (beer festival and travelling funfair).
source: wikipedia, image: english.hamburg.de
10. Miniatur Wunderland: World's Largest Train Set
Miniatur Wunderland is a model railway attraction in Hamburg, Germany, and the largest of its kind in the world. The railway is located in the historic Speicherstadt district of the city. It has 12000 meters of track, Hamburg's Miniatur Wunderland features Miniature version of Alps, Austria, Hamburg, America, Scandinavia, and Switzerland across some 6400 meters of floorspace.
source: www.globalblue.com, image: s-media-cache-ak0.pinimg.com