Towering 2,720 meters (8,920 ft) above sea level, Huayna Picchu is the mountain in Peru that overlooks the ruins of Machu Picchu and around which the Urubamba River bends. Huayna Picchu may be visited throughout the year. A steep and, at times, exposed pathway leads to the summit. Some portions are slippery and steel cables provide some support during the one-hour climb. Be quick, get around this spectacular region and know some interesting facts about this sacred mountain, The Huayna Picchu: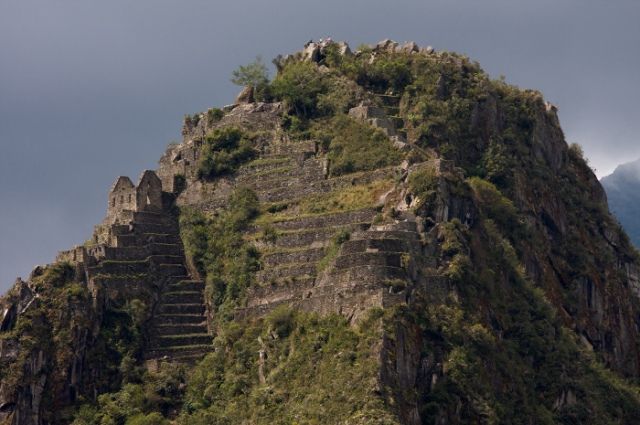 image: howtotraveltomachupicchu.com
1. Rises Above The Lost City!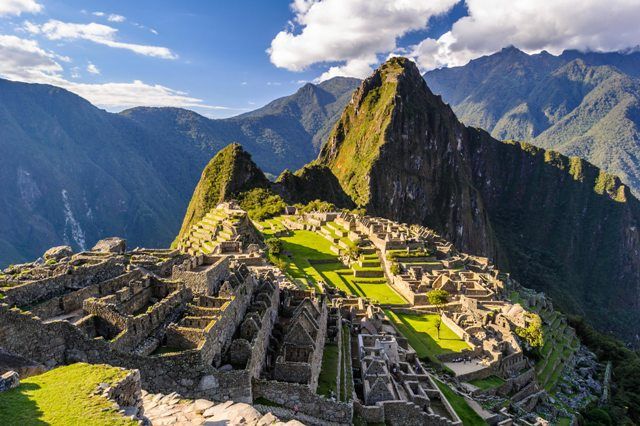 The peak of Huayna Picchu rises over Machu Picchu, the so-called lost city of the Incas. It is about 2,720 meters (8,920 ft) above sea level, or about 360 meters (1,180 ft) higher than Machu Picchu.
source: Wikipedia, image: chimuadventures.com
2. "The Young Peak"
Huayna Picchu (aka Wayna Picchu or Wayna Pikchu), which means 'Young Peak' in Quechua, is the large mountain that sits directly behind Machu Picchu. It is a mountain in Peru around which the Urubamba River bends.
source: machupicchutrek.net
3. The Most Difficult Tunnel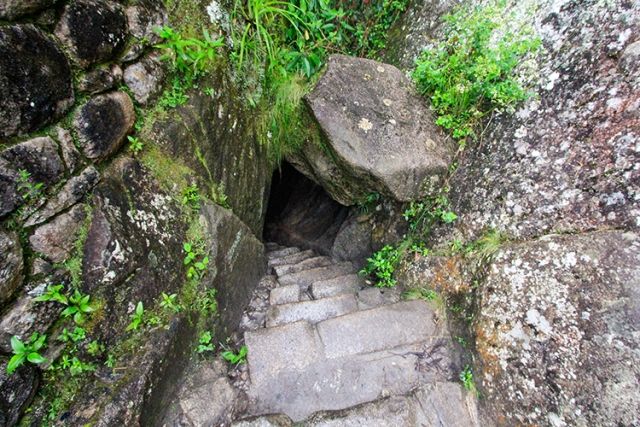 There is a narrow tunnel was built into the path by the Incas; the idea was that it would act as something of a "choke point" for any invading forces attempting to make their way up the mountain. The small way through the tunnel is known to be the most difficult.
source: incatrail.info, image: the-wanderlusters.com
4. Be Careful While Climbing "The Death Stairs"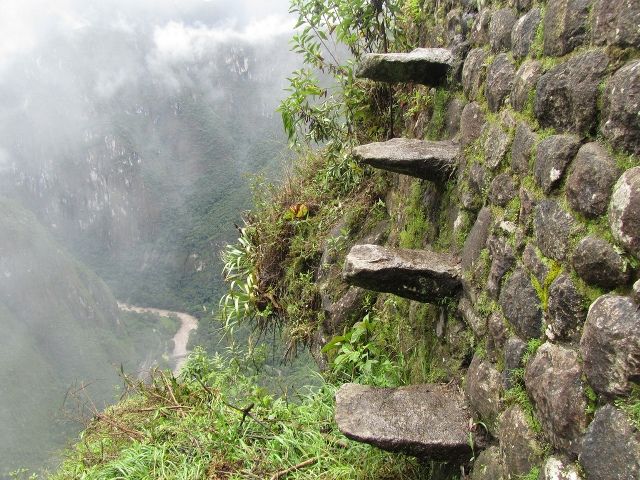 The peak's famous "death stairs" are found near the summit of Huayna Picchu. They are an extreme set of stairs, reaching an angle of over 60 degrees at some points. There is also no railing to hold on to, therefore, a lot of caution is to be taken.
source: incatrail.info, image: c1.staticflickr.com
5. Only 400 People!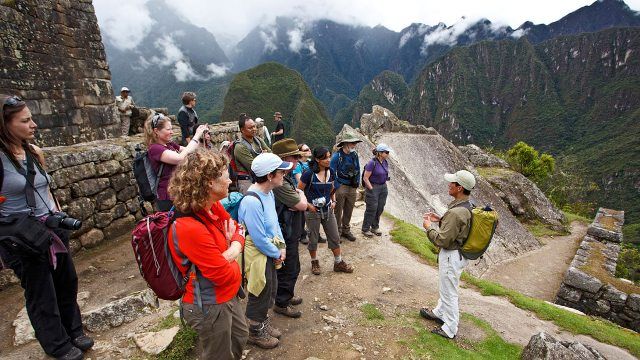 The INC (Peru's National Cultural Institute) decided to implement a maximum number of visitors daily to climb the Huayna Picchu Mountain i.e., 400 visitors, daily. This was done to diminish the impact of visitors on this steep climb.
source: howtotraveltomachupicchu.com, image: rei.com
6. Drop The Idea If You Are Afraid Of Heights!
Almost anyone who is fit and has a moderate constitution for heights can climb Huayna Picchu. But, if you are afraid of heights or susceptible to vertigo then this climb is not for you. There are areas that are exposed to steep drops, so caution should be taken throughout the climb, keeping a good distance between climbers in front and behind you.
source: machupicchutrek.net
7. The Temple Of The Moon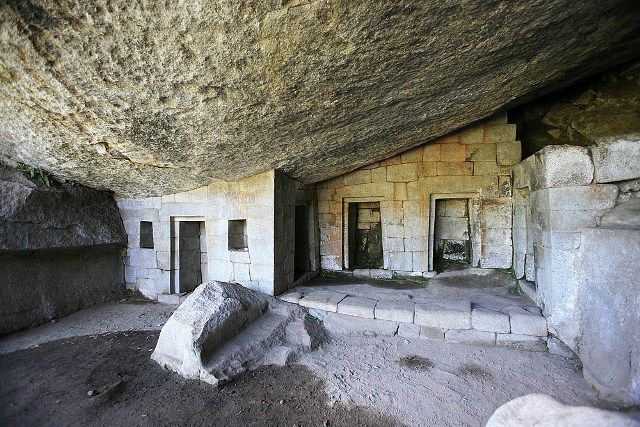 The Temple of the Moon is one of the three major temples in the Machu Picchu area. The temple is located on the side of the Huayna Picchu.
source: Wikipedia, image: hiddenincatours.com
8. Don't Climb At This Time!
Huayna Picchu is one of the most dangerous mountains to climb in the World The ascent is more challenging between November and April because the path up the mountain becomes slippery in the rainy season. Better conditions for climbing can be expected during the dry season, which runs from May to September.
source: Wikipedia
9. The Inca Trail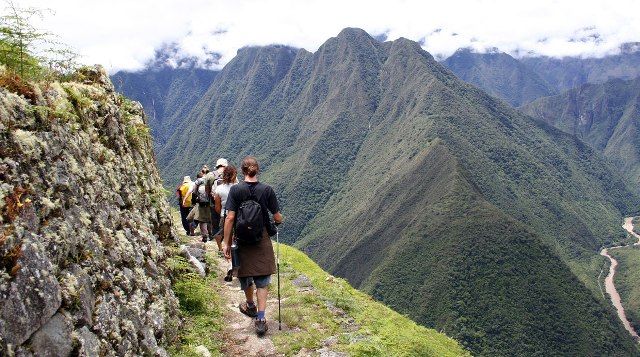 It is a 43 km trail within the Andes of Peru is believed to have been carved during the Incan Empire for pilgrims en route to Machu Picchu.
source: wanderinnature.com, image: cde.3.elcomercio.pe
10. The Most Beautiful Views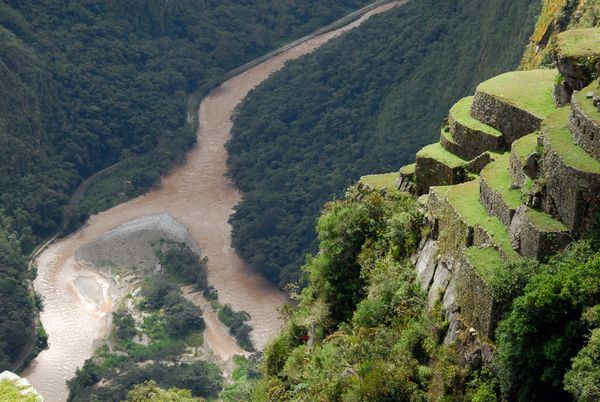 The mountain offers otherworldly beauty which is absolutely breathtaking. Huayna Picchu Mountain is nearly 1,000 feet above terraces, plazas and stone ruins as mists swirl up from the Urubamba River.
source: smithsonianmag.com, image: ancient-code.com