Raise your hands if you didn't see the movie although I bet that 99% of people did (And loved it too!) But what most people are unaware of are the "behind the scene" and otherwise facts about the movie which are quite interesting. So here are some facts about the greatest blockbuster by Steven Spielberg that might make your inner dinosaur go "RAWR!"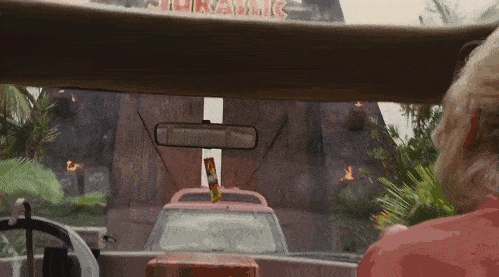 1. Cheap Thrills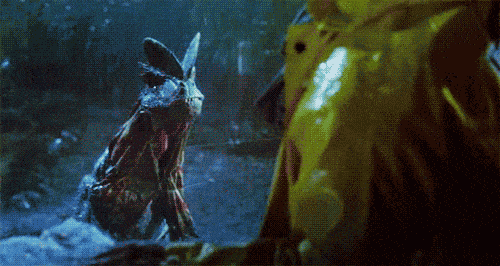 We all remember the Dilophosaurus scene where he opens his frills and spit venom. Did you know that originally Dilophosaurus can't do either of them? The venom stunt was added by the author, Michael Crichton and the rattling frill by the director himself.
Source: gamesradar.com
2. Cut Copy Paste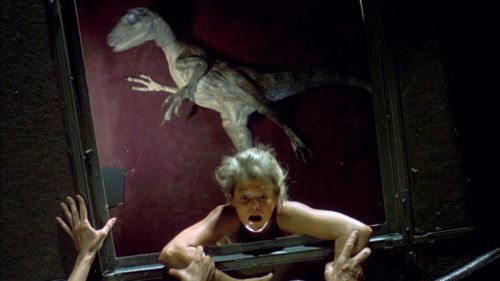 In the scene where Lex falls through the ceiling, the stunt was taken over by the double for Ariana Richards. Ariana accidentally looked directly at the cameras and so ILM had to CGI-paste Ariana's face over the double's to cover up the error.
Source: gamesradar.com, Image: thatgoofystuff.com
3. As Long As I Got My Suit (and tie!)
The famous kitchen scene was actually shot in a very B-movie style. Don't believe us? Well, the velociraptors were actually people wearing rubber suits!
Source: thechive.com, Image: masery.com
4. Not Fair?
Despite the movie's running time is 127 minutes, the scenes where dinosaurs appear is just a total of 15 minutes. How is this fair?
Source: gamesradar.com
5. Science-y Faults
Nerdy webcams with the doc is actually just a QuickTime video playing!
Source: yahoo.com
6. Who Got the T-Rex Back to Life?
Producer Kathleen Kennedy has said: "We'd be, like, eating lunch, and all of a sudden a T-Rex would come alive. At first we didn't know what was happening, and then we realized it was the rain. You'd hear people start screaming."
T-Rex, apparently, would come alive and short-circuit on its own accord because of the rain.
Source: yahoo.com
7. Love Affair That Lasts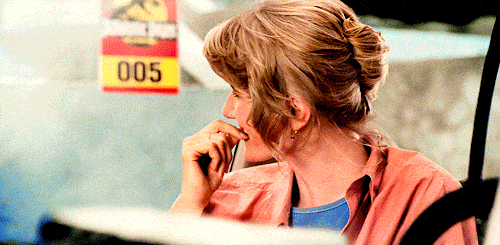 Ian Malcolm and Ellie Sattler had a rocking chemistry on-screen which, by the way, remained the same when they decided to get engaged in real life too.
Source: gameradar.com
8. Unsure
Steven Spielberg was unsure that how this movie will perform on screens.
It did AWESOME, Spielberg, it did really awesome.
Source: huffingtonpost.com
9. Get the Names Right
Horner said that he had other jobs like getting the actors to pronounce the name right, which was not easy at all.
Source: huffingtonpost.com
10. Spinosaurus vs. T-Rex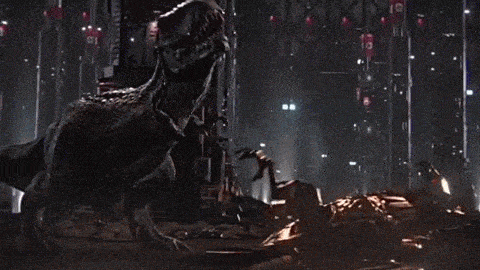 The director added Spinosaurus in Jurassic World just because it was bigger than T-Rex and more "cool-looking".
Source: huffingtonpost.com
11. Not The Real Side
Many dinosaurs were feathery in real life but the film-makers decided not to use the feathers because that would not have the dinosaurs look scary.
Source: huffingtonpost.com
12. Record Breaking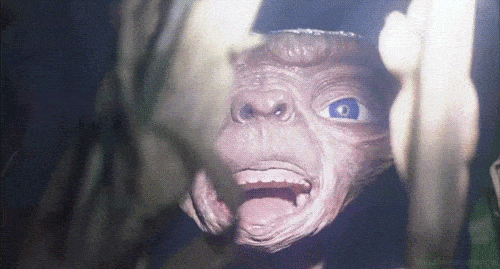 The movie broke the records which it kept for 5 years by earning $914 million on the box office, easily surpassing E.T. Then Titanic came along and broke the record for Jurassic Park.
Source: sliptalk.com
13. Waves
The rippling of water because of dinos was inspired by a mirror shaking in Spielberg car while he was listening to Earth, Wind and Fire. Afterwards, the effect was created by placing the glass on a vibrating guitar.
Source: sliptalk.com
14. The Sound of Dino's Voice
Aren't you curious about how they made all of the sounds for the dinosaurs? The Velicerator sounds were made by a combination of elephant seal pups, dolphins, and walruses. The sounds made by the Dilophosaurus were a combination of howler monkeys, hawks, rattlesnakes, and swans. The Tyrannosaurus' roars were a combination of dog, penguin, tiger, alligator, and elephant sounds. And the sounds made by the Brachiosaurs were a combination of whale and donkey sounds. That's quite innovative.
Source: sliptalk.com
15. Fan Mails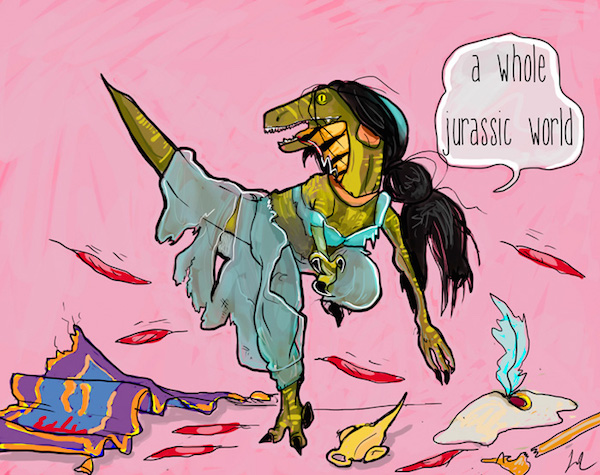 Steven confirmed that inclusion of Stegosaurus in The Lost World was because of hundreds of fan mails asking for it.
Source: yahoo.com, Image: masery.com
16. Who Run The World? Girls!
All the raptors in the Jurassic Park are females. The males joined them in Jurassic World.
Source: yahoo.com, Image: funfactsimage.com
17. Yummy Dino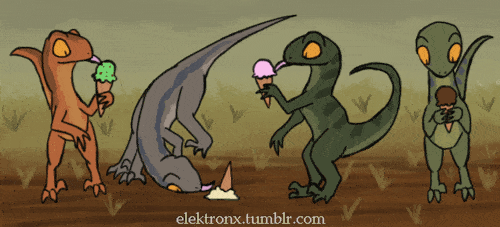 The Spinosaurus' droppings were made up of 250 pounds of oatmeal. "It was delicious. There was a little cinnamon in there, so I'd just lick it off after each take," said Tea Leoni, producer of the film.
Source: yahoo.com
18. Jurassic During ER
Steven got to know about the Jurassic Park during a meeting with Michael Crichton, the book's author. The actually met to discuss the screenplay for his TV Series "ER".
Source: wikipedia, Image: ekranella.com
19. Out of Retirement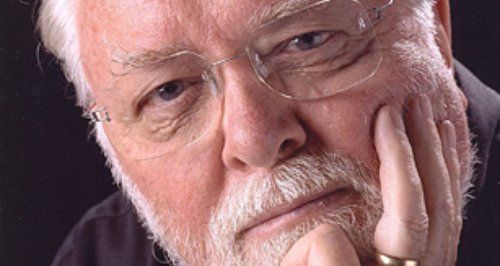 Richard Attenborough was pulled out of his 15-year retirement to be casted as John Hammond.
Source: huffingtonpost.com, Image: famouspeople.com
20. Too busy For This
The Post-production responsibilities were handed over to George Lucas, owner of ILM and a good friend of Spielberg. This was because Spielberg had to start working on "Schindler's List".
Source: telegraph.co.uk, Image: telegraph.co.uk