Deep within the Jungles of Southern India and Southeast Asia, there lives a legendary King, respected and feared by all. It is swift, strong, deadly and largest and longest venomous snake in the world. Yes! You are thinking right; it is King Cobra. The king cobra has been a prominent symbol in the mythology and folk traditions of Indian Subcontinent. King Cobra is the highly praised snake by Snake Adventurers. It's length, defensive posture, growling hiss thrill the people and make them see it many times. If you want to know more, go through these very interesting, astonishing, and thrilling facts about this king of the Snake Family, King Cobra: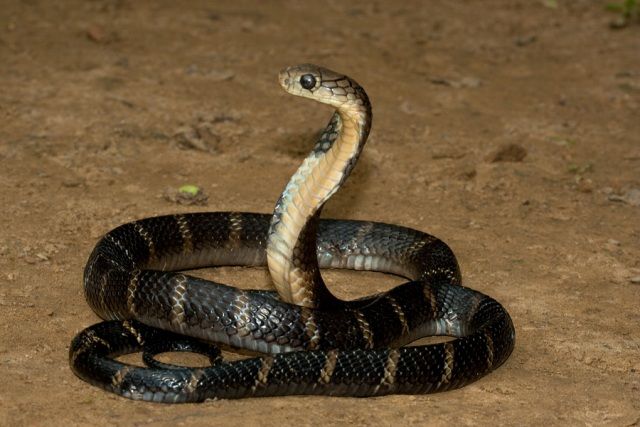 image: 68.media.tumblr.com
1. The Longest Venomous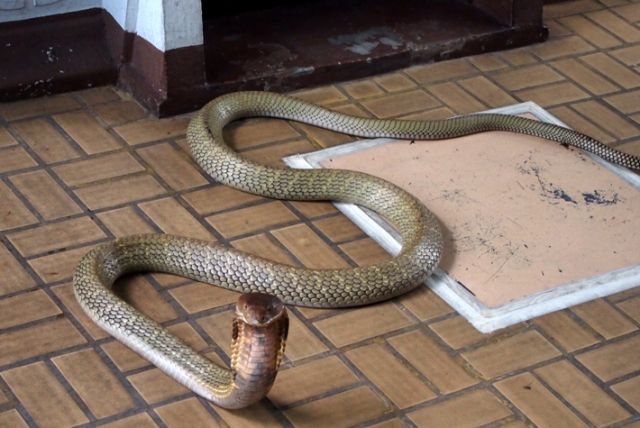 Native to south and southeast Asia, King Cobra normally grows to be somewhere between 10 and 13 feet long, but the longest ever recorded was an individual from modern-day Malaysia living at the London Zoo in the mid-20th century. From end to end, the King Cobra was measured 18 feet, 9 inches long.
source: mentalfloss.com, image: thejourneyitself.com
2. A Fatal Bite!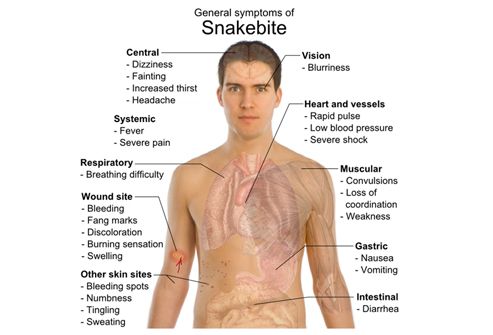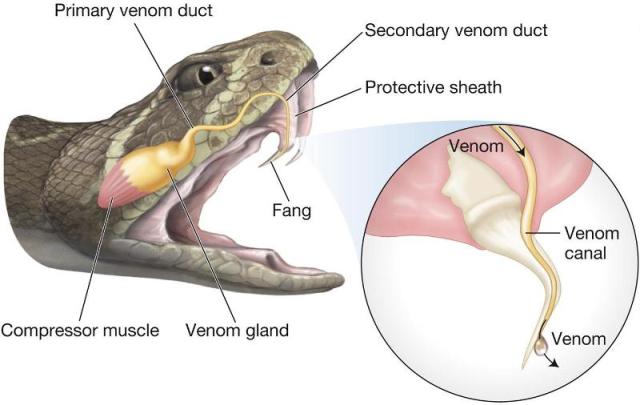 King Cobra is one of the most dangerous snakes in the world. The Fangs of king cobra can inject as much as 7 milliliters of venom almost enough to fill 1.5 teaspoons into its victim. It's venom targets the central nervous system, eventually leading to kidney, heart and lung failure. Initial symptoms include pain, drowsiness, a stumbling gait, blurred vision, paralysis of the limbs, convulsions, headache and loss of consciousness. So, try to avoid getting bitten!
source: ipfactly.com, image: img.medscape.com, image: newtonsapple.org.uk
3. Only Species To Build Nest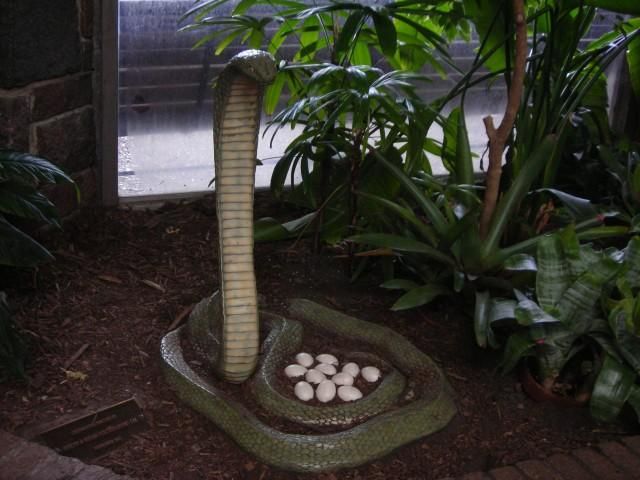 70 percent of snake species lay eggs, usually in a convenient hole or crevice, and many abandon their clutches right away. But the King Cobra is an exception. This reptile builds a nest. First, the female gathers leaves, using her coils as a makeshift rake. Thereafter she lays 20 to 30 eggs in the middle.
source: mentalfloss.com, image: 3.bp.blogspot.com
4. I Want Snakes Only!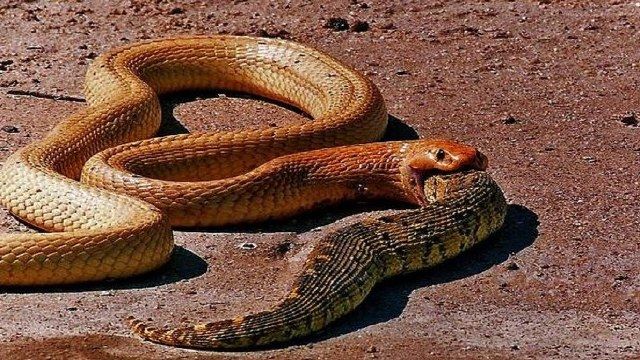 Ophiophagus is the King Cobra's generic name and it is a Greek-derived word, which means "snake-eater", and its diet consists primarily of other snakes, including rat snakes, small pythons, and even other venomous snakes such as various members of the true cobras (of the genus Naja), and the Krait. When food is scarce, they may also feed on other small vertebrates, such as lizards, birds, and rodents.
source: Wikipedia, image: i.ytimg.com
5. Excellent Skills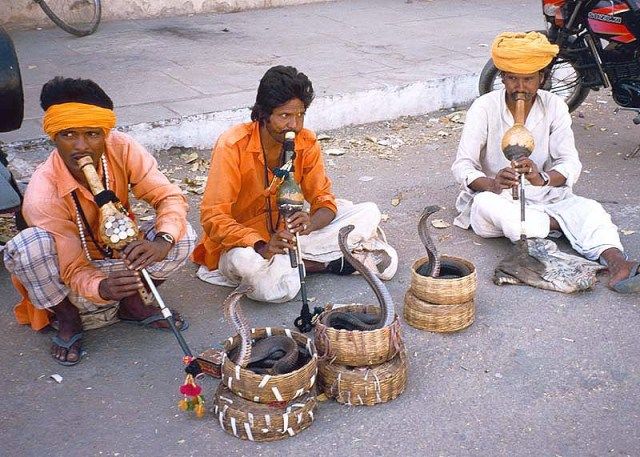 King Cobra is full of skills and has an awesome adaptation power, which means they can adapt themselves to the different environments easily. Speaking of hunting skills, this giant snake has excellent vision, able to spot prey from 300 feet (91 meters) away. It also has a superb sense of smell, having one of the longest forked tongues in the snake kingdom. As we know, snakes use their tongues to sniff, picking up particles in the air. While king cobras may not have ears, they can sense vibrations on the ground, which is how they can dance to a snake charmer's flute.
source: ipfactly.com, image: rontravel.com
6. Mind Blowing Characteristics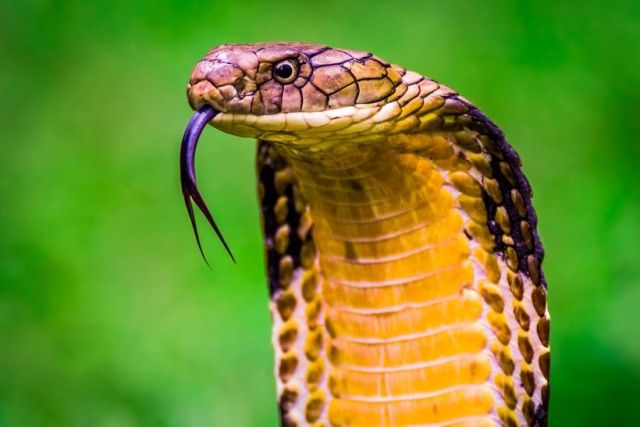 When comes to hunting, King Cobra are considered one of the best hunters in snake kingdom. King cobras are usually olive green, brown or black in color, with pale bands, which help them to camouflage itself in vegetation. They also have large, flexible jaws, which allow them to swallow prey whole.
source: ipfactly.com, image: aboutanimals.com
7. Why Is It Called The "King"?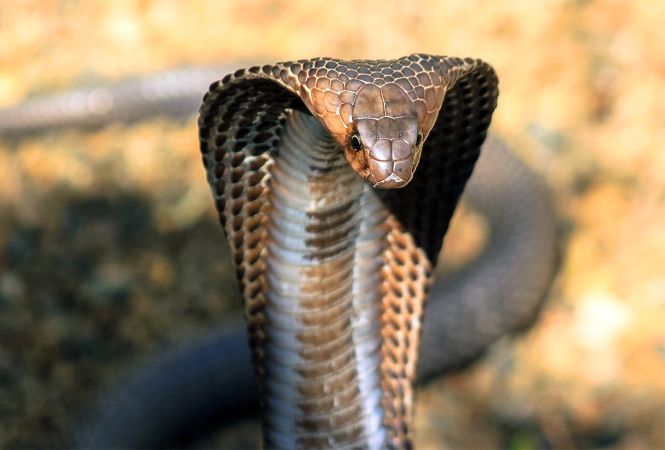 Despite being called King Cobra, he actually hails from a genus of its own, called Ophiophagus. The King Cobra, or Ophiophagus Hannah, is classified under the Elapidae family. It is not a member of the Naja genus which incorporates most cobra species, known as "true cobras". The Ophiophagus Hannah has 11 large scales on his head which resemble a King's crown, hence his majestic name. By the way, Ophiophagus is a Latin name for snake eater, so does the King Cobra. King Cobra's hood is narrower and longer. The easiest way to identify a King Cobra is by its pair of large scales at the back of its head.
source: cobras.org, image: kids.nationalgeographic.com
8. King Cobra Empire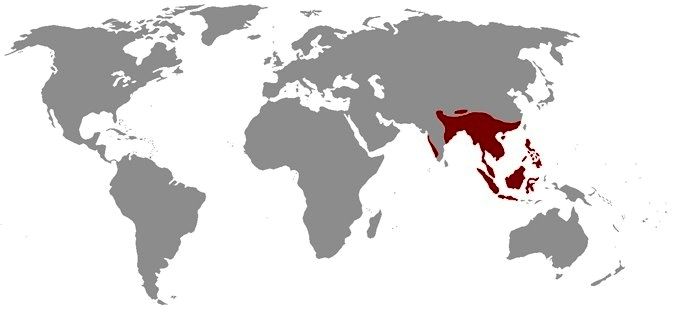 King Cobra are found in the Indian subcontinent (India, Pakistan, Srilanka, Nepal, Bhutan, Bangladesh) and Southeast Asia (Indonesia, South China, Thailand, Myanmar, Philippines, Laos, Vietnam, Singapore). The king cobra can adapt to various habitats, both wet and dry, but like to stay in dense forests with streams and swamps.
source: ipfactly.com, image: snake-facts.weebly.com
9. Never Mess With Mongoose
King Cobra can kill most of the living species but not everyone. In the case of mongoose, Cobra is not a king. Mongooses are immune to its Venom. Venom does not affect the mongoose body. Mongoose can eat king cobra easily.
source: ipfactly.com, image: i.ytimg.com
10. Natural Pain Killer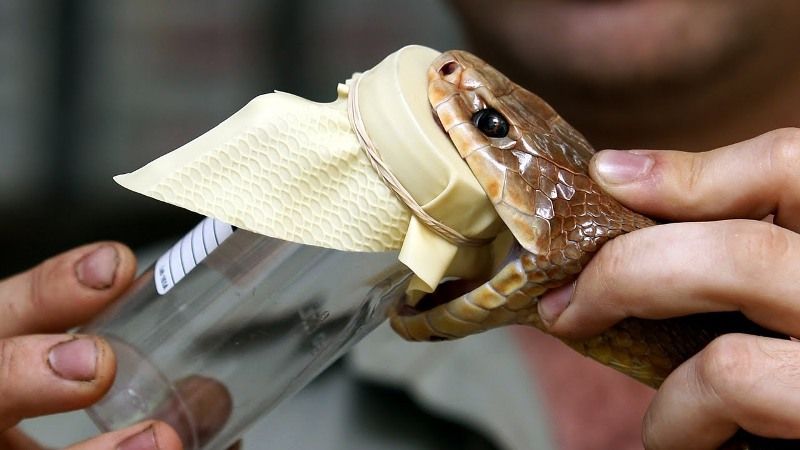 The Venom of King Cobra is used to medication as well. The Venom of King Cobra is very helpful to counteract the pain. When morphine does not affect, Venom of King Cobra does. This Venom is highly regarded as a pain killer. Some study says that it is also used to cure some types of cancers and infections.
source: curioussciencewriters.org, image: i.ytimg.com
11. Thank God! They Are Shy
Most of the time when confronted with human, King Cobra prefer to flee that place. However, if continuously provoked, the king cobra get highly aggressive, they extend their hood, show their fangs and emit hiss loudly.
source: Wikipedia
12. Don't Be Scared, When Cobra Is Ahead
A good defense for anyone who accidentally encounters this snake is to gradually take off the shirt or hat and toss it to the ground while backing away.
source: Wikipedia
13. Wrestle To Mate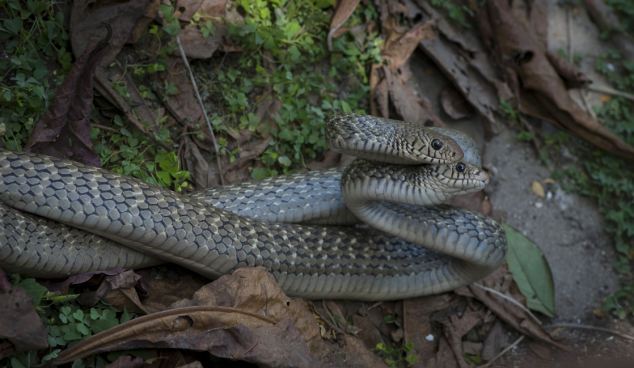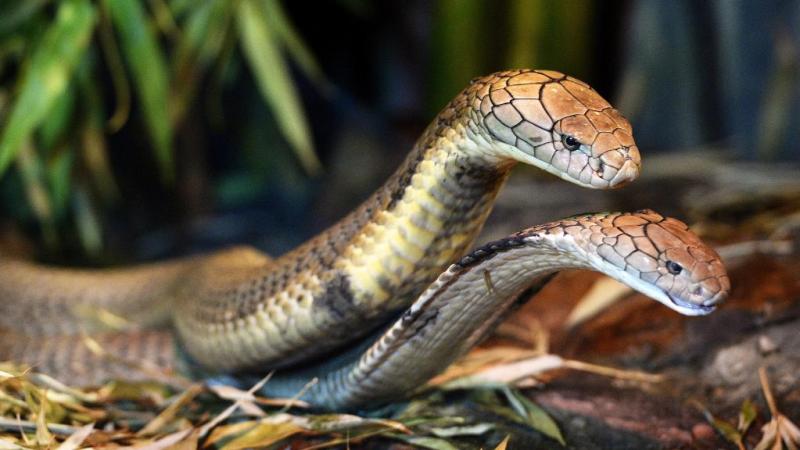 Like many other species of animal, male king cobras fight each other to mate with the female during breeding season. First, the snakes size each other up, raising their heads as high as 4 feet off the ground. Then, they wrestle. Bodies intertwined, the snakes try to pin one another to the ground.
source: mentalfloss.com, image: i.dailymail.co.uk, image: cdn.newsapi.com.au
14. On The Brink Of Extinction
Due to the increase in population, Forests are getting cut down. The populace of Kings is extremely affected. The King's habitat is diminishing and its population has dropped dramatically. In many countries, they have been placed in endangered categories. In India, wildlife protection is effective, six years imprisonment is applied for anyone who hunts the King Cobra down.
source: cobras.org
15. For Millenniums In Cultures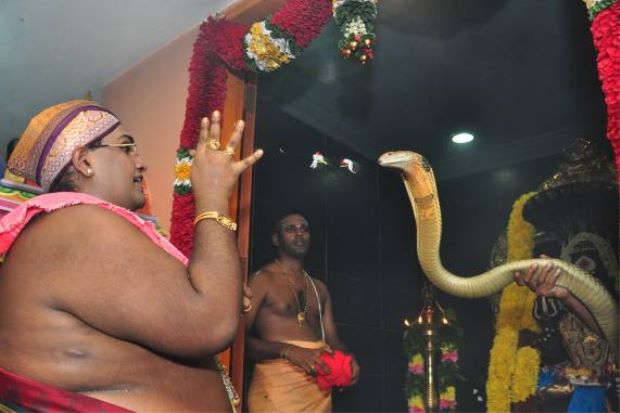 For Millenniums King Cobras are highly revered in India and Southeast Asia. They are celebrated in various myths and Traditions, and even depicted in sculptures on temple walls. They have been worshiped as sun deities and associated with rain, thunder, and fertility.
source: cobras.org, image: thestar.com.my