The controversial yet intriguing and edgy pop star, Lady Gaga is known for her inexplicable costumes and some great hits. She has a "Poker Face" which "Paparazzi" love, but all she has to say is that she was "Born this way." She is unique and makes sure that her presence is never missed. Here are some interesting facts about Lady Gaga worth knowing: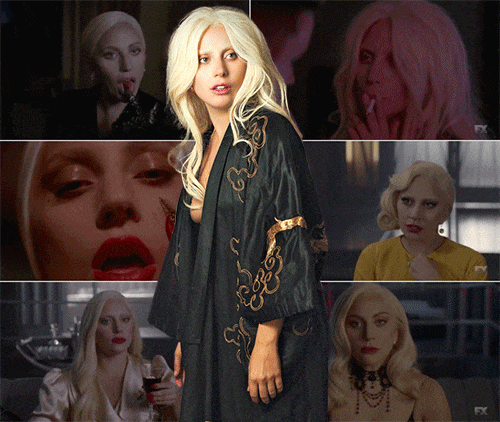 GIF: tumblr.com
1. Named After a Song!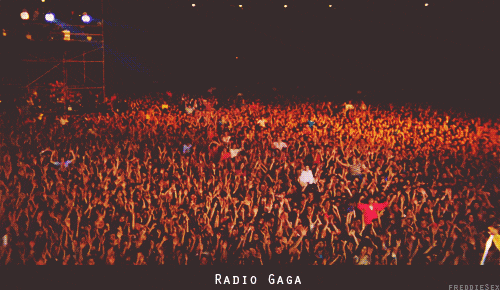 Lady Gaga gets her stage name from Queen's Song "Radio Gaga," but in reality, her name is Stefani Joanne Angelina Germanotta.
Source: capitalfm.com, Image: tumblr.com
2. Always Carries a Cup and a Saucer!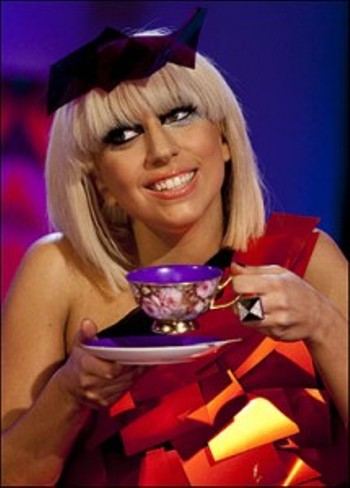 Lady Gaga once told in an interview that she carries a purple teacup and a saucer everywhere she goes. She drinks tea with her mother and carrying it makes her feel at home.
Source: abc7.com, Image: electricity-club.co.uk
3. "Haus of Gaga"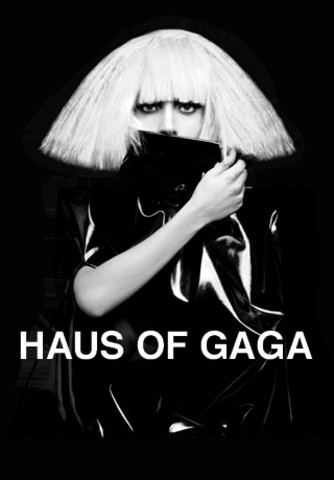 The singer has given a name "Haus of Gaga" to the crew that works with her. This crew includes stage designers, sound artist, clothes designers and visual artists.
Source: onlyinfographic.com, Image: appsios.net
4. A Trained Pianist!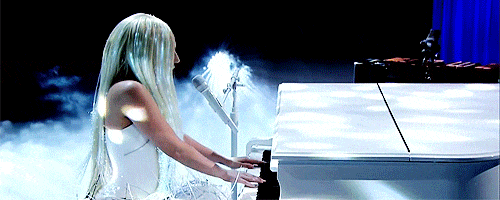 At the age of 4, she started taking piano lessons and continued practicing it throughout her childhood.
Source: mademan.com, GIF: tumblr.com
5. Fame From "The Fame"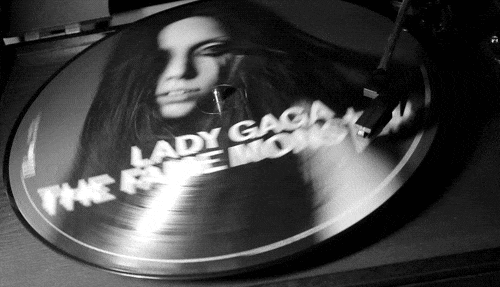 Lady Gaga's debut album "The Fame" was a huge hit and reached no. 1 in UK, Canada, and many other countries. "Poker Face" and "Just Dance" became international number-one hits, topping the Billboard Top 100. The same album earned 6 Grammy Awards nominations and won the awards for Best Dance Recording and Best Electronic Dance Album for "Poker Face."
Source: nobert-bermosa.blogspot.in, GIF: vinylgif.com
6. When She Wore A Meat Dress!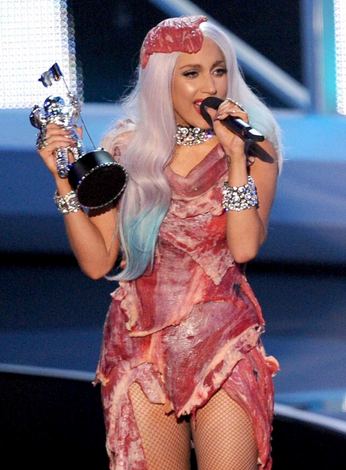 Do you guys recall the famous meat dress the star wore? Well, it weighed 50 pounds, didn't drip blood and according to Gaga, it had a sweeter smell? Franc Fernandez designed the dress, sourcing the meat from his family's butcher. The dress was put on display in the Rock and Roll Hall of Fame's "Women Who Rock" exhibit.
Source: rollingstone.com, Image: twitter
7. Penned Songs For Some Great Artists!
Lady Gaga is not just known for her singing talents, but she is also a songwriter and wrote songs for some of the big names like Britney Spears, Pussycat Dolls, and Fergie.
Source: nobert-bermosa.blogspot.in, Image: wikimedia.org
8. TV Cameos!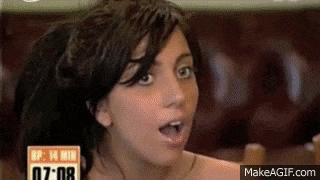 Before becoming the pop sensation, the star appeared on a reality show, MTV's Boiling Point in 2005 as Stefani and also at another show 'The Hills' in 2008.
Source: dailyworldfacts.com, GIF: makeagif.com
9. Odd Jobs!
Did you know that this star used to go dancing in the bars before she became famous and her music career took off?
Source: mid-day.com
10. 'Born This Way' Was A Humongous Success!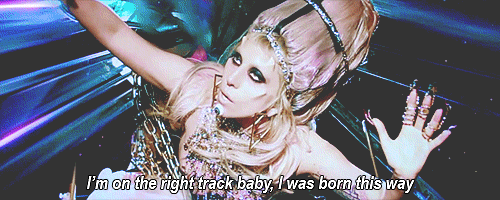 Lady Gaga's song 'Born this way' sold more than one million tracks in the first five days, making a record.
Source: thefactsite.com, Image: giphy.com
11. Bisexual!
The star is always being vocal and open about being bisexual and one of her famous songs, Poker face is all about that. Jo Calderone is Lady Gaga's male alter ego.
Source: magforwomen.com, Image: Flickr
12. A Schoolmate of Nicky and Paris Hilton!
Lady Gaga graduated from Convent of Sacred Heart of New York City. It is the same school attended by Nicky and Paris Hilton. A star-struck school indeed!
Source: sites.google.com
13. A University Dropout!
At the age of 19, Lady Gaga dropped out of NYU to pursue a music career and said that she could teach herself better than any school and she surely did.
Source: abc7.com
14. The Most Powerful Musician in the World!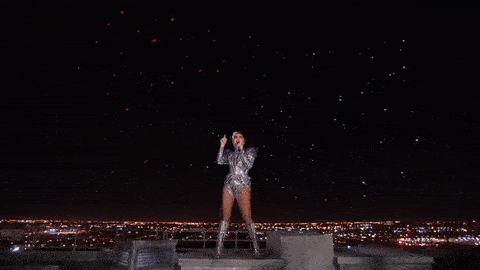 Well, we could not agree more that Lady Gaga surely made an impact in the music industry worldwide and therefore in the year 2010, she was named the Most Powerful Musician in the World.
Source: sites.google.com, GIF: googleusercontent.com
15. When She Went Pantless!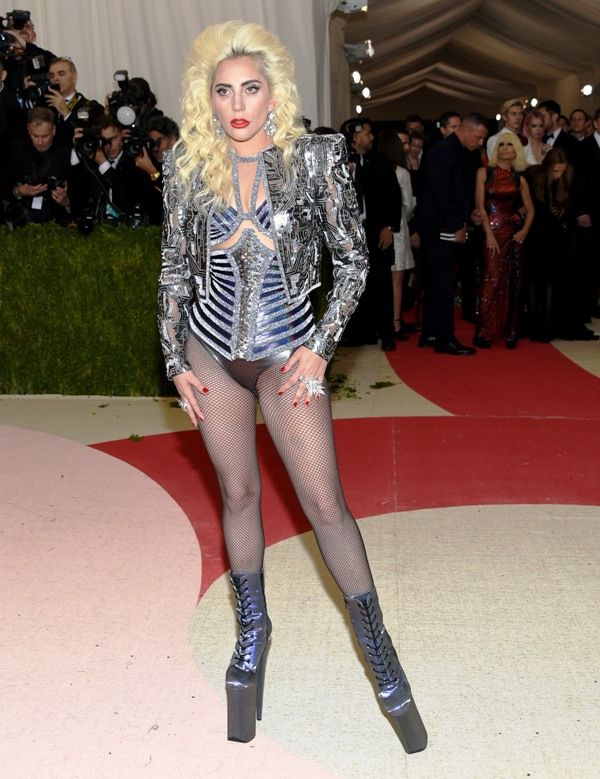 On the Met Gala red carpet in 2016, she went pantless.
Source: usatoday.com, Image: zeleb.mx
16. Cited by the Chicago Police!
The superstar, Lady Gaga was once cited by the Chicago Police for indecent exposure for wearing Hotpants in public. This star surely has lots of Oops moments!!
Source: boomsbeat.com
17. Her Natural Hair Color!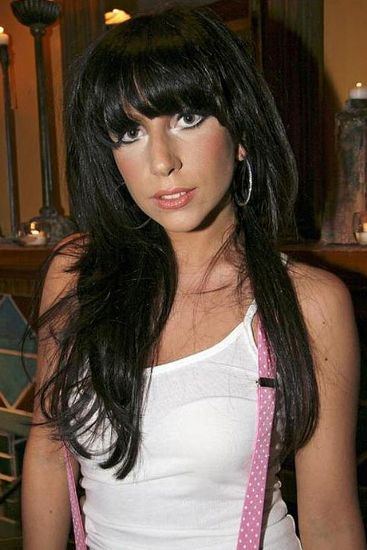 Her natural hair color is brown, but once somebody mistook her as Amy Winehouse, so she dyed her hair to Blonde to make her own personal identity.
Source: boomsbeat.com, Image: beautyeditor.ca
18. Take A Course In Lady Gaga!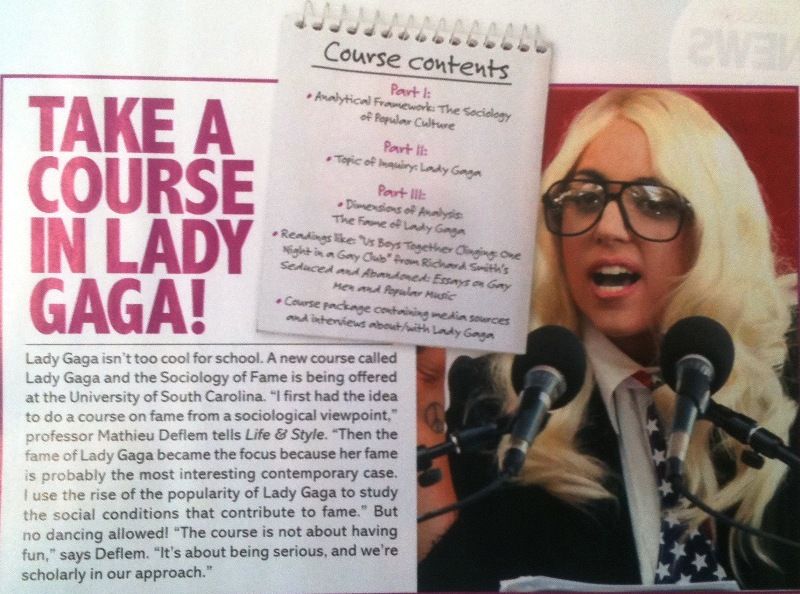 The University of South Caroline offers a full-time course entitled "Lady Gaga and the Sociology of Fame." Its objective is unraveling "the sociologically relevant dimensions of the fame of Lady Gaga concerning her music, videos, fashion, and other artistic endeavors."
Source: nobert-bermosa.blogspot.in, Image: 3.bp.blogspot.com
19. A Magnum Heart!
Lady Gaga is an active philanthropist. She is a passionate charity worker. She even donated around $500,000 for Haitian disaster relief.
Source: magforwomen.com, Image: nbcnews.com
20. Sent Pizza Worth $1000 to Her Fans!
Lady Gaga loves her fans immensely and once she sent out $1000 worth Papa John's Pizza when she saw a number of them waiting outside a recording studio for her. Isn't that sweet?
Source: boomsbeat.com
21. A Rape Victim!
She has revealed she was raped as a teenager by a music producer. At the time of the horrific incident, she was 19 and had to undergo a lot of mental and physical therapy to recover.
Source: dailymail.co.uk