The English rock band, Led Zeppelin was formed in 1968 in London and gained immense popularity due to their unique style of heavy metal music. Although initially it was unpopular with the critics yet it gathered huge popularity among the masses. Let's know some interesting facts about the band, Led Zeppelin.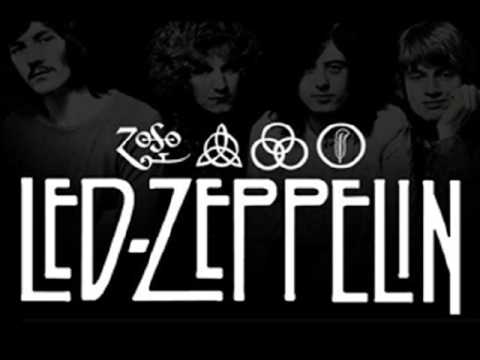 Image: youtube.com
 1. Formation of Led Zeppelin
The band Led Zeppelin was formed by Jimmy Page in the year 1968 but at first it was named The New Yardbirds. Later they changed the name to Led Zeppelin. Jimmy Page wanted to name it Lead Zeppelin but he thought that the Americans might pronounce it 'Leed'. So, he changed it to Led to leave no confusions.
Source: songfacts.com
2. Joan Baez, the catalyst for Led Zeppelin
When guitarist Jimmy Page and singer Robert Plant first met in 1968, they bonded over the Joan Baez's version of song 'Babe I'm Gonna Leave You'. Then later on reworked the song and used it for Led Zeppelin's debut.
Source: ultimateclassicrock.com
3. Jimmy Page dated a 14 year old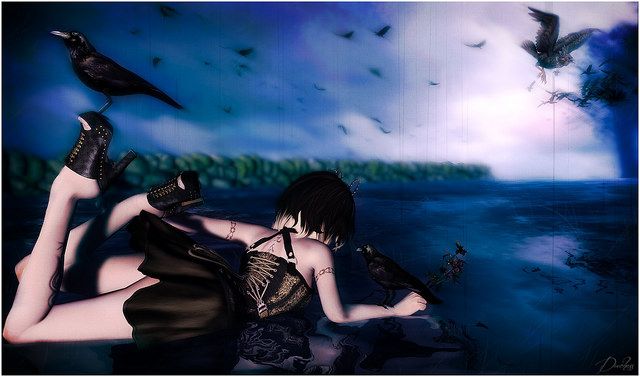 In the early 1970s Jimmy Page became infatuated with a fourteen year old girl named Lori Maddox. He had an affair with her over the next few years but kept this fact well hidden as this could stir up big trouble and could even land him in jail. Later on he dumped her for another girl who was an adult, thankfully!
Source: rollingstone.com
4. John Bonham, the untrained maestro.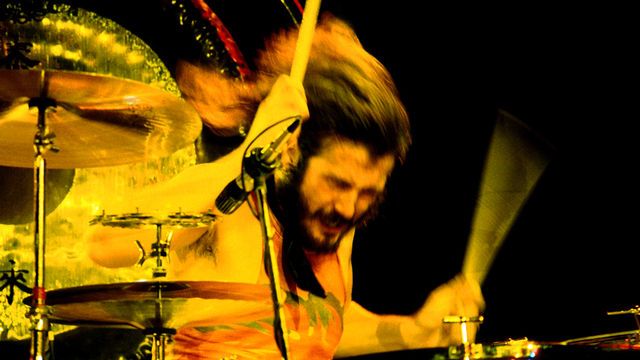 Do you know John Bonham never took a formal lesson in drumming and he had been drumming since the age of five? At the age of five he used containers and coffee tins as drum kit. At age ten, his mother gifted him a snare drum. But he got an actual drum kit when he reached the age of fifteen.
Source: en.wikipedia.org, Image: consequenceofsound.net

5. John Bonham and the 'garbage' creativity!
When you hear the song 'Ramble On', you will feel a unique bongo like sound. To achieve this sound effect in the song drummer John Bonham drummed on a plastic garbage pail instead of his drums. Dust worth gold and garbage worth drums ? Something doesn't make sense!! I guess it's me.
Source: ultimateclassicrock.com
6. Jimmy Page and Black Magic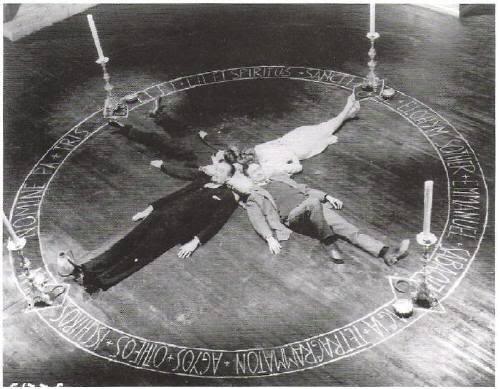 Prior to the success of the band Led Zeppelin, Jimmy Page was heavily interested in the black magic and dark arts. He even owned a book shop and publishing house based on occult. Due to this some people thought that the four symbols on the fourth album cover are satanic symbols. Well they are; but it's not him, its "them". Who is them ?
Source: nme.com, Image: counterforce.org

7. One man orchestra – John Paul Jones
John Paul Jones is usually known as the bass guitar player of Led Zeppelin band. But very few people know that he is actually a multi – instrumentalist and can play organ, koto, guitar, mandolin, violin, auto-harp, lap steel guitars, sitar, ukulele, continuum, cello and mellotron. What did u say ? John Paul Orchestra Jones ?
Source: buzzfeed.com
8. Led Zeppelin II was completed in 8 months
The second album of Led Zeppelin II was completed in 8 months and the main reason behind this was constant tour of the band. The songs of second album were written and recorded in the couple of hours that the band members found in between the concerts and tours. Due to this when the songs were recorded, its sound contains both spontaneity and urgency.
Source: thatericalper.com
9. Untitled Fourth album. Burn!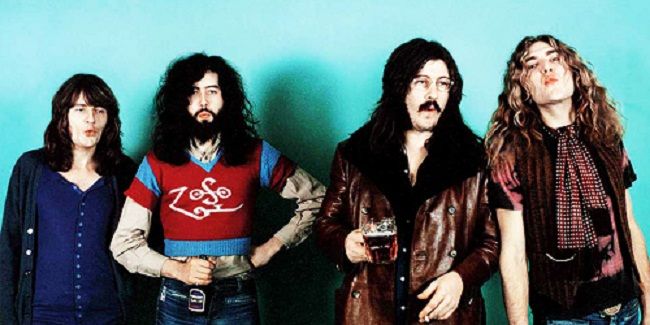 Even after the launch of three successful albums, Led Zeppelin, II, III; the press still called the Led Zeppelin band hype. So, when it was turn of the fourth album, the band decided not to print even a single word on the record sleeve. They even refused to print their names; instead they opted for four symbols on the cover and each symbol represented each member. Even though the symbol didn't contain any letter yet it seems to spell 'Zoso' and people started referring the album by the name Zoso.
Source: rollingstone.com
10. Jimmy Page and the Double-neck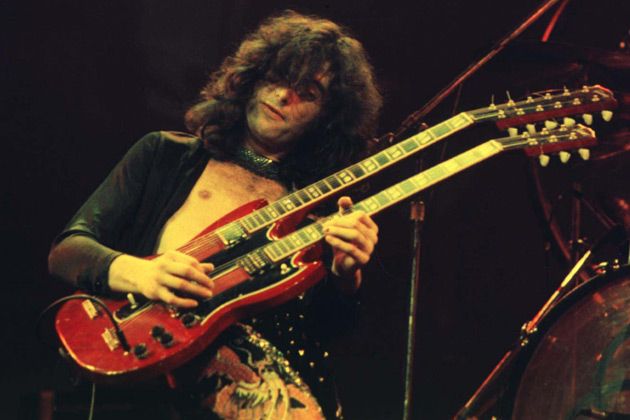 Jimmy Page used Gibson's double – necked guitar with ease and was one of the earliest adopter of this double – necked guitar. In a poll in 2012 his Gibson EDS – 1275 guitar was named the coolest guitar in rock.
Source: nme.com, Image: ultimateguitar.com
11. Robert Plant, the prrreciousss..
Even though Robert Plant was the song writer in Led Zep I, yet he planned to leave the band after the first album. But thankfully he remained with the band even after the release of first album and wrote the amazing songs of Led Zep II which established him in the category of serious songwriter.
Source: thatericalper.com
12. Led Zeppelin $$$$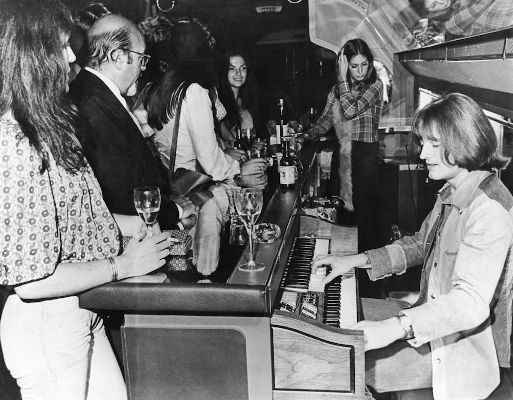 When you are a band as great as Led Zeppelin then it's obvious to fly in style. By the year 1973 owned a custom made plane named 'The Starship' which had a video library, keyboard organ, a shower room and a bar. The band members had their name emblazoned on the exterior of the plane. This plane was used by other bands like Deep Purple, Peter Frampton and the Rolling Stones on lease at the cost of $30,000.
Source:nme.com
13. New engineer for every album

Jimmy Page didn't want anyone else to take credit for the sound of Zeppelin songs. So, he produced every record of the band himself and for each album he used to hire a new engineer.
Source: buzzfeed.com
14. Only one TV appearance
Led Zeppelin had made only one TV appearance which was in June 1969 for a French TV. This is because after taping for the French TV appearance, they realized that the audio video quality of TV is quite low and no matter how well they performed they would be at the mercy of the studio engineers.
Source: songfacts.com
15. The disbandment of Led Zeppelin
In 1980 John Bonham died after choking on his own vomit. This led to the disbandment of Led Zeppelin. Later on in an autopsy it was revealed that on the night of his death John Bonham had an equivalent of 40 shots of vodka in his body.
Source: nme.com