Born as the third child (out of six) to Damodardas Mulchand (father) and Heeraben Modi (mother), Narendra Damodardas Modi is the 14th Prime Minister of the world's largest democracy, India. He is regarded one of the most successful self-made leaders in the world as he belongs to an oil-pressing community who is considered as the Other Backward Community in India and has no political background in his family. Let's explore some of the interesting facts about the rags-to-riches story of this dynamic leader: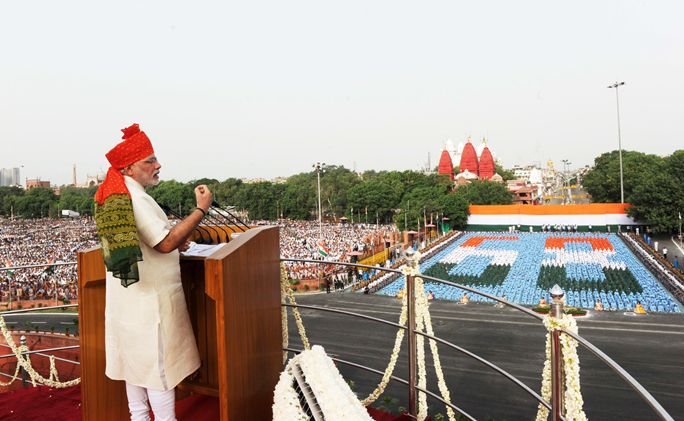 Image: Flickr
1. Young Modi Wanted To Join Army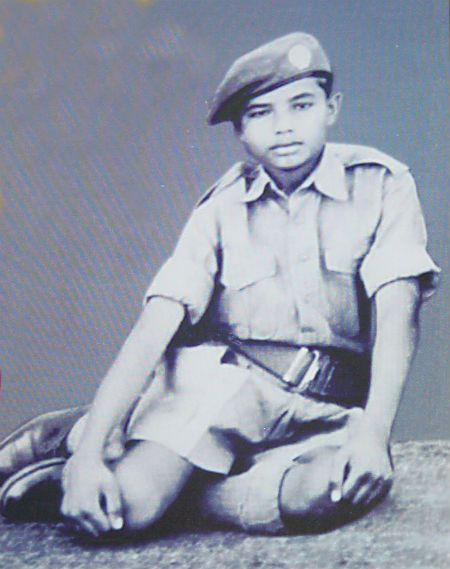 As a child, Narendra Modi dreamt of serving in the Indian Army. He wanted to study in the Sainik school located nearby Jamnagar but couldn't join because there was no money to pay the fees at home.
Source: narendramodi.in, Image: rediff.com
2. Modi: A Wanderer!
When most teenagers think about their career at the age of 17, Narendra Modi decided to leave home for travelling across India. This decision changed the course of his life as during his travel he came across many cultures of India and met different people. During this period he also visited the Himalayas and spent almost two years as a sanyasi with the yogic sadhus. These travels marked a lasting impression on the young Modi.
Source: narendramodi.in, Image: indiadivine.org
3. Modi: A Tea Seller!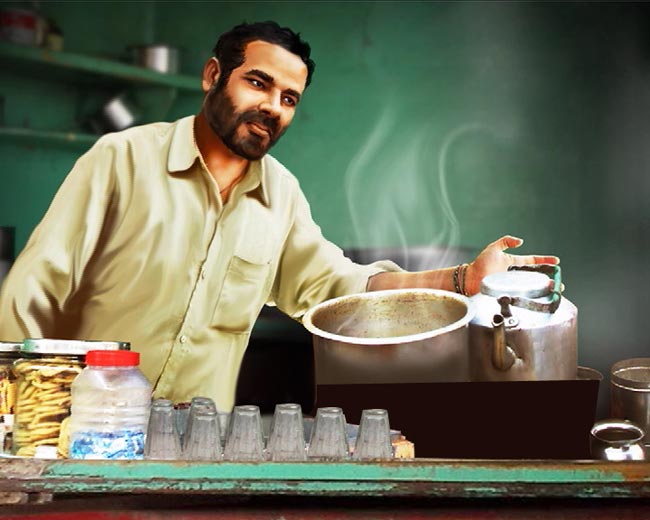 Narendra Modi's father had a tea-stall at the Vadnagar Railway Station in Gujarat, and young Narendra Modi often lent his hands in selling tea at the station. This is the most sought-after fact about Narendra Modi, and he has been seen mentioning this several times in his speeches.
Source: narendramodi.in, Image: indiatoday.intoday.in
4. When He Mopped The Floor!
Surprised! But it's true! When he joined RSS, his first job was to mop the floor at the RSS Headquarters in Ahmedabad.
Source: narendramodi.in
5. Narendra Modi: BJP's Lucky Charm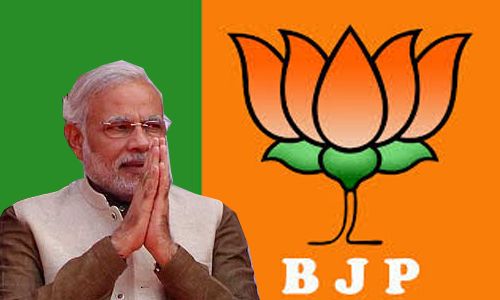 He joined BJP in 1987, the same year when BJP won Ahmedabad Municipal Elections, and since then it never lost the Municipal Elections in Ahmedabad. In the Ahmedabad Municipal Elections of the year 2000, BJP lost, ironically, Narendra Modi was outside of Gujarat at that time.
Source: narendramodi.in, Image: indiablooms.com
6. Engaged While Still A Child
Narendra Modi was engaged to a local girl, Jashodaben, while he was still a child.
Source: wikipedia.org, Image: india.com 
7. Lonely Modi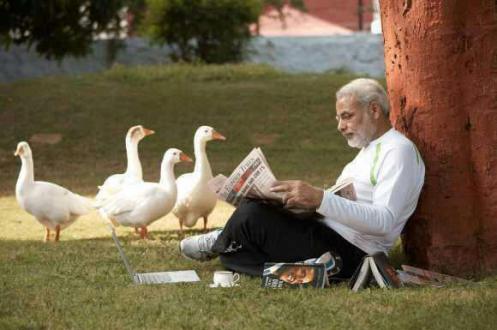 Whether as the Chief Minister of Gujarat or as the Prime Minister of India, Narendra Modi never shared his official residence with any of his family members, not even with his mother.
Source: listcrown.com, Image: mindthenews.com
8. Narendra Modi: An American Student!
A three-month course had been undertaken by Narendra Modi in the United States on Image Management and Public Relations.
Source: buzz.iloveindia.com
9. See! Who Is Followed By The Most Followed Leader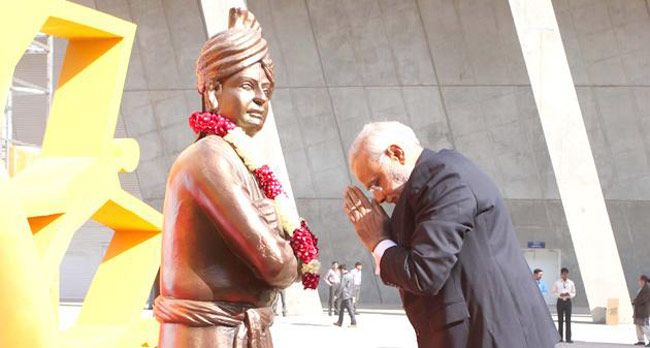 He is a great follower of Swami Vivekananda and has read some books on Swami Vivekananda page-to-page.
Source: buzz.iloveindia.com, Image: indiatoday.intoday.in
10. World's Second Most Followed Leader
After President Obama, Narendra Modi is the world's most followed leader on Twitter, accounting more than 12 million followers.
Source: buzz.iloveindia.com, Image: paulwriter.com/
11. Crease-less Attire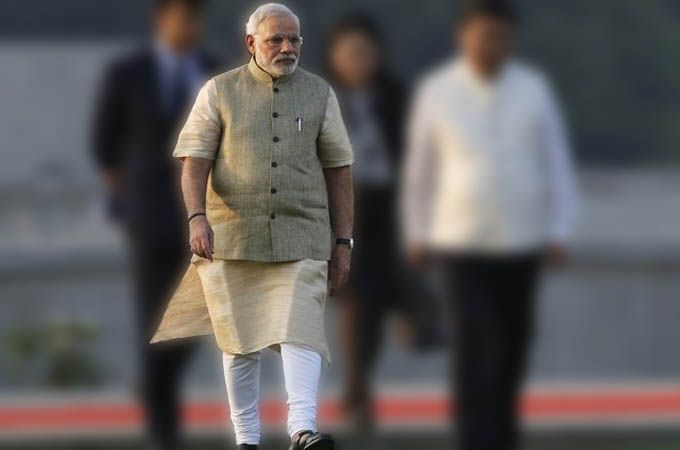 Clothes of Modi do not have any crease. This is a habit from his younger days.
Source: buzz.iloveindia.com, Image: nutterbuster.com
12. When He Couldn't Enter The United States!
In the year 2005, USA denied visa to Narendra Modi citing his failure to curb the communal riots in 2002 in Gujarat.
Source: timesofindia.indiatimes.com
13. Groomed Gujarat As A World-Class State
In the year 2010, when Modi was the Chief Minister of Gujarat, United Nations awarded Gujarat as the 2nd best state in the world.
Source: whatthafact.com
14. That's What An Ideal Mother Says…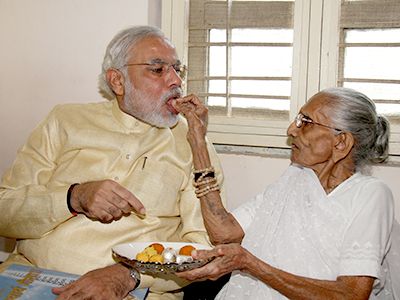 When Narendra Modi became the Chief Minister of Gujarat for the first time, his mother said– "Beta, kadi lanch na leis." (Son, never take a bribe!).
Source: newindianexpress.com, Image: wikipedia.org
15. First PM Born In An Independent India
Born on 17 September 1950, Narendra Modi is the first ever Prime Minister to be born in an Independent India.
Source: pmindia.gov.in
16. No Holidays Please!
During his 13 years of tenure as the Chief Minister of Gujarat, he never took even a single holiday. Such a workaholic!
Source: mensxp.com
17. India's Most Techno-Savvy Leader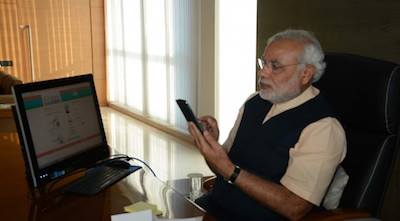 Narendra Modi is considered as India's most techno-savvy leader. He remains active on social media platforms including Twitter, Facebook, Google+, Instagram, Linkedin, Sound Cloud, Weibo and other forums.
Source: pmindia.gov.in, Image: Flickr
18. "Build Toilets Before Temples"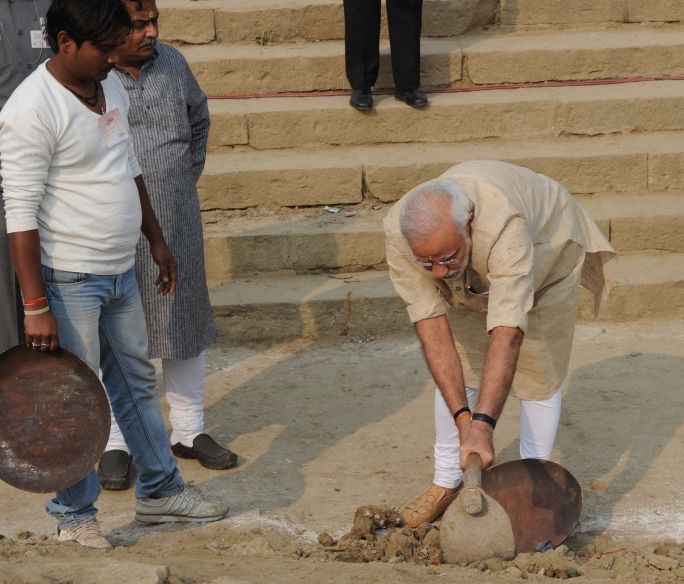 Modi is fond of cleanliness, and after becoming the Prime Minister of India in 2014, he launched a mission– "Swacch Bharat Mission" to spread the awareness of cleanliness among the masses. He once quoted in one of his rallies– "Build toilets before temples".
Source: blogs.wsj.com, Image: sa.wikipedia.org
19. When Modi Said – "India Is A Land Of The Mouse!"
During his visit to Taiwan, someone asked him whether India was a land of snake-charmers, to this, he replied – India was now a land of the mouse. By mouse, he meant the computer mouse.
Source: blogs.wsj.com
20. Always Prefers The Language Of The Nation
He is a great patron of the National Language, and it is justified by the fact that he always puts his signature in Hindi, whether it is any casual occasion or an official document.
Source: buzz.iloveindia.com, Image: commons.wikimedia.org