The Who is the most influential rock band of the 20th century. Formed in 1964, The Who originally had Roger Daltrey (lead vocalist), Pete Townshend (guitarist), Keith Moon (drummer) and John Entwistle (bassist). Let's know some interesting facts about this amazing rock band, The Who.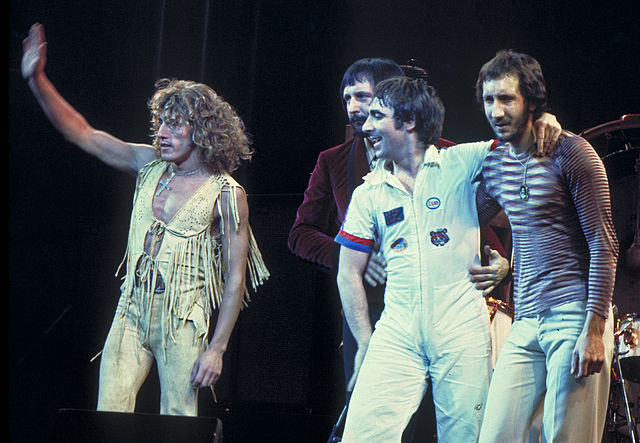 Image: wikipedia.org
1. Before The Who
Before finalizing on the band name "The Who", they had performed under two other names: The Detours and The High Numbers.
Source: songfacts.com
2. Daltrey's chance encounter with Entwistle
Once when Daltrey was on a street he spotted Entwistle by chance. At that time Entwistle was carrying a bass with him. After meeting him he recruited Entwistle into the band (at that time Detours).
Source: wikipedia.org
3. The Who made a Guinness Record for the Loudest Concert
Yes, it's true. On May 31, 1976, the concert show in London by the band "The Who" was so loud that a Guinness World record was created. Later it was beaten several times by several others. Eventually Guinness World Record stopped listing this record as many people's hearing was being affected by these concerts.
Source: songfacts.com
4. Keith Moon's school report
As a child Keith Moon was hyperactive and had restless imagination. Once his art teacher remarked in his report,"Retarded artistically. Idiotic in other respects." While his music teacher remarked, "has great ability, but must guard against a tendency to show off."
Source: wikipedia.org
5. When Roger Daltrey flushed Keith Moon's pills!
When Keith Moon supplied illegal drugs to two of his band mate, John Entwistle and Pete Townshend, Roger Daltrey became quite angry. He flushed the pills and also beat up Keith. So, his band mates expelled him from the band.
Source: wikipedia.org
6. When Roger Daltrey hit Pete Townshend with guitar!
Guitarist Pete Townshend was hit with a guitar by Roger Daltrey because Pete was drunk and was constantly poking and hitting Roger with his guitar. When Pete was being taken to hospital in an ambulance, Roger was with him and he was constantly apologizing.
Source: dailymail.co.uk
7. Keith's favorite sport
During his school Keith Moon's favorite sport was boxing. He took part in the school's boxing league and did very well in it.
Source: funtrivia.com
8. The hit single not written by Pete Townsend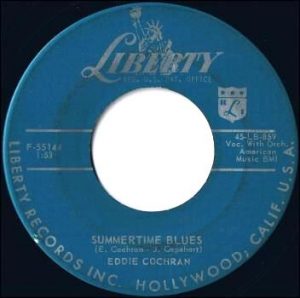 Every hit single of the band "The Who" was written by Pete Townsend except one: Summertime Blues. It was actually written by Eddie Cochrane.
Source: funtrivia.com, image: wikipedia.org
9. "Power Pop"
The phrase "Power Pop" was coined by Pete Townshend in the year 1967. He used this phrase to describe the sound of The Who's sixties singles.
Source: wikipedia.org/wiki
10. John Entwistle's nicknames
Bassist of the band "The Who", John Entwistle has two other nicknames: "Thunderfingers" and "The Ox".
Source: songfacts.com
11. Muppet inspired by Keith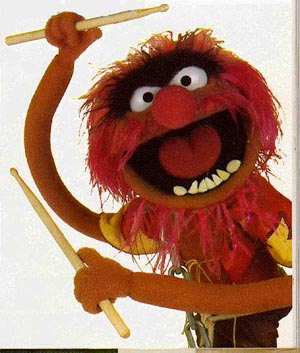 Do you know the muppet 'Animal' is actually inspired by Keith?
Source: funtrivia.com, image: flickr
12. The only song written by both Pete and Roger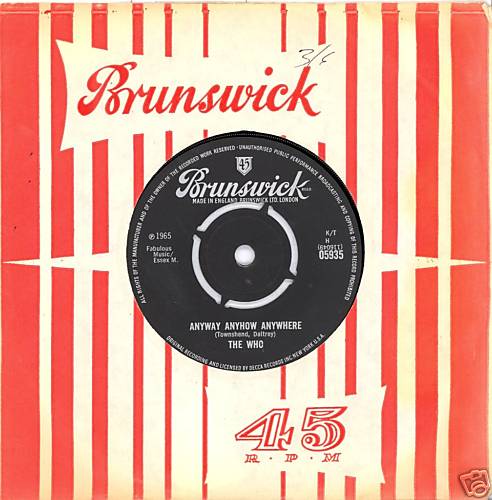 The only song of "The Who" whose writing credit is given to both Pete Townsend and Roger Daltrey is "Anyway, Anyhow, Anywhere". It was released as a single in 1965.
Source: funtrivia.com, image: wikipedia.org
13. Daltrey acted in a Shakespearean play
In the year 1983 The BBC did a screen adaptation of Shakespeare's 'The Comedy Of Errors'. In this play he acted the part of the twin servants named Drumio.
Source: songfacts.com
14. The tragedy at Cincinnati
On 3 December 1979, The Who were about to have a concert in Cincinnati. While having a sound check, the fans waiting outside thought that the concert had already started. An excited crowd forced their way inside and in this process 11 fans were killed. But no one told the band members about this tragedy till the show was over. Upon learning about this tragedy, the band members were deeply shaken.
Source: wikipedia.org
15. Destructive Moon
Moon always had the tendency to lead a destructive lifestyle. In 1966 when The Who stayed in the Berlin Hilton, Moon's destruction of property started. He would be derived by drugs and alcohols and destroy furniture by throwing them out through windows. But his favorite destruction method was exploding toilet. Until his supply of explosives was exhausted, Moon tried to destroy every toilet and changing room which he could access.
Source: wikipedia.org
16. The Holiday Inn Incident
Moon celebrated his 21st birthday (it was actually his 20th birthday) at Holiday Inn in Flint, Michigan. As soon as he reached Flint, Moon started drinking. Then he started a food fight and knocked off his front tooth and was taken to hospital. After returning back to the hotel he started throwing guests and furniture in pool and started a fire. He stopped only when police arrived. This stint led them to be banned from all the Holiday Inns.
Source: wikipedia.org
17. Death of Keith Moon
On September 7, 1978 Keith Moon was found dead in an apartment in London. His death was due to consumption of sleeping pills and alcohol which is a lethal combination.
Source: songfacts.com
18. Death of John Entwistle
John Entwistle was found dead on June 27, 2002 in a hotel room in Las Vegas. According to doctor's report, Entwistle was doing cocaine before he died.
Source: songfacts.com