Nestled among the Mississippi, Missouri, and Big Sioux River, Iowa is 26th largest state of the United States of America. First inhabited by Ioway tribe in the last millennium, Iowa is now a truly modern, lovable, and livable state in the country. Ever since the colonists arrived in the 1500s, Iowa had faced the misfortune of wars and conflicts until the 19th century. For centuries, there had been a tug of war between Spain and France over Iowa, however, now this is a place of tranquility. Due to its fascinating topography, Iowa is the land of rolling hills. Iowa is teeming with several lakes and rivers draining its land from north to south and east to west. Let us know some interesting facts about the Hawkeye State, Iowa.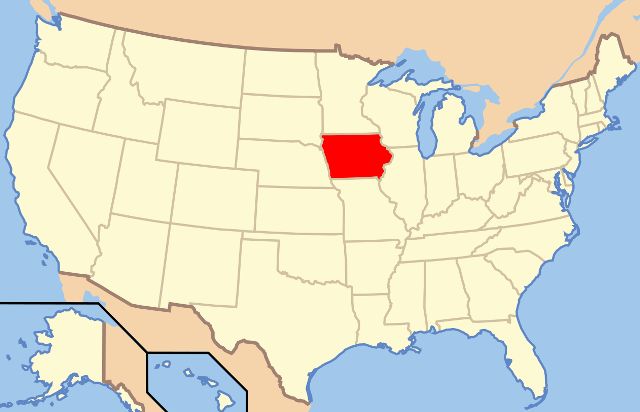 Image: Wikimedia
1. First Inhabited By Iowa People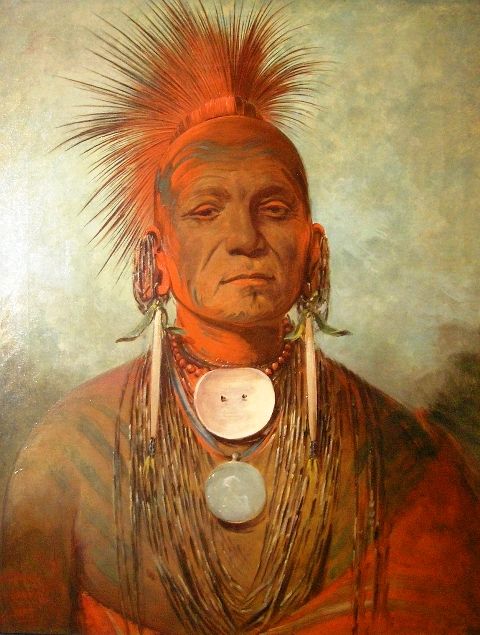 Iowa was first inhabited by Iowa people during the time of European exploration in the United States. However, they used to live in the eastern region of the area.
Source: encyclopedia.com, Image: Wikimedia
2. Surrounded By Rivers
Iowa is surrounded by rivers. It is bordered by the Mississippi river to the east, Missouri and Big Sioux River to the west, and Des Moines River to the south. The rivers are creating Iowa's border. Iowa is the only state in the USA that has two parallel rivers defining its border.
Source: britannica.com
3. House Of American Gothic Is Here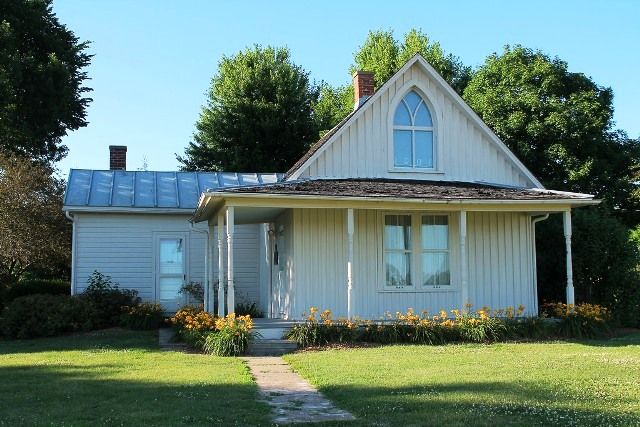 The house in the Grant Wood's 1930 painting, American Gothic is here. Wood drew the sketch of the house when he passed through Iowa in the last century.
Source: mentalfloss.com, Image: Flickr
4. More Switchbacks Than Any Other State
Iowa's streets are considered the most crooked streets in the world. Due to its topography, Iowa is a place of rolling hills, most of the region is not flat. So, the streets, roads are twisting and turning.
source: theodysseyonline.com
5. Take A Cruise To A River Island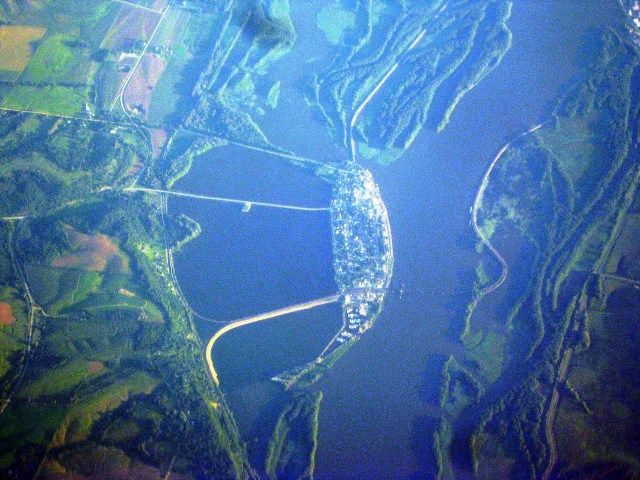 Sabula is a town in Jackson county, Ohio, that situated on a River Island in Mississippi River. This is only town of Iowa to have been situated on Island.
Source: theodysseyonline.com, Image: Flickr
6. World's Largest Strawberry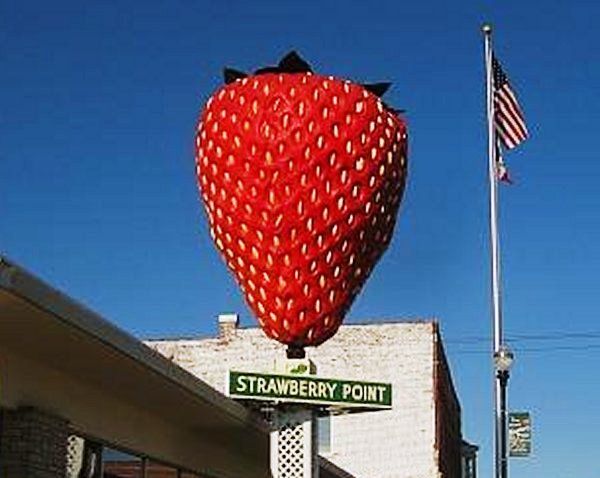 World's largest strawberry is situated in the city of Strawberry Point, Iowa. This strawberry is a 15 feet-tall fiberglass statue.
Source: theodysseyonline.com, Image: kmch.com
7. Oldest Water Tower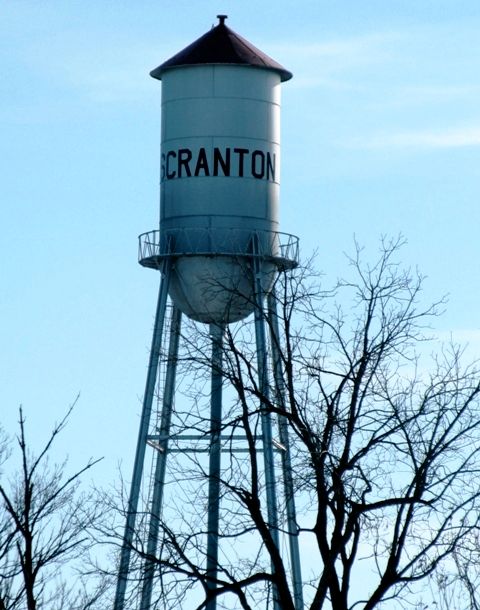 Scranton water tower is the oldest operating water tower in Iowa state. It was constructed in 1897.
Source: 50states.com, Image: Wikimedia
8. Do Not Forget Going To Spirit Lake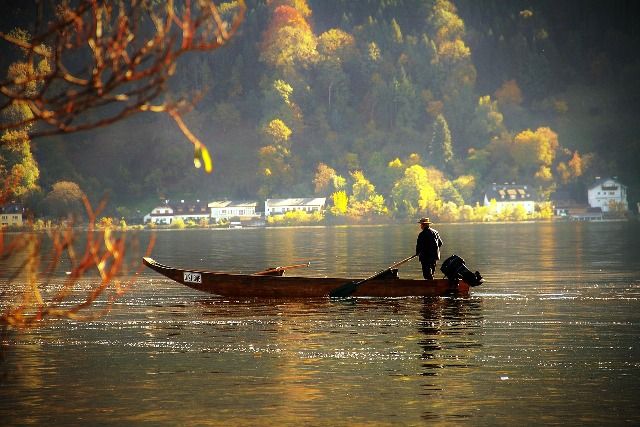 Spirit Lake in Dickinson County is the largest glacier-made lake in the State. It is very popular for the winter sports, like skiing, skating, etc. However, in summer, people are crazy about boating and fishing.
Source: traveliowa.com, Image: Pixabay
9. Best Place For Gymnastics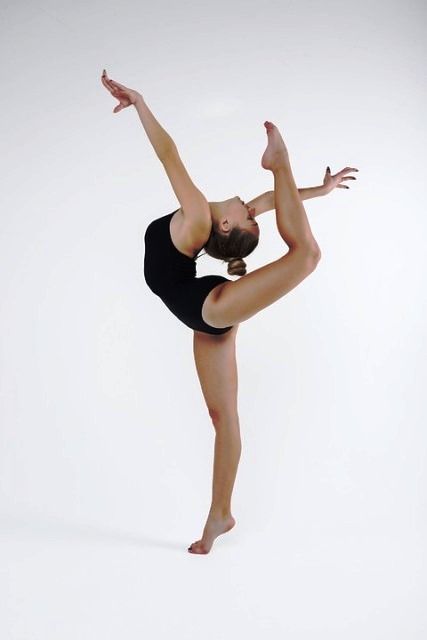 Iowa is considered the best place for gymnastics. The world's renowned Chow's Gymnastics and Dance Institute provides athletes with all modern facilities and training. This is how, Iowa is producing many athletes in the United States.
Source: mentalfloss.com, Image: Pixabay
10. Largest Corn Producer In The USA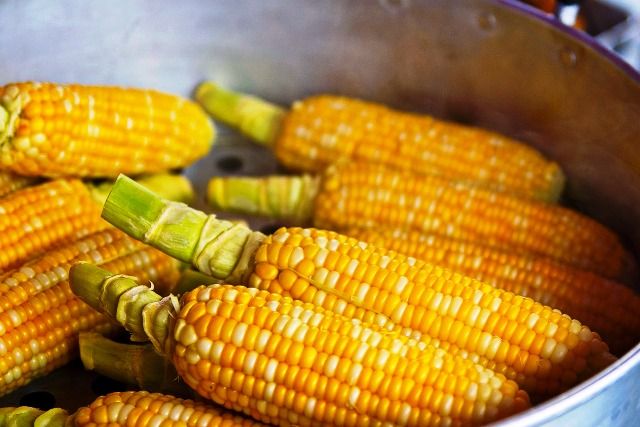 Agriculture plays an important role in Iowa's economy. Iowa is famous for the production of corn. It is the top corn producer state in the USA. Apart from corn, Iowa also produces oats and soybeans. Around 92% area of the Iowa is covered with farmlands.
Source: farmflavor.com, Image: Pixabay
11. State Of Herbert Hoover
Herbert Hoover was the 31st President of the United States who hailed from West Branch, Iowa. His birthplace in West Branch is now a national historic site.
Source: planetware.com, Image: Flickr
12. Take A Short Trip To Des Moines Art Center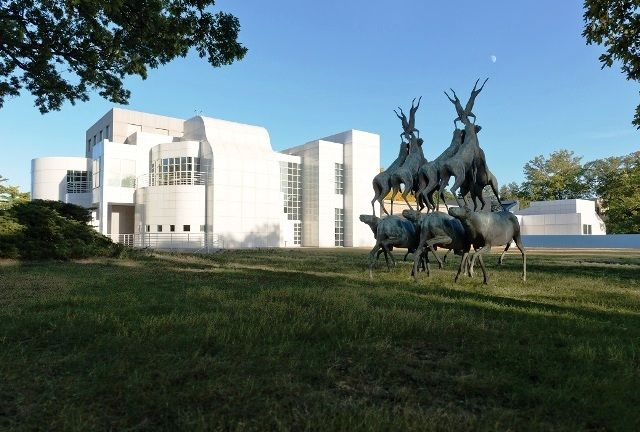 If you are an art lover, you must visit the capital and largest city of the State, Des Moines. It provides such a beautiful art gallery, that you are going to be mesmerized by the masterpieces of it.
Source: planetware.com, Image: desmoinesartcenter.org
13. What Is RAGBRAI?
Register's Annual Great Bicycle Ride Across Iowa or RAGBRAI is a non-competitive cycle ride across Iowa. The event is organized by 'The Des Moines Register.' It was first organized in 1973 and now the largest bike touring event in the world.
Source: Wikipedia, Image: Wikimedia 
14. Place Of Museums And Aquariums
Iowa is the place of lots of museums and aquariums. some of the famous museums and aquariums are; National Mississippi River Museum and Aquarium, National Czech & Slovak Museum & Library, African American Museum of Iowa, American Gothic House, etc..
Source: planetware.com, Image: Wikimedia
15. Gold Dome Of Capital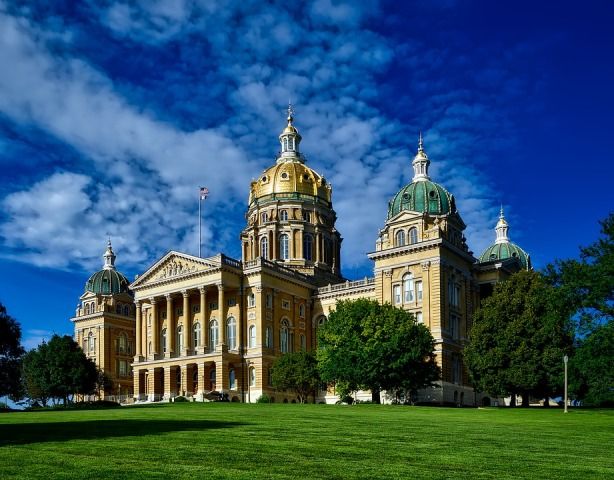 If you are exploring the capital city of Des Moines, never miss to take a snap of the Gold Dome of State Capitol building. It is the seat of the Iowa General Assembly. It houses the  Iowa Senate, Iowa House of Representatives, the offices of the Governor, Auditor, Attorney General, Secretary of State, and Treasurer.
Source: Wikipedia, Image: Pixabay
16. Birthplace Of Legends
Apart from Herbert Hoover, Iowa is also a home for many legendary persons of the United States such as Mamie Doud Eisenhower (former first lady of the United States) was born in Bonne, the great baseball player, Bob Feller was born in Van Meter, Oscar winning actress, Donna Reed was born in Denison, famous actor, John Wayne was born in Winterset, etc..
Source: 50states.com, Image: Wikimedia
17. Oldest College In The USA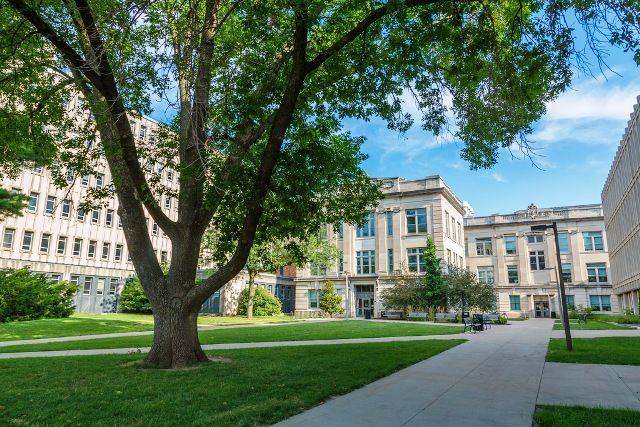 Iowa State University is the oldest land grant college in the USA. It was founded in 1858 and is the largest University in State.
Source: 50states.com, Image: Flickr
18. Have You Ever Been To Balloon Museum?
The National Balloon Museum was founded in 1975. It provides the public with the historical chronicles of ballooning through its exhibitions and collections.
Source: nationalballoonmuseum.com, Image: malmstrom.af.mil
19. The Only State
Iowa is only state in the USA which name starts with two vowels.
Source: 50states.com
20. They Are Golf Freak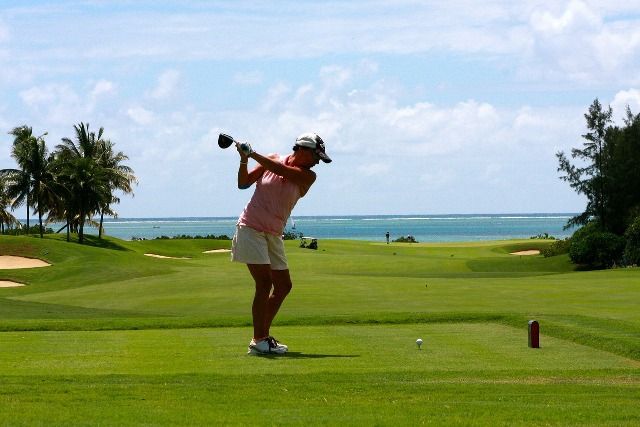 The people of Iowa love Golf. This is why, Iowa has more golf courses per capita than any other state.
Source: theodysseyonline.com, Image: Pixabay
21. More Hogs Than Human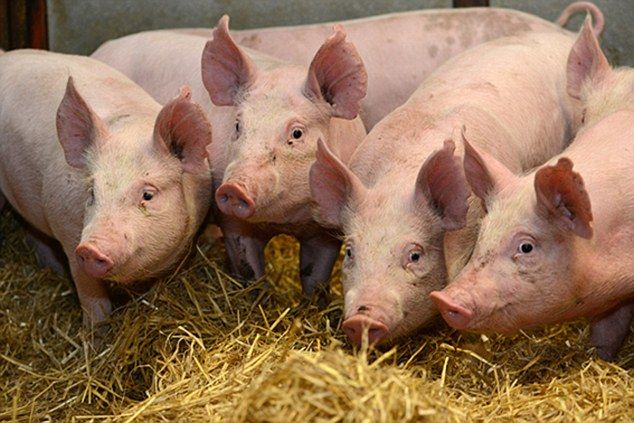 Iowa is a society of hogs lovers. On an average, each person has four hogs in state.
Source: theodysseyonline.com, Image: framfarmers.co.uk
22. Invention Of Iowa
An Iowa native Otto Frederick Rohwedder was an engineer who invented the first automatic bread-slicing machine in 1927.
Source: bestthingsia.com
23. World's Largest Wooden Nickel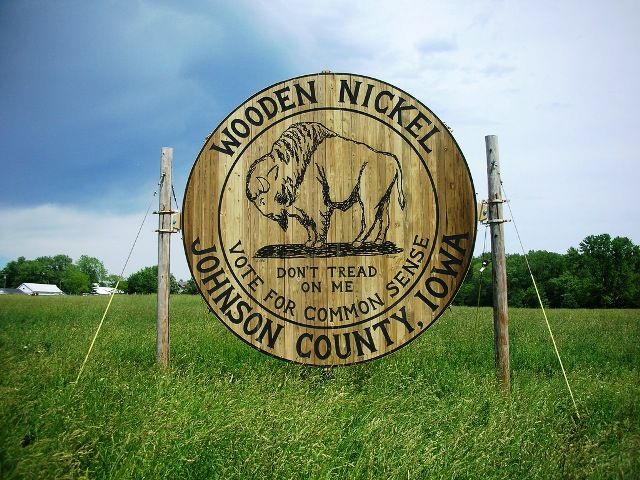 Iowa has World's largest wooden nickel which takes 12 feet to set up.
Source: theodysseyonline.com, Image: Flickr
24. State Of First Electronic Digital Computer
The professor, John Vincent Atanasoff, and the student, Clifford Berry, developed the first electronic digital computer, which weighed around 750 pounds.
Source: bestthingsia.com
25. Ice Cream Capital Is Also Here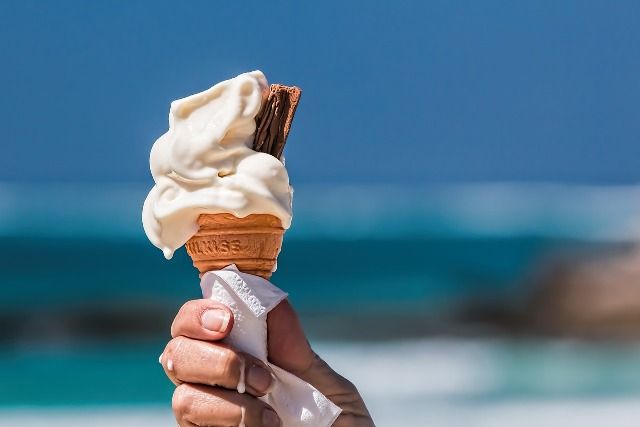 The city of Le Mars of Iowa is considered the Ice Cream Capital of the World. The ice cream company, Wells Enterprise Inc. is a reason behind it. Company is famous for its Blue Bunny products.
Source: bestthingsia.com, Image: Pixabay
26. See The Fortified Town Of Iowa
The town of Fort Atkinson is the only city in Iowa which was fortified by the U.S. government in 1842 to protect Ho-Chunk tribe during their removal from Wisconsin.
Source: Wikipedia
27. Largest Water Body In The State
Rathbun Dam and Reservoir is the largest water body in the state. It has a surface area of 44.52 square km.
Source: 50states.com
28. World's Steepest And Shortest Railway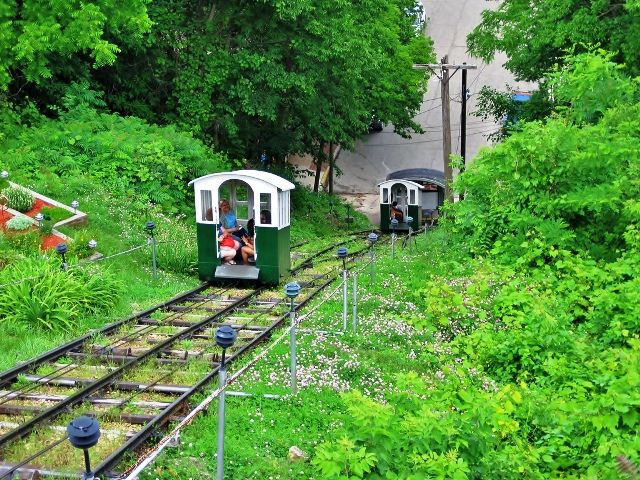 Fenlon Place Elevator in Dubuque is considered the world's steepest and shortest railway. It is 296 feet in length.
Source: fenelonplaceelevator.com, Image: Flickr
29. State Of Parks And Recreation
Iowa is also famous for its parks and recreational areas. Backbone State Park is the oldest state park in state and Brushy Creek State Recreation Area is the largest fun center in state where every kind of outdoor recreational activities, i.e. swimming, rafting, hiking, trekking, cycling, fishing, etc. can be enjoyed.
Source: Wikipedia, Image: Pixabay
30. Where The Music Died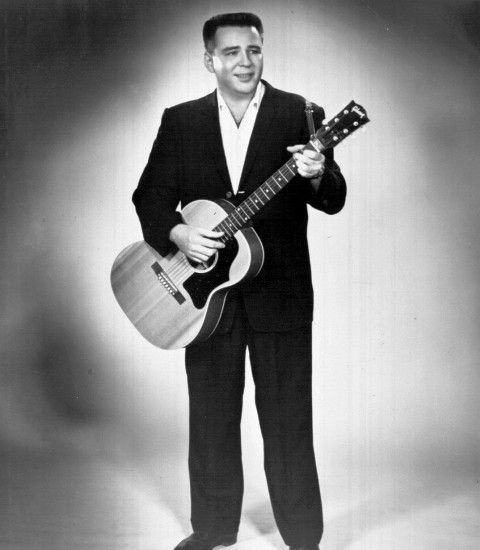 In 1959, the famous singers and songwriters, Buddy Holly, Ritchie Valens, and J.P. 'The Big Bopper' Richardson died in a plane crash near Clear Lake, Iowa.
Source: mentalfloss.com, Image: Wikimedia
31. The Honey War
The Honey War was a minor historical dispute between the state of Iowa and the state of Missouri over borders. The problem first began in 1816. The conflict is often referred to as 'The Honey War' because a small group of trees containing a large number of honeybees was logged during the dispute.
Source: jstor.org
32. Wind Power Generator
Over 25% of electricity in the state is generated by Wind Power. Iowa has a highest concentration of wind turbines (around 3200 wind turbine) in the country and the state hopes to increase wind power up to 40% by 2020.
Source: mentalfloss.com, Image: Pixabay