Ryan Lochte has earned about hundred medals in his over all pursuit of success. Medals from only Olympics add up to twelve, out of which, 6 are gold, 3 silver and 3 bronze. He has swept a total of 90 medals off the Olympics, Pan Pacific and World Championships consisting of 53 gold, 22 silver and 14 bronze medals. He is further decorated with titles and rewarded with endorsements, shows and appearances on the cover pages of magazines.
1. Swimmer of the Year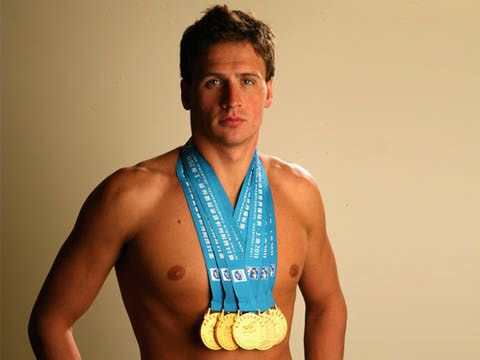 Lochte has earned the title World Swimmer of the Year Award, American Swimmer of the Year Award, twice and FINA Swimmer of the Year, three times.
2. Jack of all, master of one!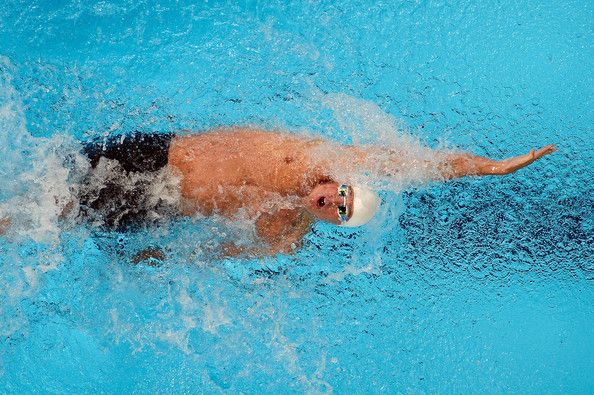 He does all the swimming strokes but backstroke is his forte. In 2016, he has won the 200 meter medley, almost mastering them all. He is also known for his underwater kicking, the push helping him to cover significant distance before starting the stroke.
3. Carelessness to victory via failure.
In his childhood, he would just mess around in the pool and be sent to the showers for punishment. He spent more time in the showers than in the pool and it landed him in the pit of failure as in the the Junior Olympics, he tasted bitter failure and longed for sweet success.
4. Bouncing back
Stepping into his senior years, training under coach Gregg Troy, he won numerous collegiate competition for University of Florida and was NCAA Swimmer of the Year seven times! Say whaat!
5. Fame and money
He was on the cover of Vogue, Time, Men's Health and Men's Journal and earned $2.3 million from endorsements, as Forbes mentioned.
6. Swimming to appearing on the screen
He has appeared on Saturday Night Live, 30 Rock and Stride of Pride. He also is interested in appearing on Dancing with the Stars. He also has launched a workout video Lochte Hardcore with his trainer Mike Delancey.
7. He probably will sign it for you.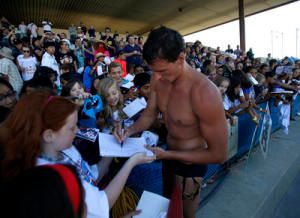 Lochte is considerable of his fans because he knows how it feels to be ignored, as he was once, when Ryan Lochte could not get an autograph from his idol when he was ten years old.
8. Swimming with a pizza!
Ryan literally swam across the Hudson River with a pizza tied on his back to promote Combos Pizza. 
9. Lil Wayne for the go!
He is a Lil Wayne fan and know a lot about his music. Lil Wayne is one of his go to music before he trains or swims. He even mentioned the verse "My flow is art, unique. My flow can part the sea. The only thing on a mind of a shark is eat. By any means, and you're just sardines."
10. All in for Rio.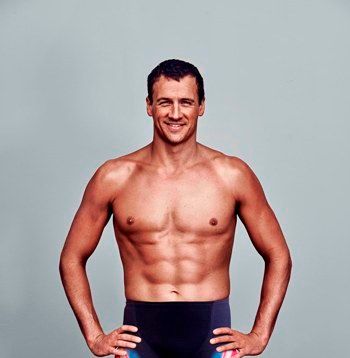 He has gone all hairless (body) and washed of the little bit fat he had to get washboard abs to be at his best in the 2016 Rio Olymics. After a few bumps in his swimming journey, he feels like an underdog again which is even more of a reason to do his best.
11. Tike, Zeus and Spidy 
Lochte has three dogs, out of which, Tike and Zeus are Rottweilers, and Spidy is a mixed chow. He loves them and he always wakes up with one or the other sleeping with him in the bed. He absolutely loves them!
12. Loved water, always.
It was his love for being in the water that his father decided for him to be a swimmer. He accidentally slipped into the pool once, when he was around the pool with his parents. He started crying when his father pulled him out of the pool to save him.
13. It's not only failure that pushes him!
Once he was successful in the Olympics, he was motivated to train even harder and continued the winning streak. He liked the sweet taste that he finally tasted with success and he might've grown a sweet tooth for that!
He trains for 30-35 hours a week (Swims 16k, 5 hours, 2 workouts a day and 7 days a week) and eats 8,000-10,000 calories a day.
14. Michael Phelps owes Ryan some money!
Lochte bet Michael a thousand dollars for the fact that Michael will cancel his retirement and will come back to compete in the sport. It's evident that Ryan was right. $1000 Michael, RIGHT NOW! Bae wants Jimmy Choo man!
15. Swim Ryan!
Ryan has swum with dolphins thrice. He must love doing that. Swimming.. n yea, kissing them too.. apparently!
16. Charity and Children
Ryan does not just donate money but puts his time and effort in charities and noble causes too. He supports The Mac Crutchfield Foundation and during his visit to the Seacrest Studio, he told the swimming enthusiast children of Levine Children's Hospital, "When Life gets you Down, keep swimming!". 
17. He smoked it and his brother sold it!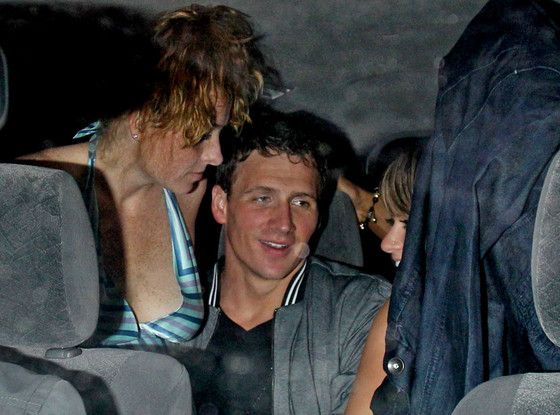 Ryan was photographed smoking weed and his brother was arrested selling it. ahemm.. I don't know what weed is!
18. Encrusted Diamonds Grill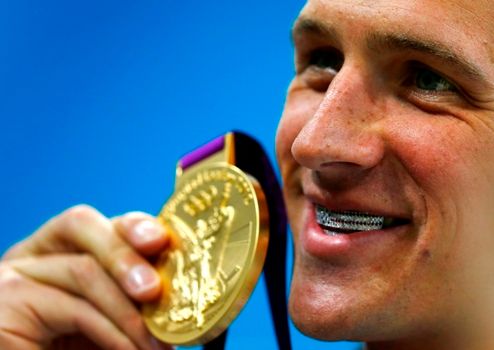 Ryan Lochte wears diamond encrusted grills on his teeth while receiving the medals. This had started as a dare which now has become Ryan's custom.
19. Twinkle and dimple
He is one of the only three other men have ever appeared on the Vogue magazine's cover. The NY times praise him mentioning his "twinkling blue eyes, aquiline nose and dimpled smile." The beefcake is coming up with a fitness video too.